Tiki Bars in Delray Beach

Delray Beach Bars
Where To Find A Tiki Bar In Delray Beach
OK, here we go for the really fun part of your vacation in Delray Beach...tiki bars!
Delray Beach nightlife wouldn't be fun without the tiki bars in Delray! There's something about a tiki bar in Delray Beach that sets the mood for a South Florida vacation, Caribbean style!
Delray Beach Nightlife
Delray Beach Bars and Tiki Bars

There are two tiki bars in Delray and they both have live reggae music on the weekends.
Crane's Tiki Bar in Delray Beach
The Place For Tasty Beverages!
Crane's tiki bar in Delray is one of my absolute faves! The tiki bar seems to complete the Caribbean ambiance at Crane's!
Crane's Tiki Bar at Night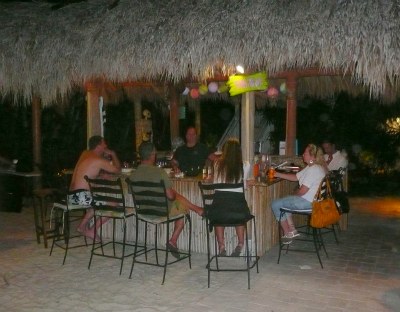 Crane's Tiki Bar During the Day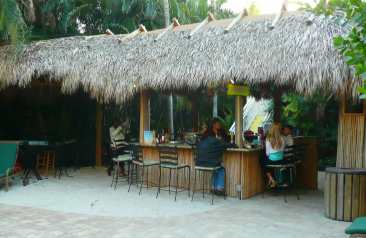 Crane's tiki bar is opened to the public -- so this is a must-do for everyone!
Even if you aren't staying at Crane's Beach House Hotel, I highly recommend you go hang out poolside at Crane's tiki bar and enjoy some sand in your toes, a tasty beverage and some reggae music with no worries...
Live Reggae Music at Crane's
Thursday, Friday & Saturday
5-9 PM
Reggae Music at Crane's Tiki Bar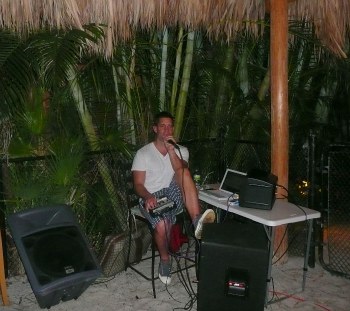 Crane's tiki bar in Delray Beach serves wine, beer, and tropical drinks Thursday, Friday and Saturday from 5-9 PM with live reggae music poolside at the tiki bar!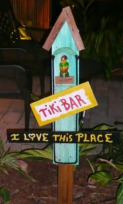 At Crane's Beach House, they even have white sand to squish your toes in and dance in!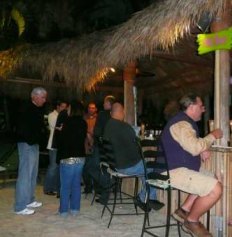 This means that you can dance in the soft white sand, hang at the tiki bar sipping on your favorite tasty beverage, and listen to live reggae music.
Just simply kick it and relax at the tiki bar and enjoy your Caribbean vacation right here in Delray Beach, Florida!



Me, Thierry, Work, WiFi, Tasty Beverages and Tiki Bars
Me and Thierry with our computers working at Crane's tiki bar. Yes, you can even get a WiFi connection sitting at the tiki bar or poolside at Crane's and still enjoy the Caribbean ambiance of it -- all the while getting work done too!
Enjoying Our Tiki Bar Office
Thierry with audience surrounding him -- watching his kiting videos, and talking kitesurfing, Anguilla and photography.
Thierry Showing His Kiting Videos
Want to know more about kitesurfing? You can visit Thierry's website and read about his kitesurfing adventures.
And our friends that we met while hanging at Crane's tiki bar...
Not Sure, Thierry, Danika (that's me) & Jessica
If you enjoy Crane's tiki bar and the relaxing Caribbean vibes and atmosphere as much as I do -- or if YOU have a photo of you and your friends enjoying yourselves at Crane's like we were, please share it with me and others by adding your story and photo right here! It's easy! Just fill in the blanks and I'll turn it into your very own web page right here, on I-Love-Delray-Beach.com.


---
Boston's On The Beach Tiki Bar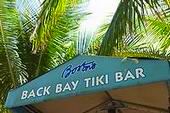 Boston's on the Beach tiki bar
in Delray Beach has live reggae music every weekend.
Boston's tiki bar is very casual beach attire and just simply fun and funky!
I've already talked about Boston's tiki bar here so I won't repeat myself, but I will repeat this....
If you're looking for tiki bar atmosphere and reggae music in Delray Beach I think you'll enjoy yourself at Boston's tiki bar!
And if you want to, I would love for you to return here to share your story, fun and photo with the world!

Just click here and make your own web page! It's easy! Just click on the link and I'll show you how.
---
Like this page? Want to share it with others? Do me a favor and click the Bookmark and Share button below to share Tiki Bars in Delray with your friends on your social networking sites.


Want To Stay In Touch With I-Love-Delray-Beach.com?
Here's How...

Join me on
Facebook,
or
follow me on Twitter,
or
subscribe to my newsletter,
or
follow my Delray Beach blog
with your own RSS feed, and any time I add something new to I-Love-Delray-Beach.com, it will be conveniently delivered directly to your favorite RSS reader.
What's an RSS reader?
Leave Tiki Bars In Delray and go to Crane's Beach Hotel Leave Tiki Bars In Delray and go to Boston's on the Beach Bars Leave Tiki Bars In Delray to I Love Delray Beach Home