Award-Winning Atlantic Avenue in Delray Beach, Florida
Voted Best Main Street in Florida
by Florida Monthly Magazine!

Atlantic Avenue in Delray Beach, Florida is the pulse of our city. It is super fun. It is very unique. And it has a vibe like you won't find anywhere else. It is where ALL the action happens! It hosts all our parades and hosts many art events. It is also an award-winning main street and was Voted Best Main Street in Florida by Florida Monthly Magazine!

Atlantic Avenue Looking East Towards A1A (The Beach)

Atlantic Avenue Looking West From A1A (The Beach)
Photo Courtesy of Photographically Yours, Inc.

Lined with oak trees and Royal Palms on either side, and with cobblestone sidewalks meticulously groomed and designed for pedestrians, Delray's Atlantic Avenue has, in its own right, won its very own award for being the Best Main Street in Florida.
Famous Atlantic Avenue in Delray Beach is now an
Award-Winning Main Street!
Thanks to Florida Monthly's magazine
"Best of Florida 2010 Awards" we were voted as the
Best Main Street in Florida.
Atlantic Avenue has something for everyone whether it's dining, entertainment, shopping at our local boutiques, events, festivals, art walks or just simply sight-seeing.

You can do it all and see it all – on The Avenue.
On a normal day, traffic moves slow on Atlantic Avenue and pedestrians move even slower.
Atlantic Avenue is even home to an authentic historic draw-bridge located right downtown Delray. The Intracoastal runs north-south through downtown. In order to crossover the Intracoastal waterway, to get the barrier island of Delray, one must crossover the water. The drawbridge still opens up to allow large vessels to pass underneath.

(They use to crossover by HAND back in the day! Pulling from one side to the other -- with a pulley wire to pull themselves across!)

View of the drawbridge from a different angle.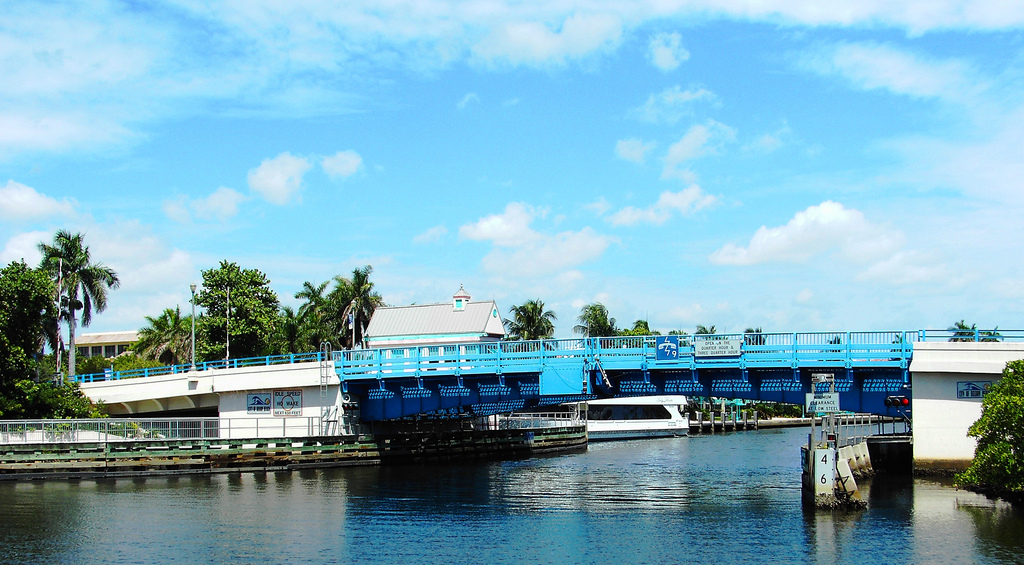 Doing The Avenue...
How do YOU do The Avenue?
For those of you who enjoy doing The Avenue or strolling The Avenue in Delray Beach, I think you will agree with me that it has its own incomparable charm, energy and eclectic vibe. Yes? Right?!!! :-) :-) :-)

In fact, "doing The Avenue" can be considered an attraction all in itself!

It is the pathway for all the parades.

It is where everyone "meets-up".
Some come with their dogs and just chill.
While others meet-up for a doggie day with yogurt for our pups! (Me, Danika Dahl, and Prince Pierre are on the right.)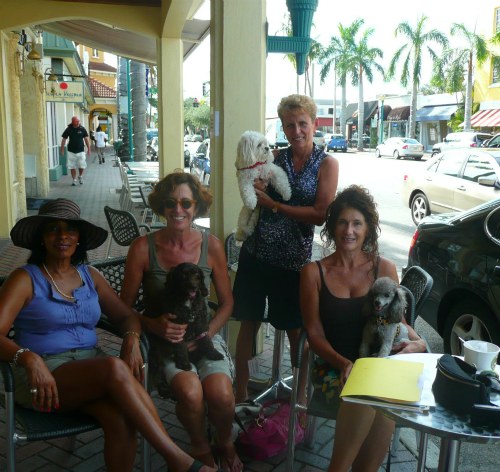 Worthing Park at Park Tavern and Salt 7 offers two expansive green circular benches to sit on. Great to take a rest and even better to enjoy if you're one of those people watchers.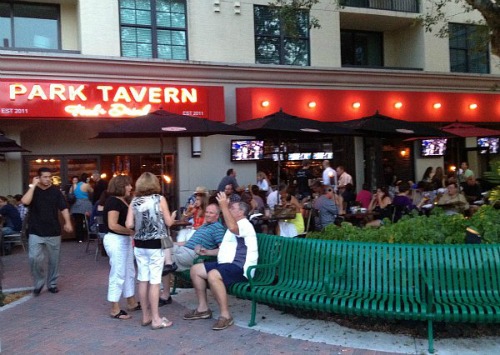 While others enjoy hanging out and smoking cigars with their friends.
The Avenue plays hosts
to many of our annual events!

The Seafood & Wine Fest is held on Atlantic Avenue (at the east end) and oceanside on A1A in front of Boston's on the Beach.


Photo courtesy: Georgia Papp Handy Photography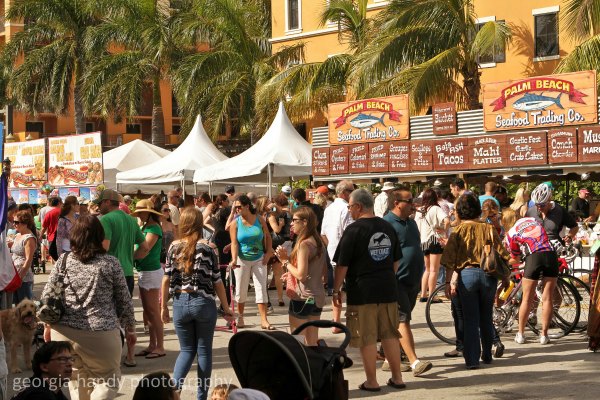 Our St Patrick's Day parade has turned into an international event thanks to one very dedicated promoter and retired fireman, John Fischer. You can read about the (near-famous) history of the St Patrick's Day parade here.

Photo credit Georgia Papp Handy Photography
The Delray Affair is a 3-day event that closes down The Avenue allowing people to stroll and enjoy three days of festivities, food, fun, arts & crafts.

Once known as the Gladiola Festival (or more properly the Gladioli Festival). For many years, now known as the Delray Affair. It is the only event that closes down The Avenue for a 3-day duration. It is that great!

Want to see more things to do?


Walking tours, Culinary Tours, Boat Cruise, Historic Tours

...


History of Atlantic Avenue
Atlantic Avenue is well-known for its very own unique charm and vibe and for this we can all thank a Delray Beach pioneer woman named Ethel Sterling Williams.
Ethel's grandson, William Sterling Williams, a West Palm Beach attorney, remembers his grandmother fighting to keep McDonald's off Atlantic Avenue.
It is said that she didn't want rows of condos or commercialism in downtown Delray – or at the beach, for that matter. She didn't want the charm of Delray to be taken away.
And, many, many years later, here we are, very thankful for her foresight. Because even today, you will very little commercialism on the Best Main Street in Florida... Atlantic Avenue!

Atlantic Avenue Before It Was Paved
Photo Courtesy of Delray Beach Historical Society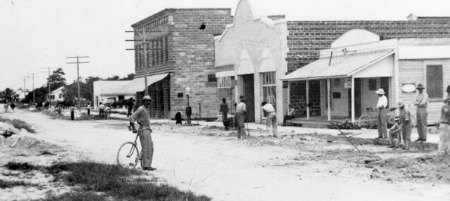 Back in the day, prior to Atlantic Avenue being paved, it was only dirt. The women did not like their long dresses dragging in the dirt every time they had to travel Atlantic Avenue. So it was decided to make a sidewalk.
Just one problem…the women and the men could not decide which side to build the sidewalk…so it was built in the middle of the road. True story!

More Accolades for Atlantic Avenue


Look What Others Have To Say




About Our Award-Winning Main Street...



"Nowadays, Delray is poised to become a national destination."

"..design-conscious establishments along East Atlantic Avenue has brought in a new energy, creative, stylish and yet attitude-free."


The New York Times, by Jonathan Vatner
January 2011
Delray wins Florida Municipal Achievement Award for "Revitalization of Downtowns" and is featured article in Florida League of Cities Magazine.


Florida League of Cities Magazine
2011
"Delray Beach is a first-class resort town 50 miles north of Miami. The rich patina of 100 years and historic preservation earned Delray the Centennial Medallion Award with New York's Central Park and San Francisco's Ghirardelli Square.

Atlantic Avenue features shopping, galleries, dining, nightlife and three miles of award winning Blue Wave certified beaches along with the Pineapple Grove Arts District providing a boutique for shopping, the arts, and simply relaxing.

Atlantic Avenue is the heart of the entertainment district, a charming, and quaint setting from which to enjoy South Florida's relaxed lifestyle."


Visit Florida
"Boutiques, galleries, numerous world class restaurants and wide cobbled sidewalks dotted by outdoor cafes under lazy palms attract upscale visitors from all over the world.

Beachy shopping days end with a vibrant nightlife as slow moving luxury cars cruise "the ave" nightly from 5 PM until well after midnight.

Every evening the downtown bustles with shoppers, foodies, music lovers and art lovers, as the shops, galleries restaurants and nightclubs welcome patrons after the sun goes down.

Valet parkers are situated on almost every block of Atlantic Avenue, so parking is never a worry."


Author Unknown
"Delray Beach's downtown is one of the most robust, attractive and successful in the South Florida market.

It has become a well-known regional destination for both residents and tourists from throughout the region.

Atlantic Plaza II will be an important new anchor for this proven market."

"Delray Beach has earned national recognition for the quality of its downtown and progressive approach to community-building.

It was twice-designated as an All-America-City by the National Civic League; ranked among the "20 Best North American Districts, Downtowns, and Neighborhoods" by the nonprofit Project for Public Spaces, and is the winner of a Centennial Medallion Award, along with New York's Central Park and San Francisco's Ghirardelli Square, from the American Society of Landscape Architects."


Press Release 2010
Bill Milmoe, President of CDS International Holdings, Inc.
Developer of Atlantic Plaza II
Have you signed up for my free Newsletter?


~ Delray Beach Vibrations ~



Click here to sign up now or click image below to subscribe now! It's free and it's the best way to stay connected with me and Delray Beach! (even if you live on the other side of the world!)