Hurricane History in Florida
South Florida Hurricane History, Links & Information
South Florida Hurricane History, Links & Information
For You, Your Children & Your Pets
Hurricane history in Florida is officially from June 1st through November 30th, with the peak months of Florida hurricane history being August, September and October.
But you'll find that Florida hurricane history reveals the chances of Florida hurricane activity is greatest between August 15th and October 1st.
Don't let the Florida hurricane season interfere with your travel plans. Instead use it to your advantage by finding some incredibly low prices on travel and accommodations during hurricane season.
And, you can always purchase travel insurance to protect you, just in case the hurricanes do come in.
So don't let hurricane season stop you from planning a vacation during hurricane season, because there are some sweet benefits when traveling during this period, benefits like incredibly reduced rates for your travel and accommodations! So go ahead, travel!
All photos on this page are courtesy of Alfonso Surroca.
The Damage to This Sign
Gives a New Meaning to the Word "Take Out!"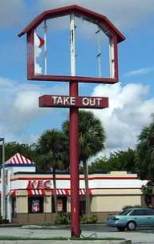 Mother Nature occasionally likes to rudely remind us that the same forces that make Florida weather so wonderful with the tropical green lush surroundings and the beautiful sunny and warm climate are exactly the same forces that cause hurricanes, tropical storms, and other natural disasters.
I used to live in beautiful Central Oregon where wildfires were our natural disaster threat.
We were on standby for evacuation due to wildfires on more than one occasion and with six horses, there is no easy exit strategy!
To live in a beautiful environment there is always a price one pays. You must weigh the benefits individually.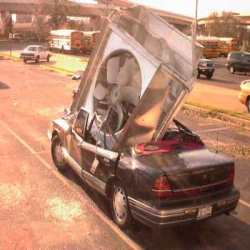 My Very First Hurricane in South Florida
Hurricane Jeanne
And so my free-spirited character weighed the benefits and in September 2004, I decided it was Destination South Florida for moi!
My friend Dustie (from South Florida) flew out to Oregon and we haphazardly mapped out our two-week cross-country drive -- destination South Florida.
What we didn't know was that in September 2004, our friend, Jeanne also planned to meet us in South Florida.
Um, that would be a-hem...hurricane Jeanne!
As Dustie and I were traveling east, the buzz at every truck stop was filled with alarming news and hype that "hurricane Jeanne" was headed to South Florida! Ha-ha, funny! That's where me and Dustie were headed too!
My carefree-spirit was not about to let some silly hurricane Jeanne stop me from my destination of South Florida. No way!
So we followed 'er right into South Florida and in fact Jeanne arrived one day after we did -- to the same exact destination -- Boca Raton, Florida!
(Pssttt...You might not know this but every neighborhood has a hurricane party during a hurricane -- because it's the only thing to do when everything is shut down!)
After a Hurricane
There's Hurricane Aftermath
Before and after every hurricane, there are gas lines at every gas station.
Why you might ask.
Well, it's because before a hurricane, everyone is filling their tanks up because you never know if there will be an open gas station after the hurricane passes. Or if you get evacuated, you will need gas to travel. Gas is a very precious commodity in the event of a hurricane.
After a hurricane, most gas stations are closed due to damage, no electricity, or maybe they are simply out of gas.
Always make sure you have a full tank of gas during hurricane warnings!
Shells Roof Literally Ripped Off and Laying on the Ground!
After a hurricane, there is a weirdness in the air, similar to a ghost town or perhaps the Twilight Zone.
If there is much damage many places remain closed for awhile because repairs are necessary before they re-open. And if there is no electricity, the entire area remains nearly shutdown.
Imagine a town with the majority of the businesses closed, no electricity, no traffic signals, very little traffic on the road -- it resembles a ghost town.
No electricity means the traffic signals don't work and the intersections become a game of "dog and cat" as to whose turn it is.
Whose on First?
You will see damage such as this uprooted tree. The ground gets extremely wet and with the strong winds, the huge trees are easily uprooted.
Uprooted trees, fallen fences and downed power lines become the new neighborhood decor...until fixed.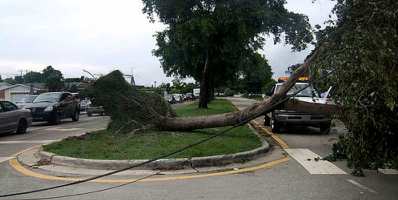 And then hurricane history in Florida always proves that the sun shines again and the linemen come out to fix all the problems.
And in the end, we all still madly love Florida!
Traveler's Insurance
Travel Plans During Hurricane Season
If you are staying at a resort, no worries because resorts and most hotels are prepared for hurricanes with back-up generators. You will likely have hot water, electricity, phones and all the other conveniences.
If you do experience your first hurricane, it just might be a very memorable and fun experience like mine was!
More Florida Hurricane Links...
General Hurricane Information
Here are some fun, educational links for kids to learn about hurricanes. Let your kids learn about hurricanes in a way that makes sense to them. The more educated they are, the more helpful they will be, and the less afraid they will be, so prepare and educate!