Delray Beach Information Center

Online Guides, Magazines,
City Links, Publications, Newspapers & More...



I've compiled my favorite Delray Beach information links and online digital publications and magazines for you to easily access right here on this page.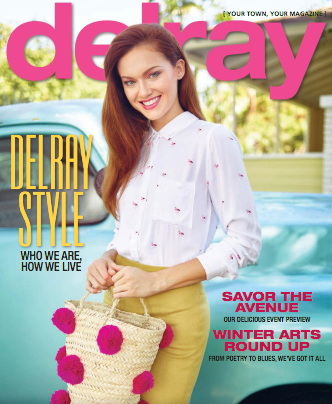 An all-in-one Delray Beach Information Center if you will. All online for you to easily access from anywhere in the world.

For your convenience, you'll find links to our Chamber of Commerce, Parks & Rec, and to the City of Delray Beach.
You'll also find some links to electronic publications, online magazines, the local Delray Newspaper and Palm Beach County newspapers.

Whether you're a tourist or a resident, I think you'll find these links and online publications of Delray Beach information helpful. So go ahead and enjoy yourself! (Note: when you click on a link, it will open their website in a new window.)
Delray Beach Visitor Information Center

And, if you are in Delray and want tourist information, you can stop by the Delray Beach Visitor Information booth. It is located at 2 South Ocean Blvd at the intersection of A1A (Ocean Blvd) and Atlantic Avenue. Directly across the street from the beach.
Hours: 9 AM - 5 PM seven days a week.

Delray Beach City Links
Chamber of Commerce,
City of Delray and Parks & Recs
Greater Delray Beach Chamber of Commerce: Business development, chamber events, and tourist information. Visit them in person, and pick-up local guides, magazines and brochures for tourists.

City of Delray Beach: Economic development, commission agendas, budget reports, and more. Subscribe to their email list.

Parks and Recreation Information for Visitors:  General information on Beach and Oceanfront Parks, Community Parks, Dog Parks, Golf Courses, Intracoastal Parks, Marina, Nature Areas, Recreation Centers, Swimming Pools, Tennis and more.

Delray Beach Vibrations
"not-so-monthly" Newsletter


published by I-Love-Delray-Beach.com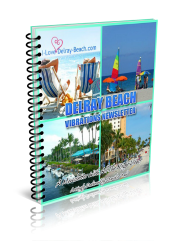 Delray Beach Vibrations Newsletter! A newsletter all about Delray Beach. This is delivered directly to your email for free! You can unsubscribe at any time.

Sign up by clicking here or on the link above. Or simply scroll down and fill out the form below.
And then, on a not-so monthly basis my eNewsletter will deliver you these secret ingredients...
What's new in Delray Beach 
The Top Pages & New Pages on my Website

The Holy Scoop on Holiday Events & Parades in Delray Beach
Special sneak-preview when I publish my eBooks 

Note: If you want information sooner than in my newsletter, subscribe to my RSS feed on my Delray Blog and follow me on Facebook. I do blog posts regularly and I post on my I-Love-Delray-Beach.com Facebook Page  regularly. Usually daily.


Delray Beach Downtown Guide
It's online -- LOOK at it right now!

Delray Downtown Guide:  A colorful and handy online downtown guide of businesses, restaurants and things to do.
Magazines all About Delray Beach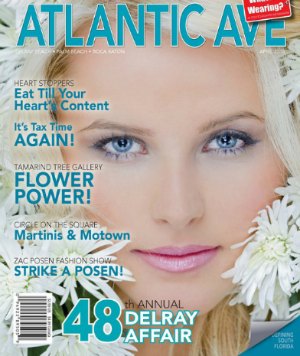 Atlantic Avenue Magazine:  This is a beautiful magazine all about Delray Beach! 

Enjoy stories of our famous Atlantic Avenue and explore the shopping and dining galore.

You can find this publication around town for free. Hard copy subscriptions are available and this magazine can be viewed online too.

---

Delray Beach Magazine: This magazine is all about Delray Beach, similar to Atlantic Ave magazine but this one is only published every 2 months. You can find this publication around town for free. Hard copy subscriptions are available and some excerpts can be viewed online.

Boca Magazine:  The only Boca Raton, Florida magazine.  This magazine has won many awards! It can be purchased at bookstores and at Publix markets. Hard copy subscriptions are also available.

Newspapers: online & hard copy

---
The Coastal Star: This is one of my faves! Its got the small beach town vibe going on! The Coastal Star's geo area of content extends from about South Palm Beach to Highland Beach. 

---
Palm Beach County Newspapers

The Sun Sentinel and Palm Beach Post are the main newspapers for Palm Beach County, FL. You can view them online for free with limited access or subscribe for a fee and get unlimited access.

Sun-Sentinel Newspaper:  The South Florida Sun Sentinel is Broward, Palm Beach and Miami and Dade County's source for breaking news, sports, weather, traffic and more.

Palm Beach Post Newspaper:  The Palm Beach Post newspaper is your top source for Palm Beach County and Treasure Coast breaking news, plus sports, weather, traffic and more.

Christmas in Delray...
It's the

most

magical time of year!

Christmas is a magical time of year in Delray Beach, Florida! The energy in the air is so magical it is literally palpable! We love the holidays here!

If you've never been to Delray Beach, Florida, USA to see our magical 100-foot Christmas tree and the magic that surrounds our downtown, please check out my Christmas in Delray page.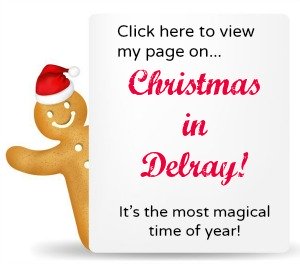 Have you signed up for my free Newsletter?


~ Delray Beach Vibrations ~



Click here to sign up now or click image below to subscribe now! It's free and it's the best way to stay connected with me and Delray Beach! (even if you live on the other side of the world!)