Delray Beach Weather
Delray Beach, Florida, USA

Delray Beach weather makes every
day a great day!
If you're wanting to know the weather in Delray Beach, Florida, you've come to the right place. Delray Beach weather is perfect beach weather almost every day!  This is what a January morning sunrise at the beach looks like!

January Morning Sunrise
Photo courtesy of Joseph Lacy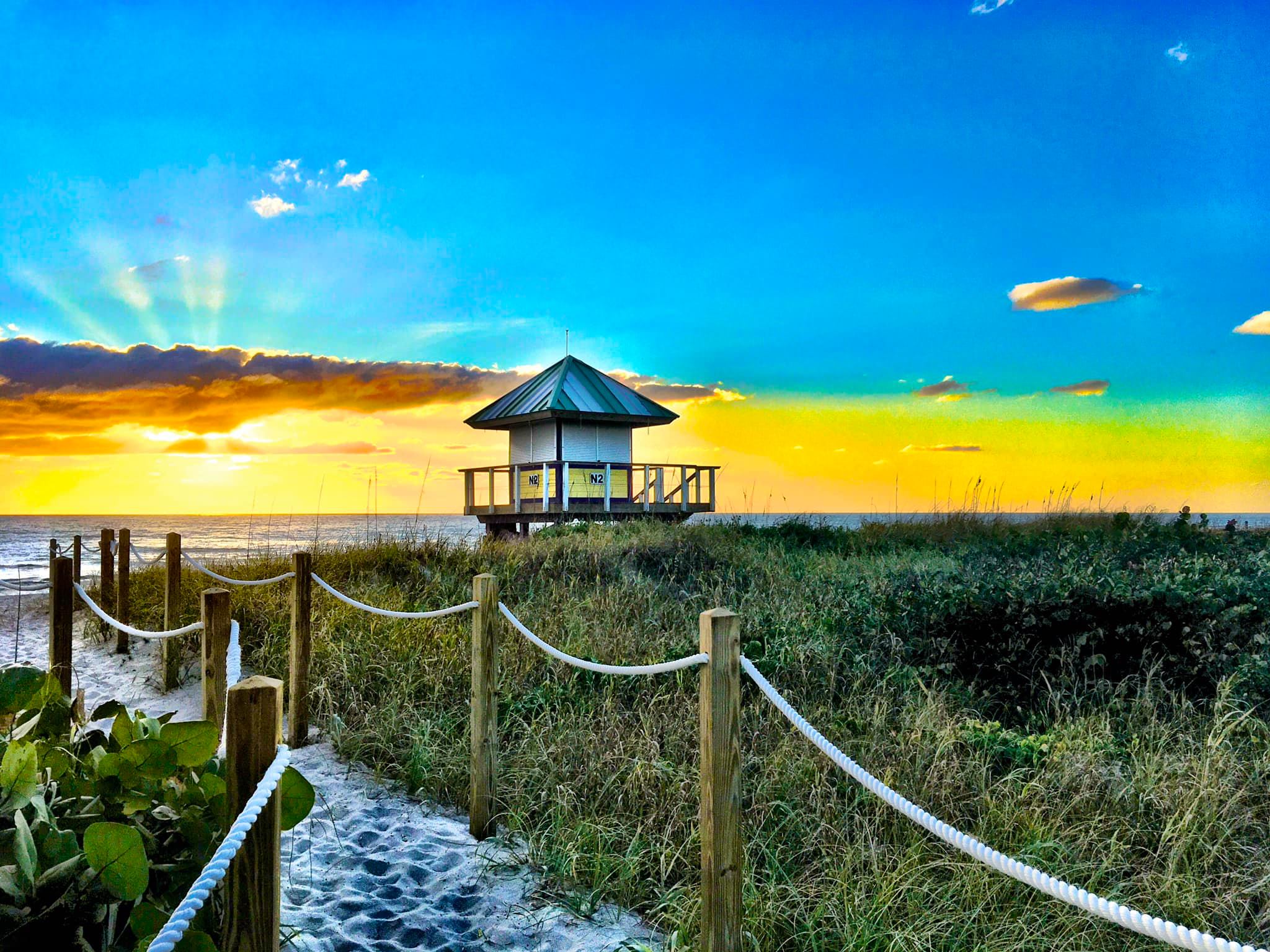 Some days are warmer than others, but almost every day you can expect the Delray Beach weather to be enjoyable enough to go to the beach or doing anything outdoors! These blue cabana beach chairs are for rent at the beach to make your beach visit more enjoyable! p.s. they also make you look great in photos!

Photo credit: Lisa Fuller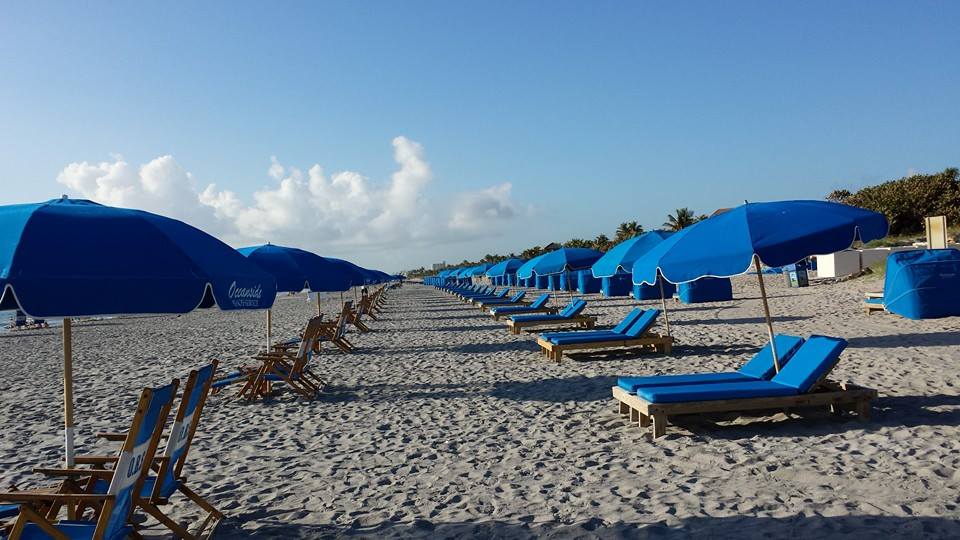 The average Atlantic

ocean water temperature



in February is 73 degrees!
Whatever your beach vacation Top-Ten is, whether it's beach-fun with the kids, active water sports, fishing, boating, kayaking, snorkeling, paddle boarding, diving, shelling -- or how about just relaxing and kickin' it at the beach. You can do all this and more in South Florida -- all year round!

When it's cold and snowy in the rest of the USA, how about enjoying the sun and warm February weather in Delray Beach! It's a great time for beaching and boating and enjoying the warm weather and warm water temps! 
Current Weather Temperature Fahrenheit Degrees

Current Weather Temperature Celsius Degrees
Photo Credit: Larry Richardson

Delray Beach Water Sports
Open 7 Days a Week

(weather permitting)
Delray Beach Water Sports is open 7 days a week, weather permitting. They offer snorkeling tours, and lessons and rentals for all your water sports needs! Look for the "beach shack" at the south end of the beach! Where you see the bright colored kayaks and the catamarans.

Address: 401 S Ocean Blvd (A1A), located at the south end of the beach, near the intersection of Ocean Blvd and Causarina Avenue. Look for the beach shack right ON the beach.

Water Sports Shack Phone: 561-272-7873
Cell Phone: 561-702-7433
Website: Delray Beach Water Sports website
Facebook: Delray Beach Water Sports Facebook Page here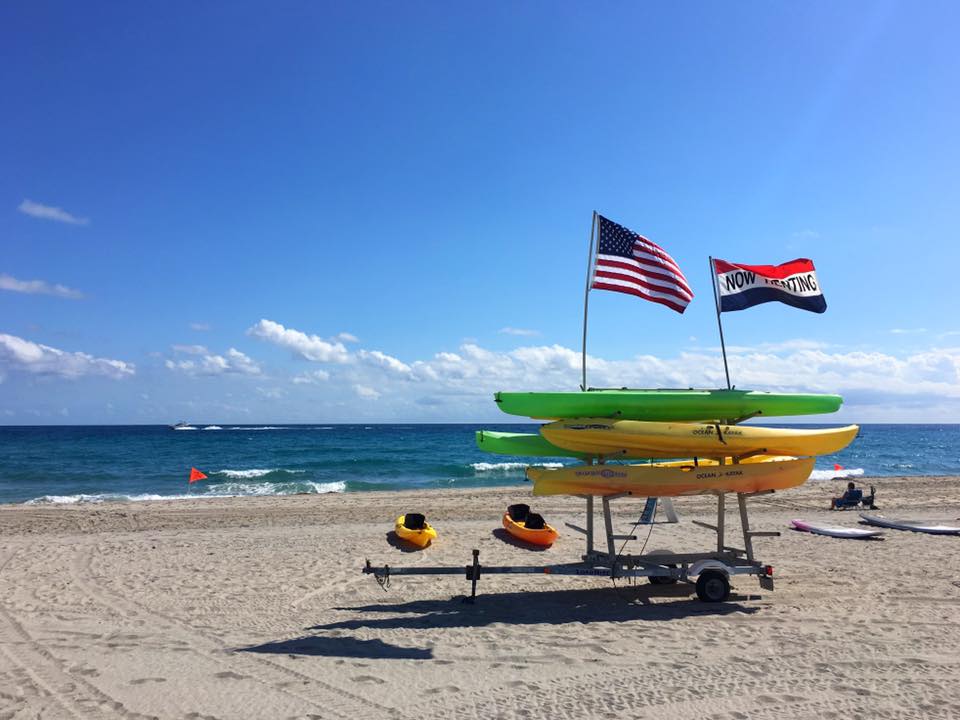 How about some stand-up paddle boarding, kite surfing, kayaking, boating, fishing, or just have some good old family fun at the beach?

This is pretty much every day life, all year round, in South Florida.

Look for these kayaks (pictured above) at the south end of the beach. This is where you can rent your water sports equipment from Delray Beach Water Sports! And then go have a blast at the beach!
Kayaking at the Beach!
Photo Credit: Tom Leeman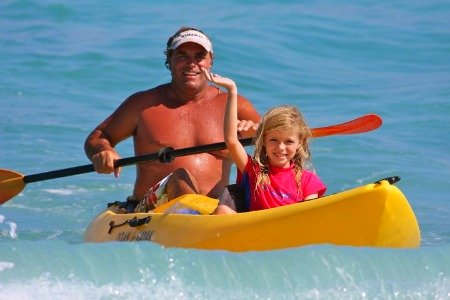 Average Temperatures
High's & Low's
What to Expect with the Weather in Florida

In the summer, Delray Beach weather is the hottest with temperatures in the 80s and 90s with high humidity. 
The warmest months are July and August. August being the hottest month with an average temperature of 83 degrees and average humidity of 75%. It is hot and humid. Not going to lie. :-)

In the winter, Delray Beach weather is unbelievably enjoyable! January is the coldest month with an average temperature of 67 degrees. With an average high in January of 76 degrees. During the day, it is flip flops and shorts weather with a very pleasant temp in the 70s to 80s.

In the winter, the night temperatures and early morning temperatures can be chilly which means you might want to wear layers or a light jacket or sweater.  (Psstttt...chilly in South Florida is anything under 70 degrees.)
The wettest month is June with average rainfall of 5.2 inches with an average temperature of 82 degrees.

Here's two beach chairs waiting just for you!
Photo Credit: Larry Richardson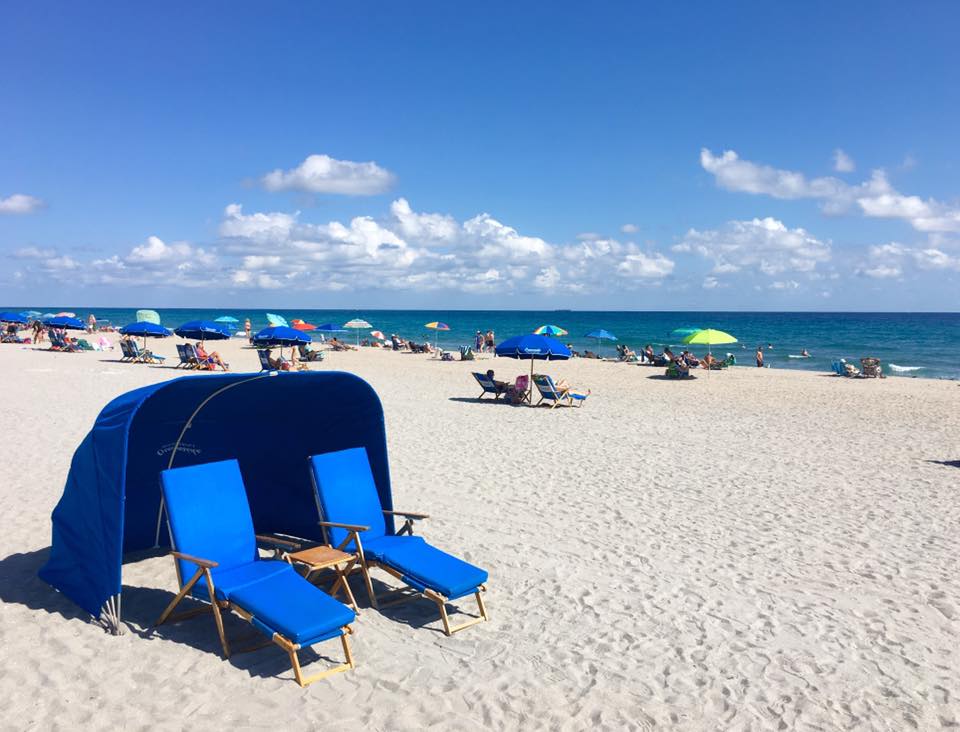 Average Temperature For Delray Beach...

The annual average temperature for Delray Beach is an average high of 83 degrees and an annual low average of 67 degrees.  Do you think you can enjoy this weather?  I know I sure do! 

It's safe to bet that it would be a very rare occasion that you would ever need long underwear or wool socks -- so you can leave these troublesome items at home!

Monthly Average Fahrenheit Temperature
Delray Beach, FL
Month
High
Low
Precipitation
January
75
57
3.75
February
76
58
2.55
March
79
62
3.68
April
82
65
3.57
May
86
70
5.39
June
89
74
7.58
July
90
75
5.97
August
90
75
6.65
September
89
75
8.10
October
85
71
5.46
November
80
66
5.55
December
76
60
3.14
Monthly Average Celsius Temperature
Delray Beach, FL
Month
High
Low
Precipitation
January
24
14
9.52
February
24
14
6.47
March
26
17
9.34
April
28
18
9.06
May
30
21
13.69
June
31.6
23
19.25
July
32
24
5.97
August
32
24
15.16
September
32
24
20.57
October
29
21.6
13.86
November
27
19
14.09
December
24
15.5
7.97
Annual Average Beach Water Temperature
Delray Beach, FL
Month
Farenheit
Celsius
January
71
22
February
73
23
March
75
24
April
78
26
May
80
27
June
84
29
July
86
30
August
86
30
September
84
29
October
83
28
November
76
24
December
73
23
Fun Florida Weather Facts & Trivia for You...

On average, the warmest month is July.


On average, the coldest month is January.


The highest recorded temperature was 101 degrees in 1942.


The lowest recorded temperature was 24 degrees in 1894.


The wettest month of the year is September with an average rainfall of 8.10 inches.


The driest month of the year is February with an average rainfall of 2.55 inches.


May 2017 was the hottest recorded month at MIA (Miami International Airport) with a sweltering 98 degrees! PBI (Palm Beach International) recorded a high of 93 for the month of May 2017. That's really HOT considering the normal average temp for May is only 79 degrees.


Reliable weather recording began in 1913 with some weather records dating back to 1888!


The all-time coldest temperature recorded was on February 16, 1943 in Ft Lauderdale, FL.


Normal high temp on Thanksgiving Day is 78 degrees! Historically the normal high temperature is 78; the normal low is 63. The coldest Nov. 28 on record was 36 degrees in 1903 and the hottest was 89 in 1948.


The annual average precipitation in Delray Beach weather is 61.39 inches.


The earliest recorded instance of snow in Palm Beach County was in 1774! Being unaccustomed to snow, they called it "extraordinary white rain".


Many people ask, "Does it snow in Florida?"  And the answer is,

"Yes!"

On more than one occasion it has snowed in Florida! In 1989, there was snow in Florida and I was there to experience it!


And other people ask "How cold does it get in Florida?" And I can answer that question too!


Palm Beach County enjoys 234 days of sunshine per year! (This is includes sunny and partly sunny days). Even though there are five other states with more sunny days per year than Florida, Florida is still known as the Sunshine State!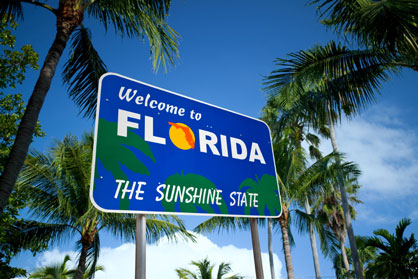 Spend Your Holidays in Florida?
Absolutely!

Have you ever considered spending the holidays in Florida with the sunshine, warm weather and surrounded by the white sparkling sand?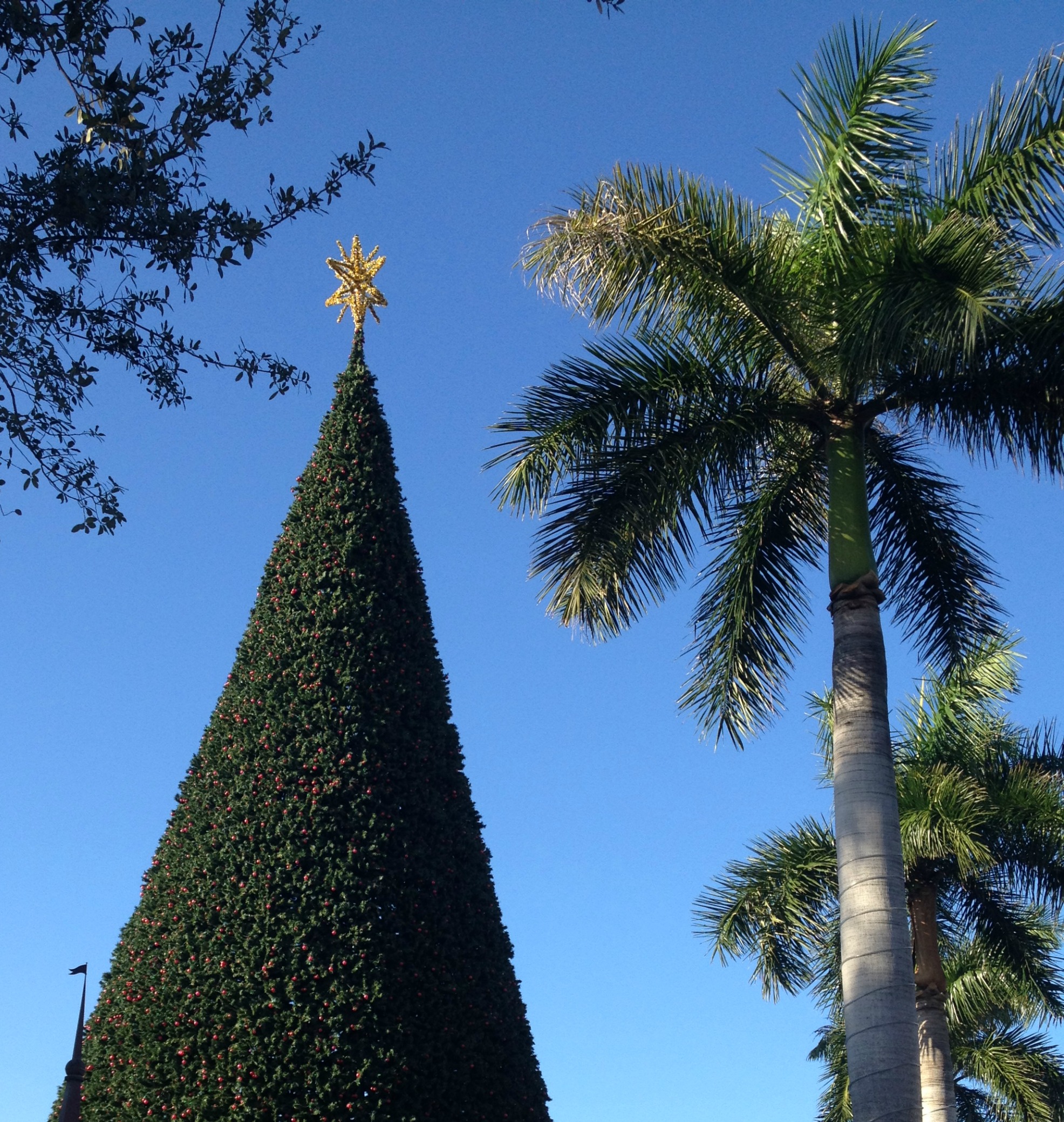 If so, I think you should consider South Florida for the holidays!

How about Thanksgiving in Florida, and enjoy your Thanksgiving Dinner with tropical outdoor dining, or plan Christmas in Florida, and take in our magical Christmastime events with our famous #100-foot Christmas tree or Easter in Florida, or romantic February for a Valentine's Day in Florida?

---
What's the Weather Like Right Now...

South Florida Weather by the Month...
(Note: I do not have weather pages for the months of June, July, August, September & October yet, so there are no links for those months.)

---
Things to do in Delray...

Christmas in Delray...
It's the

most

magical time of year!

Christmas is a magical time of year in Delray Beach, Florida! The energy in the air is so magical it is literally palpable! We love the holidays here!

If you've never been to Delray Beach, Florida, USA to see our magical 100-foot Christmas tree and the magic that surrounds our downtown, please check out my Christmas in Delray page.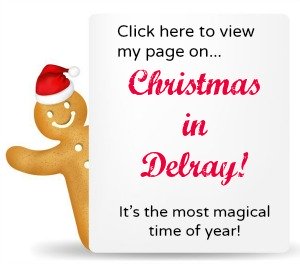 Have you signed up for my free Newsletter?


~ Delray Beach Vibrations ~



Click here to sign up now or click image below to subscribe now! It's free and it's the best way to stay connected with me and Delray Beach! (even if you live on the other side of the world!)