December Weather in Florida
Florida Weather in December is Sunny Delicious!



Wondering what the December weather in Florida is like?

Historically, Florida weather in December is swimming, boating and sunbathing weather!

Christmas Day at the Beach? You Bet!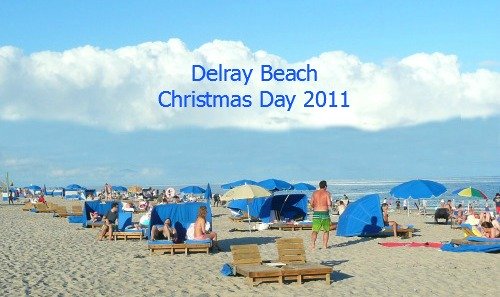 Swimming in the ocean in December and January? Sounds crazy! I know, right?!  But it's true-true! Average water temp is 73 degrees F and 23 Celsius. So, grab the bikini, the SPF and sunglasses and come to Florida for the winter!

I've spent lots o' time sunbathing in my bikini at the beach enjoying Florida's exceptionally warm December weather! December weather is my very favorite! Well, and November weather too. Both my favorite months for the best weather in Florida!

Here's My Delray Beach Umbrella Chair! Where's Yours?
Photo Credit: Photographically Yours, Inc.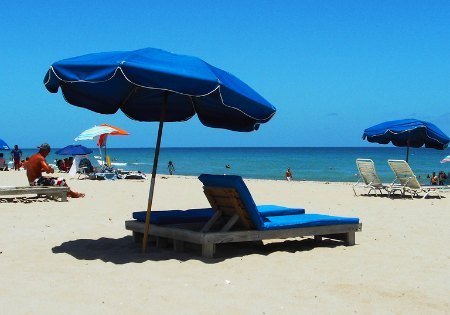 Look at this beautiful morning sunrise at Delray Beach.Temperature in the high 70s to low 80s. Are you ready to wake up to this?
Photo credit to Larry Richards
After all my bragging of the fabulous weather December gives us, it wouldn't be fair if I didn't at least mention, that we have also have had snow in Florida! It is very rare but it HAS happened! (gasp!) It doesn't happen too often -- but it DOES happen.

Click here to read my story of when we had snow in Florida.

Usually, in December, Florida weather is warm, sunny, sun bathing weather with an average high temperature of 77 Fahrenheit and 25 Celsius.

And, I think you're really going to like it!
So...
Bring the bikini!
Bring the swim trunks!
Bring the suntan oil!
Bring the sunblock!
Bring the beach towels, the beach chairs, and the beach toys!

And, don't forget the sunglasses because you'll be needing them too!
Average ocean water temperature in December
73 Fahrenheit and 23 Celsius. Warm!
Another Beautiful December Day in Delray!
Palm Trees and our 100-foot Christmas Tree in the center!


Current Temperature in Delray Beach, FL, USA

Average Temperature for South Florida

Average Temperature
South Florida
| | | | |
| --- | --- | --- | --- |
| Month | High | Low | Precipitation |
| January | 76 | 59 | 2.94 |
| February | 77 | 60 | 2.70 |
| March | 79 | 63 | 2.80 |
| April | 82 | 66 | 3.91 |
| May | 86 | 71 | 6.33 |
| June | 88 | 71 | 10.01 |
| July | 90 | 75 | 6.70 |
| August | 90 | 76 | 6.88 |
| September | 89 | 75 | 8.26 |
| October | 86 | 72 | 6.44 |
Click Below to see More Weather Pages ...

(Note: I do not have weather pages for the months of June, July, August, September & October yet, so those links are not active yet.)

Palms trees, 80 degree weather, and beautiful blue skies at the beach!
Photo courtesy of Larry Richards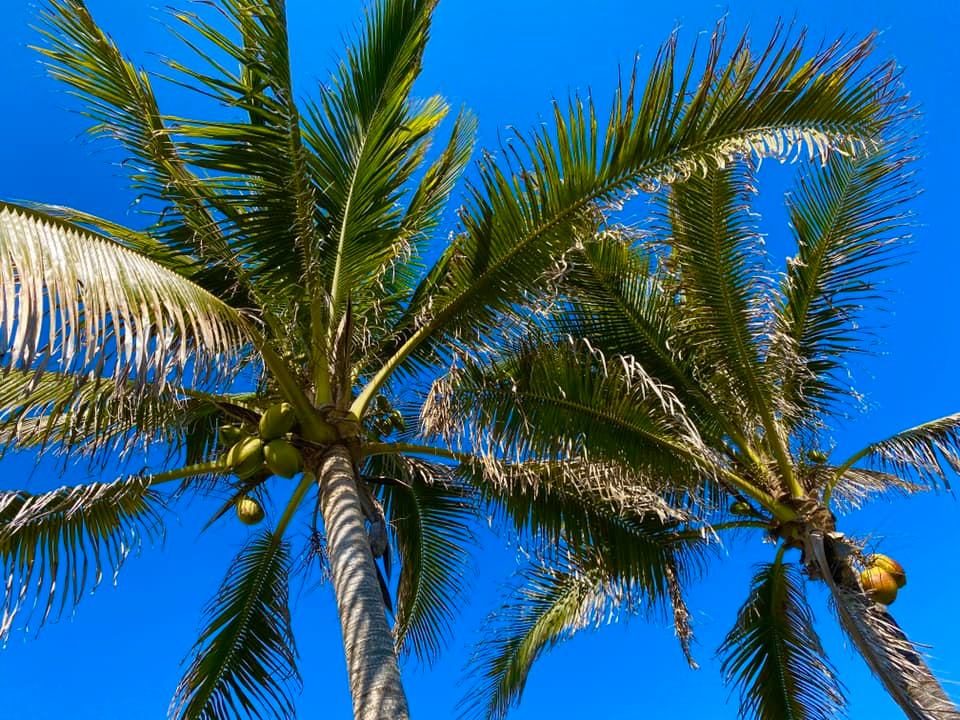 Holiday Decorations All About Downtown

Delray starts decorating for the holidays in November. That's how much time they need to reconstruct the famous 100-foot Christmas tree - after all - it is 100 feet tall!

And it also means that the entire month of December is beautifully decorated with holiday decorations! I love Christmastime and especially Christmas in Delray! So for me, it makes it extra-special to stroll downtown and take in all the Christmas decorations!
This window decoration is at the store Blast From The Past. A high-end consignment store that sells designer handbags, designer shoes and some fancy dresses, jewelry, etc. It's one of my favorite Christmas displays because it has so many little darling animals in it!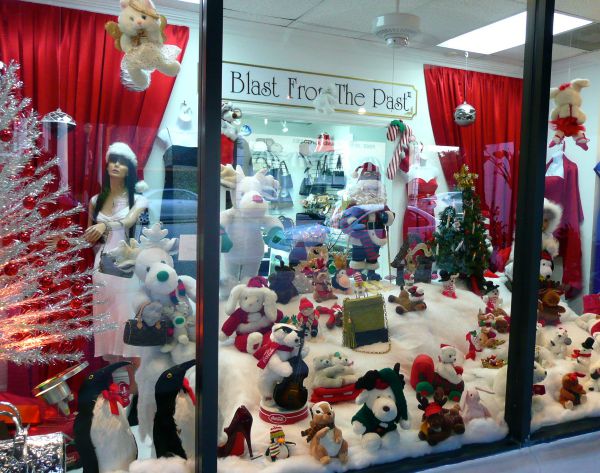 These delicate miniature white Christmas trees can be found in the window of the clothing boutique Love Shack located at the intersection of Atlantic Avenue & NE 2nd - which is also the entrance of Pineapple Grove.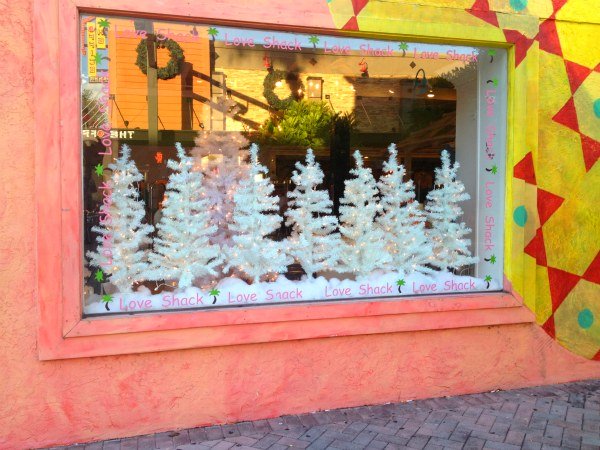 One of my favorite places to enjoy is our beach-front Marriott! It's magical! It's like a small winter wonderland!

I like to stroll through the Marriott lobby ... just to feel the Christmasy vibes!  You can feel the same Christmasy vibes too, in my 1-minute video right here...
Have you signed up for my free Newsletter?


~ Delray Beach Vibrations ~



Click here to sign up now or click image below to subscribe now! It's free and it's the best way to stay connected with me and Delray Beach! (even if you live on the other side of the world!)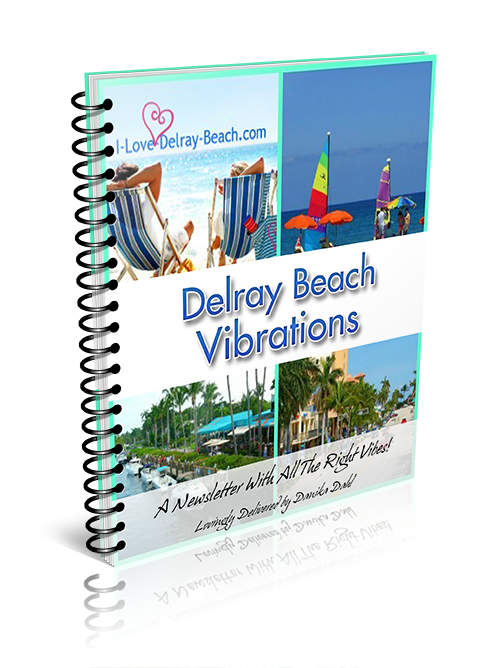 Christmas in Delray...
It's the

most

magical time of year!

Christmas is a magical time of year in Delray Beach, Florida! The energy in the air is so magical it is literally palpable! We love the holidays here!

If you've never been to Delray Beach, Florida, USA to see our magical 100-foot Christmas tree and the magic that surrounds our downtown, please check out my Christmas in Delray page.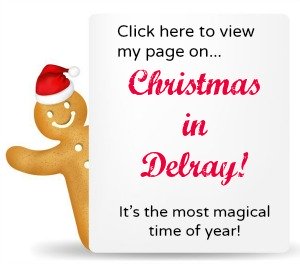 Looking for more things to do? Click on any link below...