Morikami Japanese Gardens in Florida

Morikami is Amazing!
It's the #1 Top Tourist Attraction
in Palm Beach County

Morikami Japanese Gardens in Florida is one of the most treasured cultural attractions in Palm Beach County! It's no surprise that it ranks as the #1 attraction in Palm Beach County!


You don't want to miss it!  If you want some truly beautiful pictures of Japanese Gardens, you must visit Morikami Japanese Garden and bring the camera! Everything here is beautiful!

There are two landscaped islands situated in the lake and they are accessed by brilliant bridge walk ways pictured below.
I can't take credit for all of these amazing photos - only some of them.  Photo credit is provided when photos were provided by others.)
Photo Credit: Morikami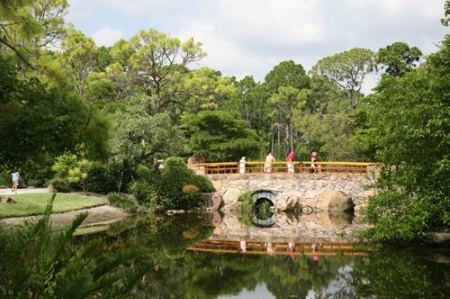 Morikami Japanese Garden is an expansive 200-acre Japanese garden of pure beauty and tranquility. You might it's say a place of true Zen.
Morikami Japanese Gardens in Delray Beach, Florida ranks 8th among more than 300 Japanese Gardens outside Japan.  This ranking is by the Journal of Japanese Gardening.

In 2001, Roji-en: Garden of Drops of Dew opened. You'll find six different gardens here, each inspired by a different historical period and type of Japanese gardens. 

Shinden Garden
Paradise Garden
Early Rock Garden
Karesansui Late Rock Garden

Hiraniwa Flat Garden
Modern Romantic Garden


Photo Credit: Sharon (Unknown Last Name)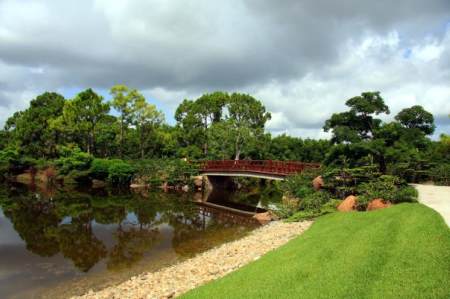 Photo Credit: Morikami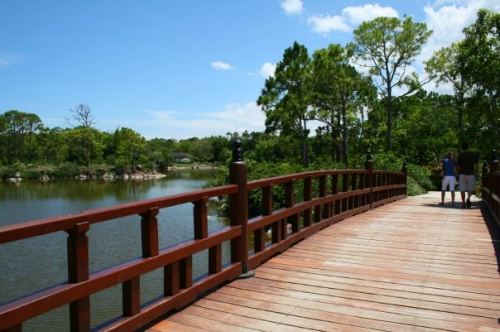 What Will You See?

You'll see lots of bonsai trees, a bamboo forest, Japanese garden bridges, some beautifully designed Japanese garden waterfalls, rock gardens and water features, bright colored koi fish in the pond, and lush and serene beauty in every direction!

What Will You Hear?

I love the sound of water. Water, and especially the sound of the ocean waves.  It's the secret remedy that gives me the molecular fix my soul craves! Water symbolizes purity, clarity and calmness, and reminds us to cleanse our minds and souls of impurities.

There are lots of beautiful Japanese water features and soothing waterfalls like this one.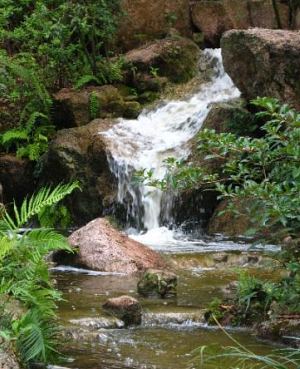 On the nature trails you will likely see lots of wildlife such as turtles, lizards, iguanas and more.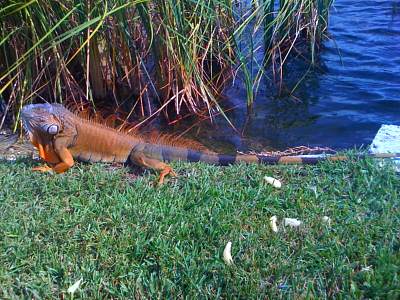 Take a Sneak-Peek Virtual Tour Right Now!

Lovely video by filmmaker and photographer Raoul Pop
Suggestions For Your
Morikami Japanese Garden Tour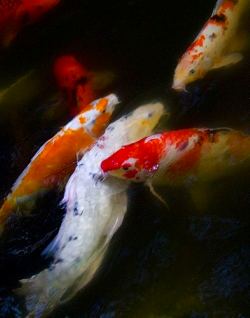 FIRST SUGGESTION: Buy fish food before you begin your walk/tour.  You'll have fun feeding the fish.

The koi fish are vivid in colors of all varieties, they are huge and they love to be fed! And, so do the turtles!

SECOND SUGGESTION: Take advantage of the self-guided audio tour.  This is free for members and $3 for nonmembers. 

It takes you through the design and history of Japanese gardens and provides you with information on the Japanese museum as well. 

There is also a family fun track which is excellent for your kids!  It's specifically designed for your children with questions and ideas that will interest them.

THIRD SUGGESTION:  You'll want to wear comfortable shoes and allow yourself a minimum of at least two hours.

Or, if you're like me, and you really enjoy the tranquility of nature, and if the sound of water soothes your soul like it does mine, you just might find yourself spending the entire day here at Morikami Japanese Gardens in Florida.

FOURTH SUGGESTION:  Bring the camera! You'll want to get lots of beautiful pictures of Morikami Japanese Gardens.

FIFTH SUGGESTION: If you want to learn as you go, consider getting the audio tape or go with a guide.

I think you will enjoy all the amazing exhibits here. The amazing bonsai trees, the koi fish, the turtles, the iguanas, the water features, the Japanese rock gardens, the bamboo forest and all the wonderful exhibits in the Morikami museum.

It's all very beautiful. Take your time. Wear comfortable shoes and clothing. Bring the sunscreen and sunglasses.
Bonsai Walk Exhibit

Photo Credit: Morikami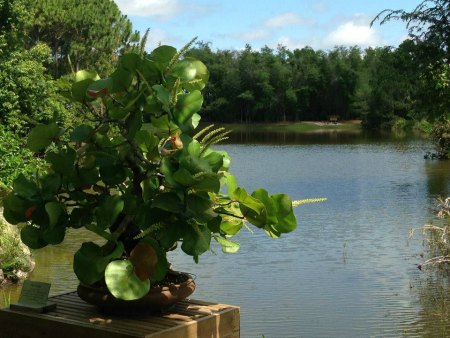 Photo Credit: Morikami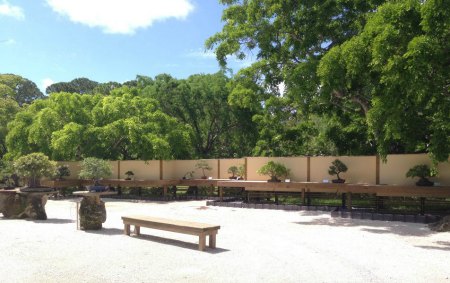 Downloads & Guides

Here is a 12-page guide you can view or download. Provides detailed information and a map.

They have a tour-guide app you can download on your smart phone or view on line here.

To download on your phone: morikami.org/tour

History of the Gardens
Let me give you a brief history of development of the Japanese Gardens...

In 1973, the property was generously donated to Palm Beach County by George Morikami. 

In 1979, this property was developed to become what we now know as Morikami Museum and Japanese Garden.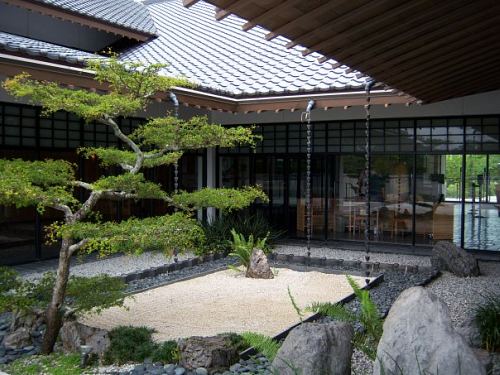 In 1993, a second building was opened to meet the demands of a growing community and the popular demand for a Japanese garden in Florida and Japanese culture in Florida.

The second building is the main Morikami museum building and features the exhibition galleries, a 225-seat theater, an authentic tea house with viewing gallery, a library, classrooms, Japanese museum store, cafe and lakeside terrace with a Japanese courtyard garden.

In 2001, Morikami completed a major garden expansion and renovation. The new modern Japanese garden now reflects major periods of Japanese garden design, from the 18th century to the 20th century. 

The Morikami Museum and Japanese Garden is one of the most treasured cultural attractions in Palm Beach County and it ranks as the #1 attraction in Delray Beach.


~ Annual Events ~

Enjoy Sushi Stroll in the Summer Months
May Through September
In the summer months May through September consider taking a break and do the sushi stroll at Morikami Museum and Japanese Garden and enjoy The Morikami Sushi and Stroll Sunset Walk Event from 5:30 – 8:30 PM.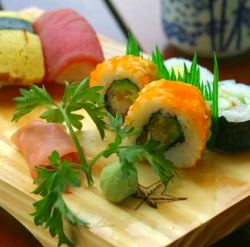 Grab yourself a tasty beverage (beer, wine, soda, water, or whatever...) from their café and then take a leisurely stroll, enjoy the breathtaking sunset along the walking path through the tranquil Japanese gardens.

During the Sushi and Stroll event, the Japanese gardens are open for you to stroll through and peacefully enjoy at your own pace. 

The café and store are both open during this time but the museum exhibits are closed.

January
Oshogatsu Celebration

(Japanese New Year Celebration)
Every January, the Traditional Japanese New Year celebration takes place with a festival including games and entertainment throughout the museum and its gardens. 

March
Hatsume Fair Celebration

Celebrate the first bud of spring, with Morikami's largest annual event, The Hatsume Fair.  This festival transforms the normally tranquil Morikami Park into a unique Japanese spring festival.

October
The Lantern Festival

(Previously the Bon Festival)
Morikami's Bon Festival is now known as the Lantern Festival. The official changing of the name is for good reason.

"In an effort to protect the safety of Morikami visitors and staff, we felt compelled to move Bon Festival out of the often inclement and even dangerous Florida summer months.

Obon, however, is a traditional and religious Japanese holiday celebrated exclusively during the months of July and August in Japan."
I can confirm that the weather is indeed inclement weather at the Bon Fest when I went a couple years ago. Sadly, there was so much rain and lightening, we ended up leaving early. I was disappointed, but sitting in thundering rain showers and lightening is not fun.

So instead of the traditional Bon Festival event in August, Morikami will now be holding a similar event called the Lantern Festival in October. Safer and more enjoyable for everyone.

"In order to preserve the essence of Morikami's much-loved event and the sanctity of Obon as it is celebrated in Japan, in October we will celebrate The Lantern Festival: In the Spirit of Obon."

You can still expect to see much of the same as you did at the Bon Festival such as the iconic floating lanterns! This is super-neat to watch for adults and children too! And there will be the taiko drumming, Japanese folk-dancing and a mini version of a street fair -- all events representative of a Fall Festival in Japan.

Photo Credit: Micah Kvidt Photography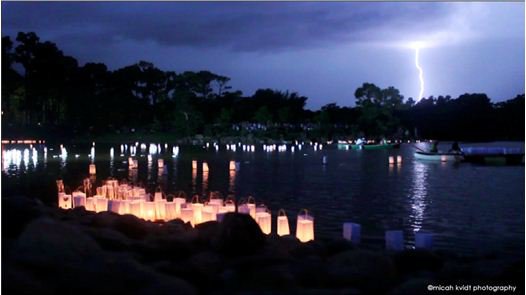 Video of Bon Fest 2010
Video by Morikami

Family-Fun Events at Morikami
You'll find activities and classes like Japanese language, flower arrangements classes, garden photography, tea demonstrations, garden design workshops, Japanese writing through calligraphy and a lot more!

The Family-Fun Programs are offered on Saturdays and are made for the entire family to enjoy! 

Information & Hours of Operation

Address: 4000 Morikami Park Road, Delray Beach, FL

Hours: Open 10 AM - 5 PM Tuesday through Sunday.  Closed on Mondays.

Phone: 561-495-0233

Website: http://www.morikami.org/
Morikami Gardens is one of the TOP attraction sites in Palm Beach County! Read Reviews here!

Owned and operated by the Palm Beach County Parks and Recreation Department, in public-private partnership with the Morikami, Inc. 


Here's Some More Tours You Might Like...

---