Questions? Comments? Feedback?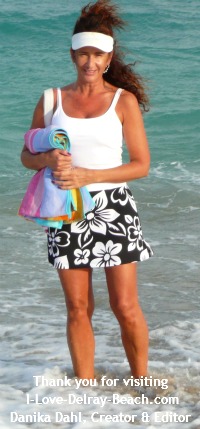 Hi, I'm Danika Dahl. I'm creator of this website. (You can read more about me on my About Me page.)
I love to share my love of Delray Beach, Florida with the world! I hope you enjoy reading about it as much as I enjoy sharing it.
I'm here to help make your Delray Beach Vacation more enjoyable. Or maybe you're ready to move to Delray? Well, I can help you with that too!

If you have a question, a comment or feedback on my website, (positive, negative, can't find something, or otherwise...), I'd sure like to know. You can contact me via the form below. I would love to hear from you!

p.s. Don't be shy either! I'm compiling questions for an FAQ page. Your question just might be used to help others!

Do you have questions like...

How to get to Delray Beach?
Transportation once we arrive Delray Beach?
Questions on Real Estate in Delray Beach?
Are you ready to move to Delray?
What makes Delray beaches so great?
Why does Delray Beach win so many awards?
What's the weather like in Delray Beach?
What kind of clothes do we need to pack?

Are there local stores to buy swim suits once we get there?

When's hurricane season?
When's Florida tourist season?
Are Thanksgiving and Christmas holidays a good time to vacation in Florida? You can read my Thanksgiving holiday story here.

I read and respond to all my emails.

P.S. If you don't hear back from me -- be SURE to check your SPAM filter!