Tourist Season in South  Florida
In the Winter Months
Florida has the Best Weather in the USA

Tourist season in South Florida, USA, starts in November and ends in April of every single year -- again and again and again -- as tourists flock to the south to embrace the best weather in all of America! That's right. In the winter months, Florida has the best weather in the USA.

With the warm Florida sunshine, the warm temperatures, and the exceptionally warm Atlantic Ocean water, you'll find the best weather right here in Florida. 
Photo Credit: Brad Stoecker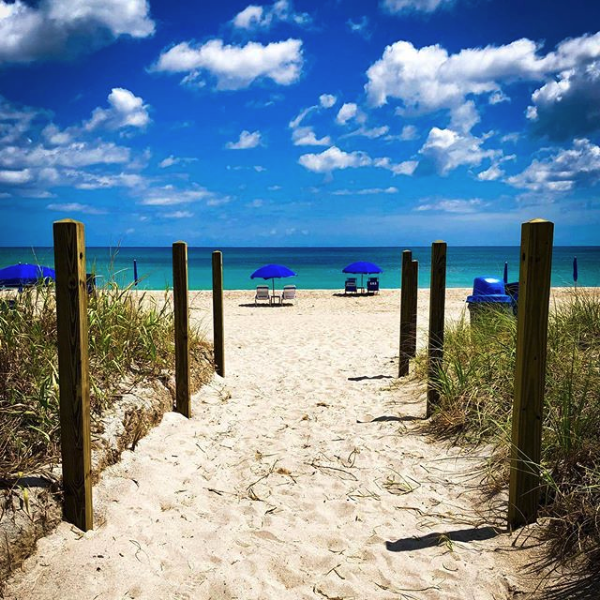 What is Florida Tourist Season?

Florida tourist season is not limited to just tourists.  Tourist season really encompasses the tourists plus all the part-time residents (aka snowbirds) who return every season to winter in Florida.

Tourism is our second biggest economy.
More than 7.3 million people visit
Palm Beach County annually. 
And they spend approx $4.6 billion dollars.
During tourist season, and especially Spring Break, you'll find that most towns actually double in population!  Traffic too! This is especially true for the very trendy and desirable destination spots along the Florida beaches.
Spring Break in Florida
If you like a crowd for Spring Break, then you'd like South Florida for Spring Break for sure! The beaches are action-packed with big time fun during Spring Break! The beaches do not always look like this though!

The Crazy Days of Spring Break!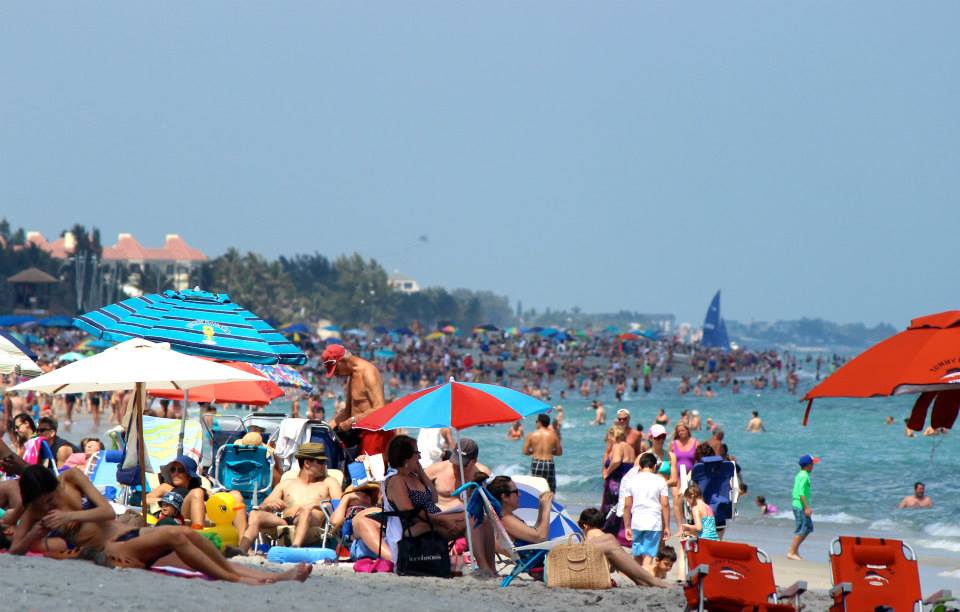 Avoid Tourist Season or Join the Crowd
Which One is Right for You?

Do you want to be part of the crowd...or not so much? Should you plan your vacation during "season" (busy time) or maybe you'd rather avoid all the tourists, and take advantage of the best rates...during "off-season" (slow time).

Let me help you decide.
Ask yourself these easy questions...

1) What kind of weather do you want? Warm or not so much? This will decide which month you might want to travel.

2) If you are single, you might enjoy the busy tourist season. It's busy! It's vibrant! It's lively! And it has a very electrifying night scene! In the off-season, it can be much slower -- obviously not as much fun if you're looking for a lot of action and hot times. But very enjoyable if that is what you want.

3) If you're a family with children, you might be looking for an affordable Florida vacation.  If so, then consider coming in off-season when hotel rates are much more affordable and many places offer off-season pricing.

Photo Credit: Brad Stoecker
Best Time to Enjoy Off-Season in Florida

If you want to avoid the tourists and the part-timers, come in off-season, which is May through October.  This is when you'll find less of a crowd and better hotel rates -- yet you can still enjoy some of the best Florida weather in the off-season months.

Check the Florida weather for your preference so you can enjoy your vacation to the fullest. Some people do not do well in the heat and humidity, so they are best to come in the cooler months.

You can find some amazing off-season rates
during the off-season months.
Avoiding the crowds, might mean you're the only one at the beach! How's that work for you? You might enjoy the solitude like I do!

Photo Credit: Photographically Yours, Inc.

Warmer Weather or Cooler Weather?

If you like warmer weather and warmer waters, but want to avoid the crowds, then I suggest coming in April or May when the temperature is going to be higher than 70 degrees, yet you will be avoiding much of the tourists.

If you like cooler weather, then I suggest coming in October or early November when the temperatures have cooled down and the water is cooler -- but high season has not hit us yet.

And, don't forget...Another added bonus of traveling before and after high tourist season, is you will avoid paying the high season rates!

What's considered "cooler" in Florida?
Cool to us Floridians is about 70 degrees!
And in the winter months, that is really quite lovely!
Choose the Best Florida Weather for YOU!
| | | | |
| --- | --- | --- | --- |
| Month | High | Low | Precipitation |
| January | 76 | 59 | 2.94 |
| February | 77 | 60 | 2.70 |
| March | 79 | 63 | 2.80 |
| April | 82 | 66 | 3.91 |
| May | 86 | 71 | 6.33 |
| June | 88 | 71 | 10.01 |
| July | 90 | 75 | 6.70 |
| August | 90 | 76 | 6.88 |
| September | 89 | 75 | 8.26 |
| October | 86 | 72 | 6.44 |
Thanksgiving Holiday in Florida
By Thanksgiving, everything is very, very busy and most hotels have limited availability. Plan ahead if you need to stay in hotels in Delray Beach, Florida!

And I don't say this lightly!  !!!PLAN AHEAD!!!

I've experienced the "limited availability" of hotels during the holidays first-hand during my very first Thanksgiving holiday vacation! Doing the "hotel shuffle" isn't the best way to spend your holiday time -- although it IS a great way to see four hotels!

---
We Have Year-Round Attractions!

There is still plenty to do during off-season!
---
Christmas is Magical in Delray Beach!

We celebrate Christmas in a spectacular way!
Our Christmas holiday celebrations go throughout the entire month of December! Please check out my Christmas in Delray page to see all the family-friendly holiday fun!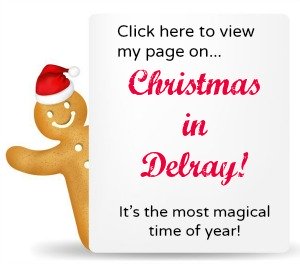 How About Enjoying Christmas at the Beach on Christmas Day!

 You can expect weather like this! Click here to see Florida December weather.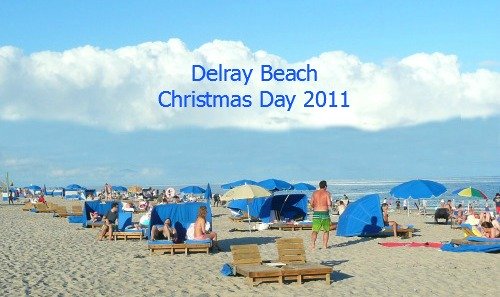 Looking for more things to do? Click any link below...

Join my free eNewsletter...