St. Patrick's Day Parade in
Delray Beach, Florida

It was back in 1968 when a green pig and Maury Power paraded down Atlantic Avenue – starting a tradition that is still celebrated 50-some years later!
That tradition is our famous St. Patrick's Day parade in Delray Beach, Florida!
***St Patrick's Day Parade 2020
has been canceled***
but the businesses are still celebrating!

Click here to read about OTHER St Patrick's Day Celebrations in Delray!
It is now known as an International parade for Emergency Service Workers (Firefighters, Police, Paramedics) -- and it is one of the biggest St. Patrick's Day parades in Florida!
***St Patrick's Day Parade 2020
has been canceled***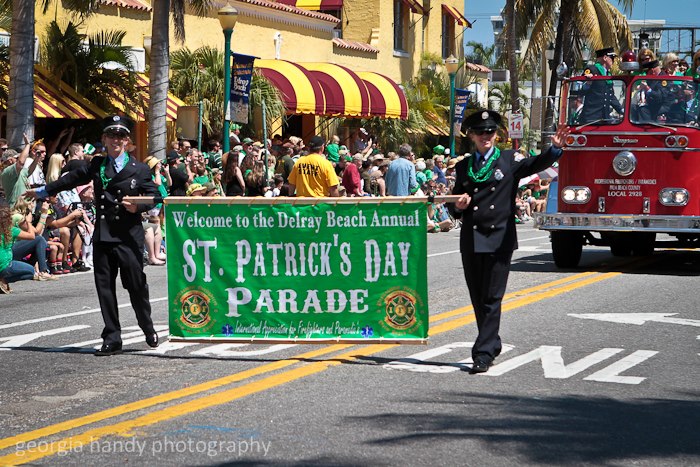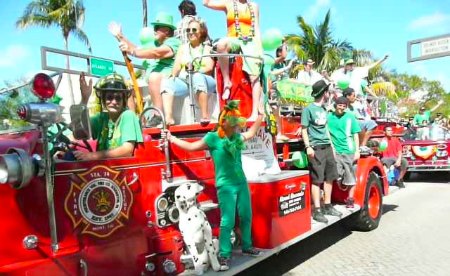 It may be one of the biggest parades in Florida now, but success hasn't always befriended this nonprofit parade. You can read about the history of the Delray Beach St Patrick's Day parade here.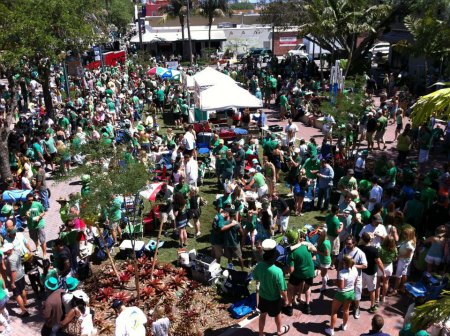 Parade Start Time & Location...

***St Patrick's Day Parade 2020
has been canceled***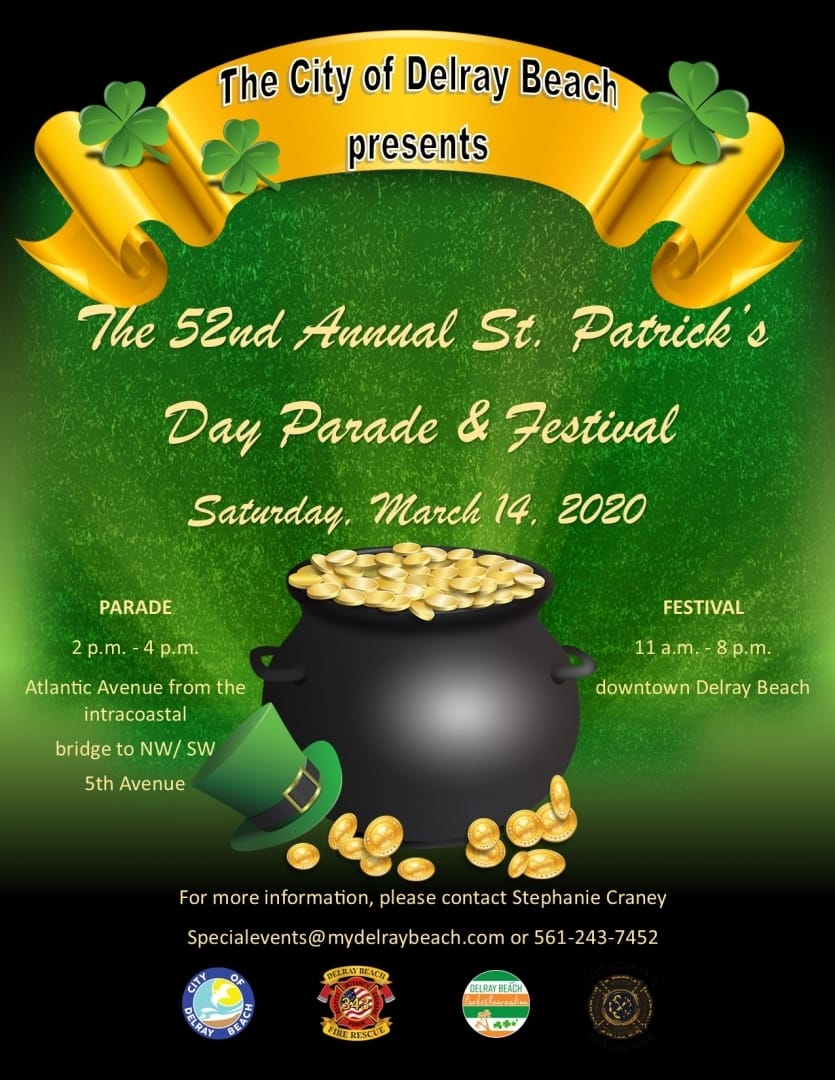 Where Does the Parade Start and End?

The parade starts at 2 PM noon at the east end of Atlantic Avenue at the intersection of Atlantic Avenue and Gleason Drive (near the Marriott Residence Inn and Seagate Hotel).  

It used to end at Swinton Avenue but due to increased spectators, in 2012 the parade was extended 5 more blocks west to accommodate the growing crowd.
The parade now officially ends at the Delray Beach Fire Rescue's Headquarters station on West Atlantic Avenue and NW 5th Avenue. Pretty much anywhere west of Swinton, you will find the best viewing, towards the end of the parade.

What You'll See...

Antique fire engines as well as modern day fire engines and apparatus.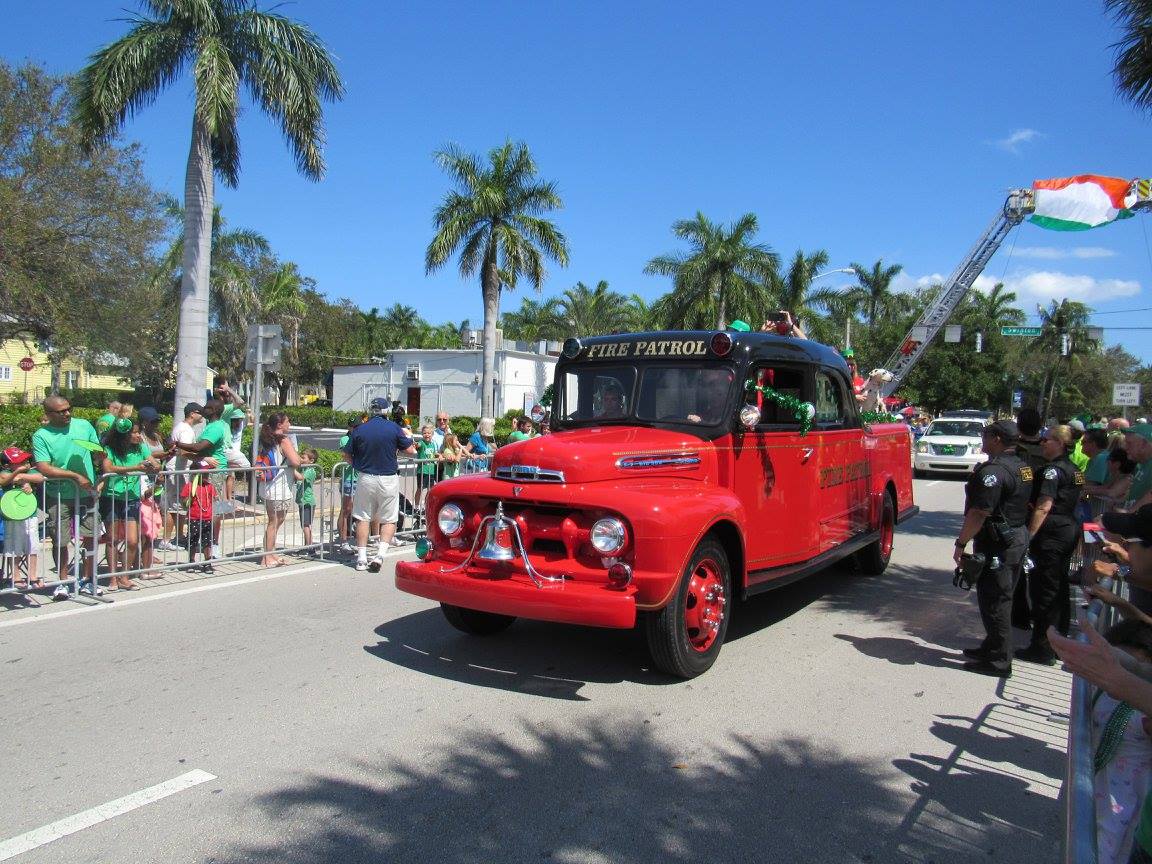 Fire department honor guard teams will march carrying flags and ornate fire axes.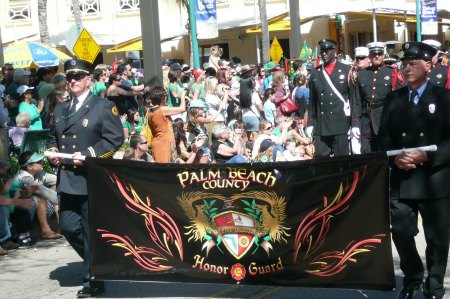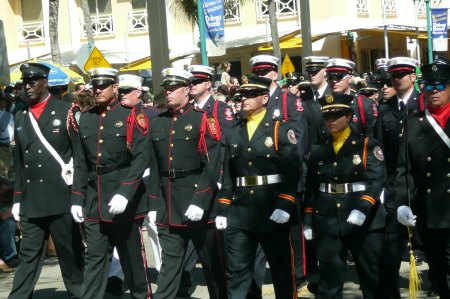 Fire department bagpipe band members from different fire department pipe and drum bands will march and play together.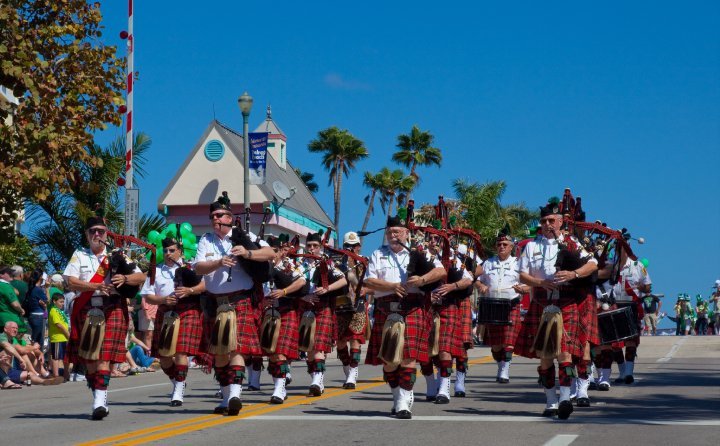 Uniformed marching firefighters, Dalmation dog owners, and professional fire clowns have been invited to delight the spectators.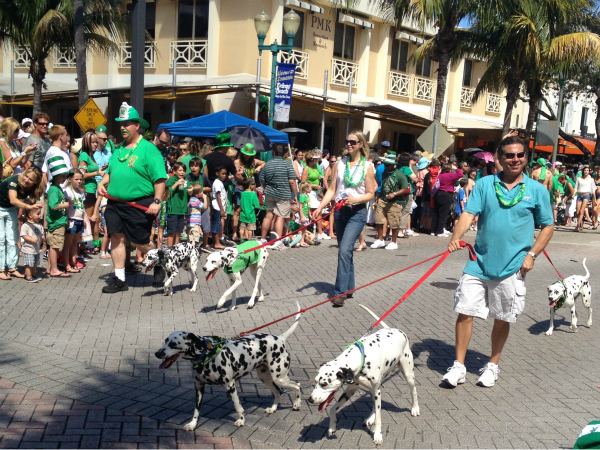 2010 was the first time 5 sets of ladder trucks suspended huge flags at the intersections of Atlantic Avenue. Huge flags hung over the parade route, including an Irish flag at Swinton Avenue.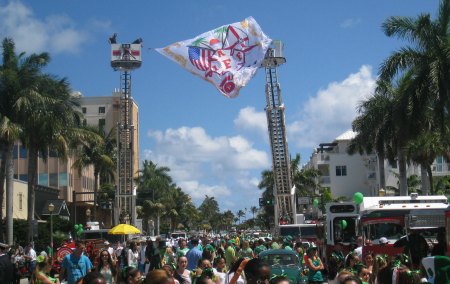 The parade now features 12 ladder trucks, coming from departments all the way from Miami-Dade to Indian River County. The ladder trucks line up two by two to form arches flying 20 x 30-foot flags over the parade route on Atlantic Avenue.
The spectators dress as "IF" they were a clown in the parade...

This is me in the green TOP hat and green jewels! It was a fun day on the Avenue!

Left: My friend (and local artist) Dana Donaty.
Bottom right: Me and my friend Kelli Freeman. We all love the St. Patrick's Day parade!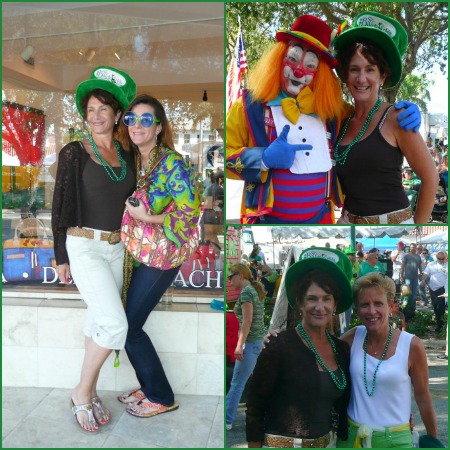 This collage is of JoJo Marie and her friends. JoJo loves the St. Patty's Day parade more than most! And her photos reveal this!

You might even get lucky and get a posed photo with the Muck Monster of Lake Worth Lagoon!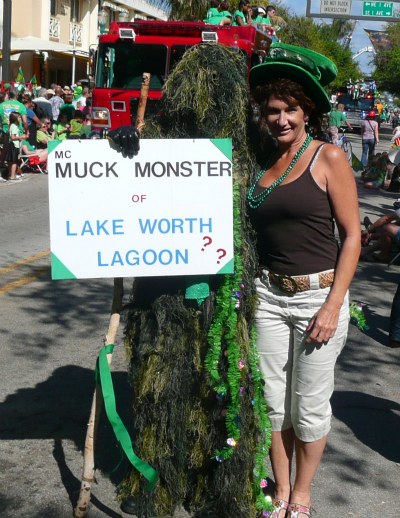 Irish Pubs and Irish Bars in Delray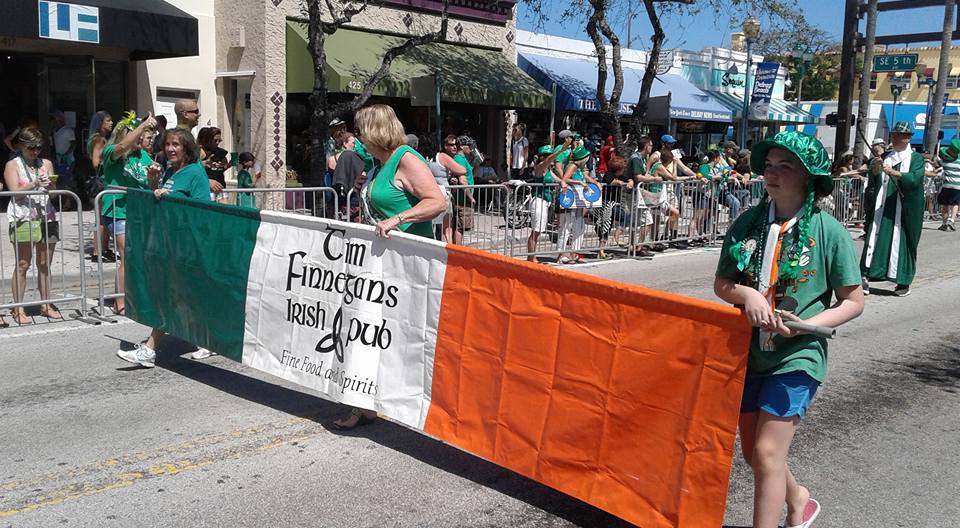 Tim Finnegans Irish Pub
2885 S. Federal Hwy
Delray Beach, FL
561-330-3153
Traditional Irish Fare - Full menu lunch and dinner
Irish breakfast brunch Sat & Sun
Facebook Page: Tim Finnegans


The Blue Anchor Pub in downtown Delray - it's a British Pub! Great place to enjoy St Patrick's Day festivities and a great place to watch the parade!
804 East Atlantic Avenue
Delray Beach, FL 33483
Facebook Page: The Blue Anchor Pub


HJ O'Connor's Pub - downtown Delray
210 NE 2nd St, Delray Beach, FL 33444
Phone: 561-330-0022
Facebook Page: HJ O'Connor's Pub

History of the St Patrick's Day Parade
in Delray Beach, FL

Read about the history of the St Patrick's Day parade here and how Maury Power and his pig started this tradition back in 1968.

---
More South Florida Weather Pages...

Things to do in Delray...

Have you signed up for my free Newsletter?


~ Delray Beach Vibrations ~



Click here to sign up now or click image below to subscribe now! It's free and it's the best way to stay connected with me and Delray Beach! (even if you live on the other side of the world!)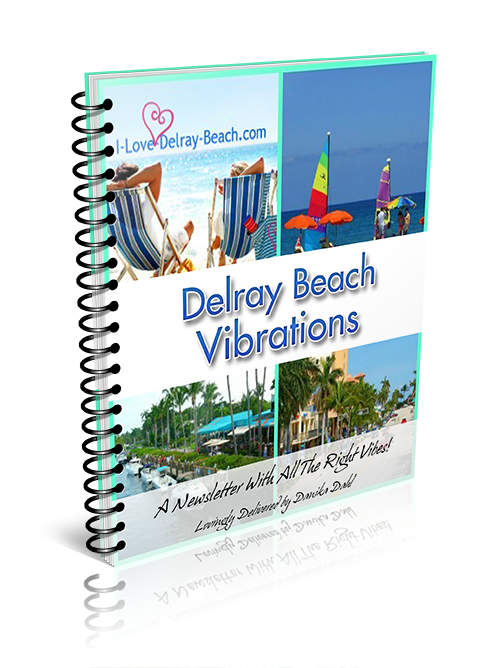 Christmas in Delray...
It's the

most

magical time of year!

Christmas is a magical time of year in Delray Beach, Florida! The energy in the air is so magical it is literally palpable! We love the holidays here!

If you've never been to Delray Beach, Florida, USA to see our magical 100-foot Christmas tree and the magic that surrounds our downtown, please check out my Christmas in Delray page.