The History of St. Patrick's Day
in Delray Beach, FL
It All Began with Maury Power
Back in the Day...

***St Patrick's Day Parade 2020
has been canceled*** but the businesses are still celebrating!

Click here for OTHER St Patrick's Day Celebrations in Delray!
St. Patrick's Day in Delray Beach started back in 1968...

When Maury Power sitting in an Irish Pub began to lament about the lack of any local St Patrick's Day celebration.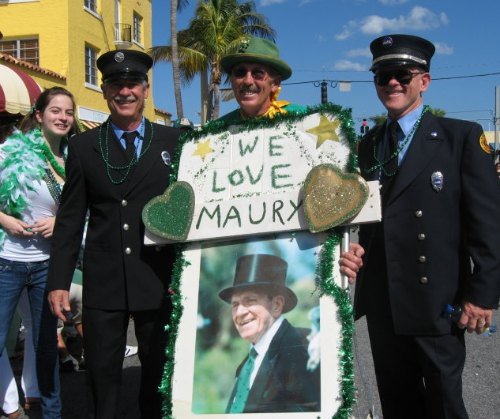 With just a little encouragement from his pals and probably a bit too much Irish whiskey, he took up the challenge to have an impromptu St. Patrick's Day parade right then and there. 

Maury left for a few minutes, only to return with his green pig, top hat and shillelagh, he began his solitary stroll up the middle of famous Atlantic Avenue (much to the delight of his drinking buddies and chuckling passersby). 

When questioned as to just what he thought he was doing, parading up the middle of Atlantic Avenue, his proud response was, "I'm having a Parade!"

Hundreds of thousands of people have attended the St. Patrick's Day Parade in Delray over the years, and it all started by one man's decision!

Thanks Maury!
Article from Palm Beach Post dated October 12, 1996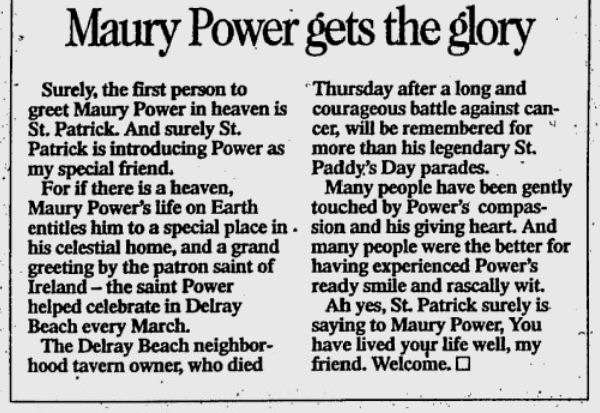 Timeline of Parade Organizers...

---
1968 - 1996:  From the beginning of the St. Patrick's Day parade in 1968 until Maury's death in 1996, the Power's family kept the tradition of the parade going every single year.

1997 - 2007:  When Maury died, Ed Gallagher took it over until 2007 at which point, he turned it over to Nancy Stewart's company Festival Management Team.

2007 - 2013: Festival Management ran the parade until May 2013, at which point it was turned over to John Fischer and his Code3 Events company. 

2014 - 2018: St. Patrick's Day March 2014 marked the first year for the parade to be run by Code3 Events. Code3 Events created a family atmosphere setting for this parade and brought International recognition, participants and spectators from all around the world. Code3 Events passed the torch to the city after the 2018 parade.

2019: The parade was taken over by the City of Delray Beach.

Timeline of Parade Over the Years...

---
Even though 1968 was the beginning of the St. Patrick's day parade, history tells us that it was really born in 1970 with 6 float entries and $500 raised for charity.

Delray Beach St. Patrick's Day parade founder Maury Power and Dennis Gallagher, carrying the legendary green pig Pork Chop.
20th Annual St. Patrick's Parade on March 12, 1988
Photo Credit: Palm Beach Post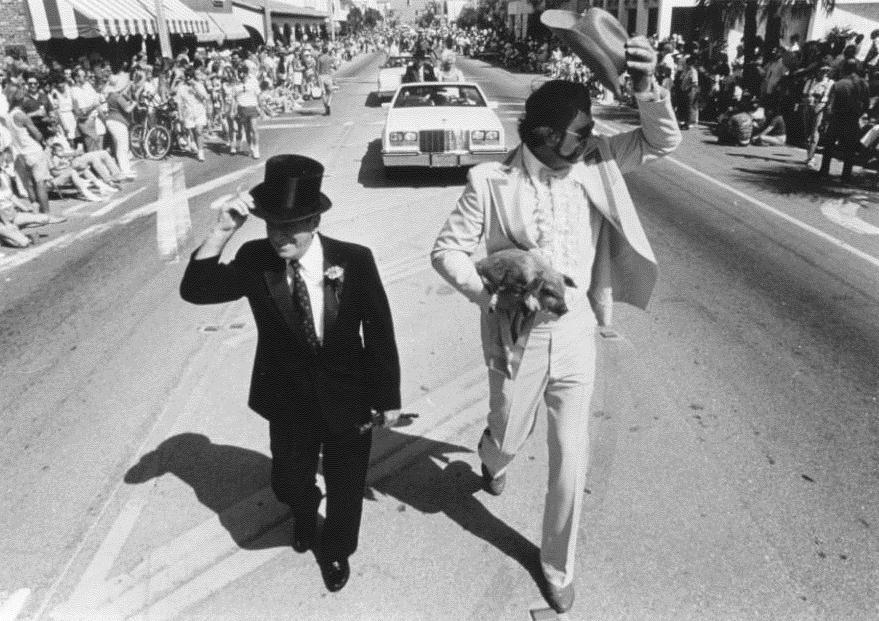 Tim Power and Petunia the pig walking down Atlantic Avenue during the 30th Annual St. Patrick's Day Parade.
Petunia is sporting green adornments rather than sporting her usual green dye at the request of local animal rights activists.

30th Annual St. Patrick's Day Parade on March 14, 1998
Photo Credit: Greg Lovett / Palm Beach Post

Thousands of people line Atlantic Avenue to see, touch, pet and photograph Petunia the pig!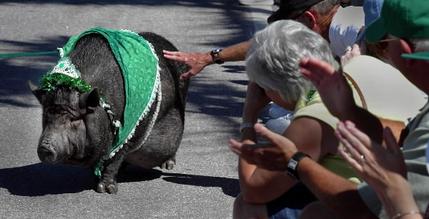 Maury is never forgotten! Parade after parade....he is always remembered!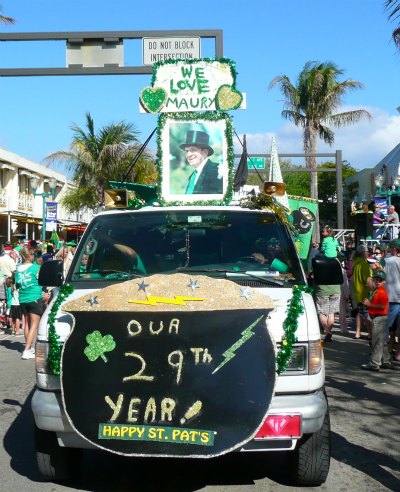 ---
Petunia the Pig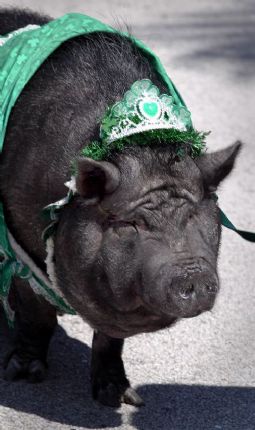 Petunia the pig started practicing her "parade walk" way back in 1995. She marched her 11th year in the 37th annual parade.

Her owner Kimberly Vislocky, owner of Kimberly's Pet Grooming, said Petunia wore homemade green outfits topped off with a green tiara!

Petunia was a wild boar mix, purchased from the "Hole in the Wall" feed store in Delray for only $50. She weighed a mere 5 pounds and grew to an extraordinary 300 pounds!

She was well-cared for! Eating mac & cheese and drinking V8 juice and she preferred her pig food with a side of marinara sauce. And she enjoyed her medication every morning disguised in an ice cream sandwich. The perfect meal for a pig!

She died in December 2010 at 17 years old. She died in her sleep and was most likely covered with her $500 comforter.

I'm told that her replacement will be Patrick the pig in the following St. Patrick's Day parades.

---
2010: 42nd Annual Parade

The 42nd annual parade was attended by approximately 85,000 spectators.
Fire Captain John Fischer got involved with the parade and he began inviting firefighters worldwide – turning it into an international parade with over a thousand firefighters from around the globe. 
The late Sergeant Adam Rosenthal with the Delray Beach Police Department was honored with a banner.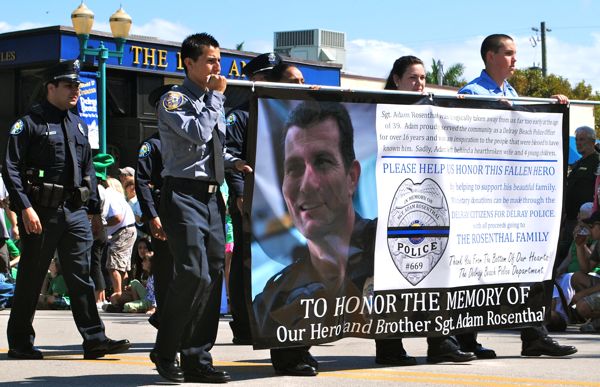 ---
2011: 43rd Annual Parade

The parade saw the largest attendance ever with a whopping 100,000 spectators and participants coming as far away as Ireland!
For the first time in the parade's 43-year history, according to Fischer, five sets of ladder trucks from Miami to North Palm Beach suspended huge flags at the intersections along Atlantic Avenue.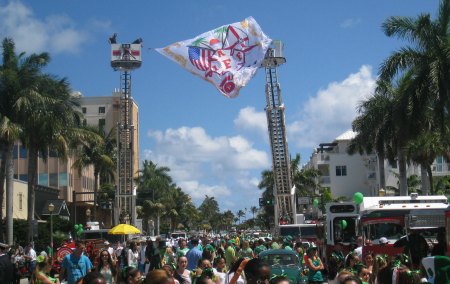 ---
2012: 44th Annual Parade

In 2012, the parade's growth had reached numbers that warranted expanding the length of the parade another  5 blocks to accommodate the growing spectators. The parade now officially ends at the Delray Beach Fire Rescue's Headquarters station on Atlantic Avenue and NW 5th Street.
2012 marked the 3rd year of the St. Patrick's Parade being dedicated to the men and women of the fire services.
Leading the parade were 100 Pompano Beach firefighters honoring one of their own, Bill Elliott, who died in the line of duty. Elliott fell nearly 100 feet from the top of a ladder truck during a training exercise in January. His family was given the honorary role of riding in the first truck in the parade.


---
2013: 45th Annual Parade

The parade turns into a two-day event! Friday night starts the pre St. Patty's Day celebrations and festivities outdoors on the grounds of Delray Beach Center for the Arts.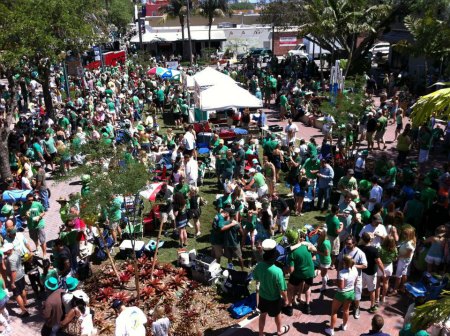 ---
Dana Donaty
Artist for 2013 Poster

Local Delray Beach artist, Dana Donaty with Donaty Designs was the chosen artist for the parade poster for 2013.

---
2014: 46th Annual Parade

2014 marks the first year the parade was officially operated by John Fischer and the new management team, Code3 Events.
2014, also was notorious for the year that Delray Beach Mayor Cary Glickstein banned the parade's open-container privileges in an attempt to bring businesses more money as the alcohol should be purchased from retailers.

Mayor Glickstein was quoted as saying,  "We need to get it back to a more family-oriented event."

"The first step is the alcohol. That's a nightmare for the police. And allowing open containers doesn't help our merchants that sell alcohol."
It costs about $25,000 - $30,000 to operate the parade. It hasn't always been easy to keep it afloat.  Past organizers of the parade, including the daughter of Maury Power, have handed over the reins, saying they could not make money on the event.
City Manager, Bob Barcinski.

This is how crowded Atlantic Avenue gets on St. Patrick's Day. In the past, it has drawn crowds of approximately 100,000 to 150,000. So be prepared!
Photo Credit: Georgia Handy Photography

---
Looking for more things to do?
Click any link below...

Have you signed up for my free Newsletter?


~ Delray Beach Vibrations ~



Click here to sign up now or click image below to subscribe now! It's free and it's the best way to stay connected with me and Delray Beach! (even if you live on the other side of the world!)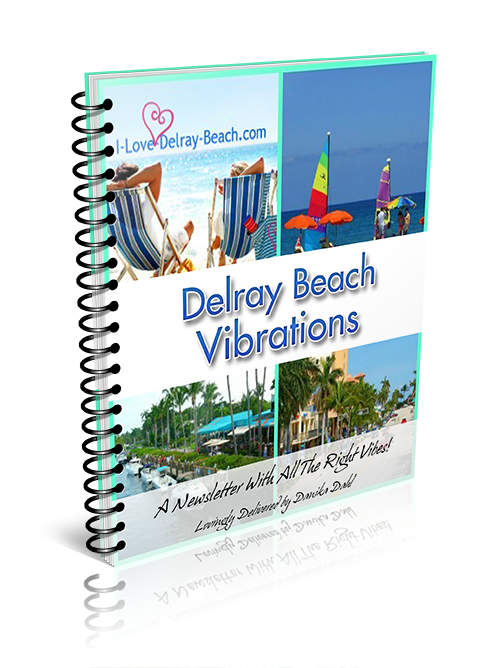 Christmas in Delray...
It's the

most

magical time of year!

Christmas is a magical time of year in Delray Beach, Florida! The energy in the air is so magical it is literally palpable! We love the holidays here!

If you've never been to Delray Beach, Florida, USA to see our magical 100-foot Christmas tree and the magic that surrounds our downtown, please check out my Christmas in Delray page.