Delray Beach Restaurants

Atlantic Avenue Restaurants and
Downtown Dining in Delray

Fine Dining

l

Bistro Dining

l

Casual Dining
Outdoor Dining

l

Tiki Bars
Ocean View Dining

l

Water Front Dining

We have a delicious assortment of restaurants in downtown Delray Beach for your dining pleasure!

Downtown Delray Beach restaurants offer you everything from sophisticated fine dining with an ocean view, or casual dining with a water front view to quaint bistro restaurants  sprinkled all throughout downtown Delray on Atlantic Avenue, Pineapple Grove and nearby.

There are nearly 80 restaurants in downtown Delray to choose from! 

Below is a photo of outdoor dining at 32 East Restaurant, night of the Christmas tree lighting that takes place directly across the street from here. Very festive night with lots of holiday magic in the air.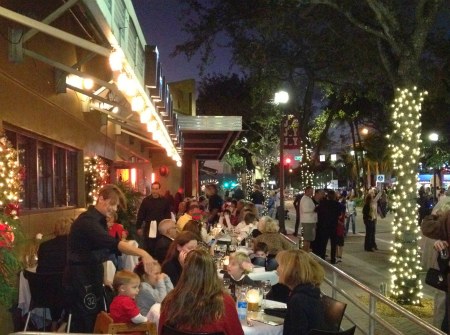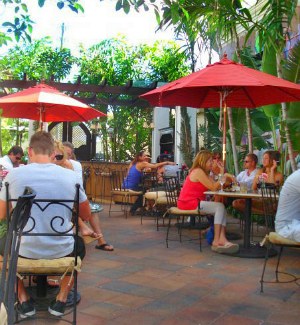 Delray Beach restaurants are well-known for their very talented chefs who are sure to please even the most sophisticated palate!
 
Let me assure you, there is some scrumptiously delicious dining in almost every direction!

With the ample choices of indiscriminate restaurants in downtown Delray, I'm sure you will find exactly what your palate is craving! (pssst...we even have amazing ice cream parlors and specialty candy stores!)

Here's some ideas, but these are only just a few!
Sidewalk Dining on The Avenue at Tramonti Restaurant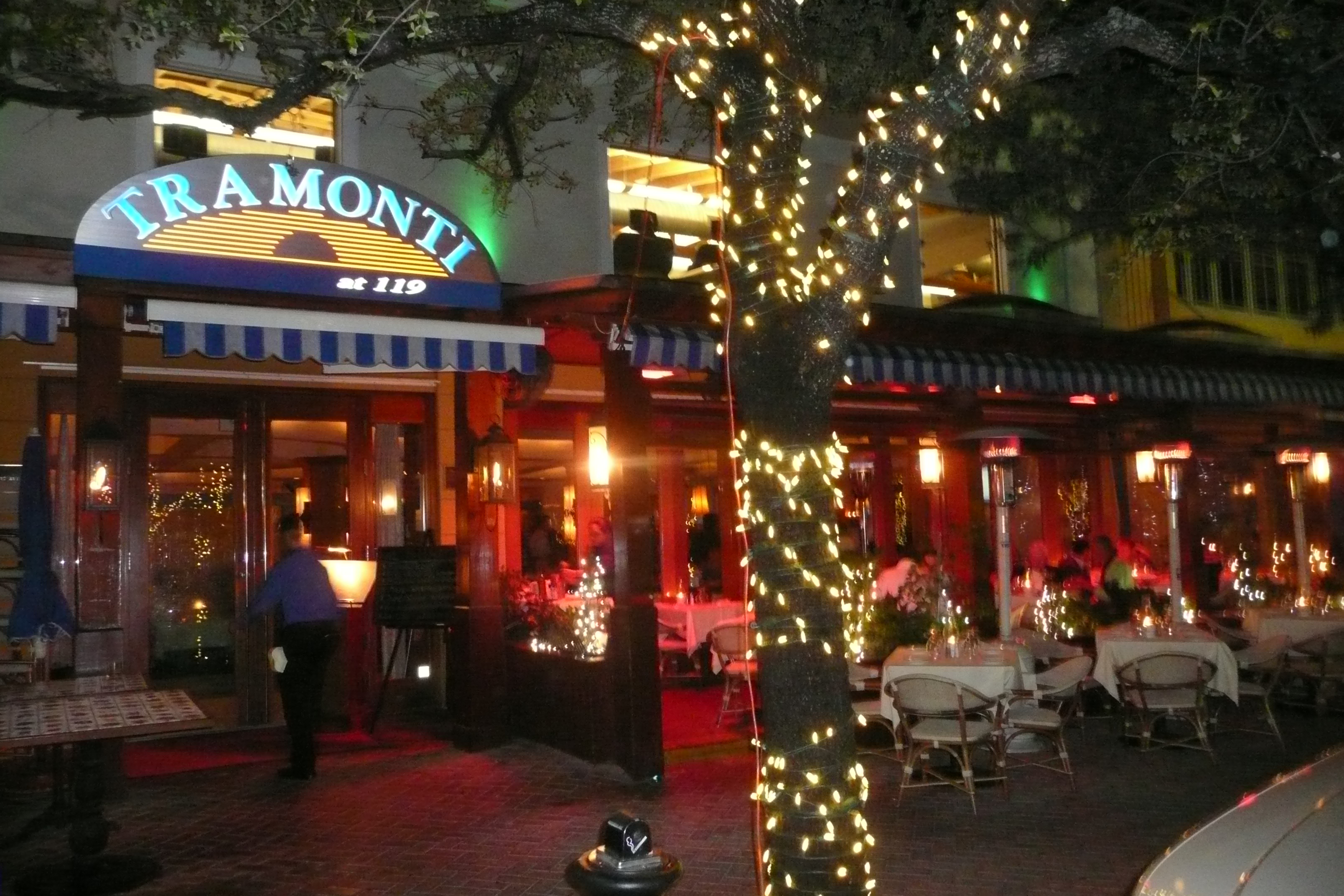 Whether you're looking for Italian food, a fresh-catch-of-the-day seafood restaurant, a mouth-watering steak house, a blissfully romantic restaurant, sidewalk dining to fine-dining restaurants or a restaurant with some vibrant and sexy nightlife, you will surely find one that will perfectly please you, as well as please your appetite!

Popular for seafood are City Oyster, Rack's Fish House and a recently opened Mussel Beach all downtown within a couple blocks of each other.

City Oyster and Sushi Bar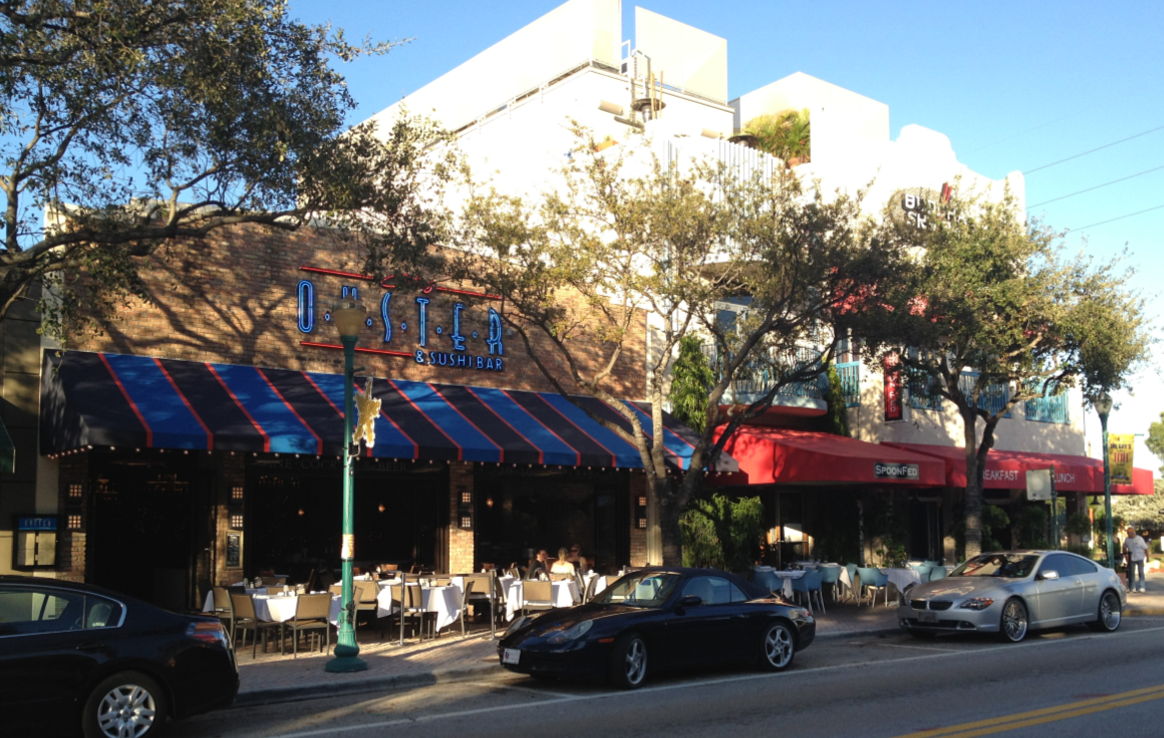 Rack's Fish House & Oyster Bar
Buddha Sky Bar - Second Story View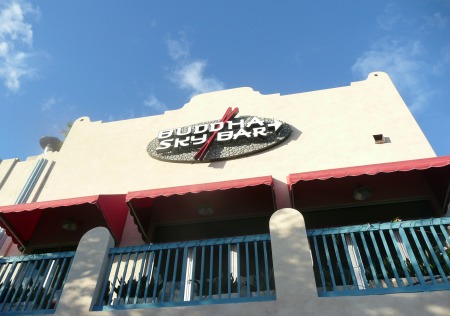 Most of the downtown restaurants in Delray Beach are located on our lively, vibrant and famous Atlantic Avenue.
If not on the Avenue, then just within a couple blocks off the Avenue, or in Pineapple Grove, with many of them within walking distance from one another.

Many of them offer outdoor dining, sidewalk dining, or private patio courtyard dining for your outdoor dining choices.

Some restaurants have a very romantic courtyard beautifully decorated with outdoor lighting decorations, tiki torches, and white linen table cloths while others have sand on the floor and tiki bars!

Dining and Nightlife Downtown at Worthing Park...

At the corner of 2nd Avenue and Atlantic Avenue you will find numerous restaurants in every direction.

Worthing Park is on the southwest corner and is home to Salt 7 and Park Tavern. Both very popular restaurants and popular for nightlife. 
Salt 7 at Worthing Park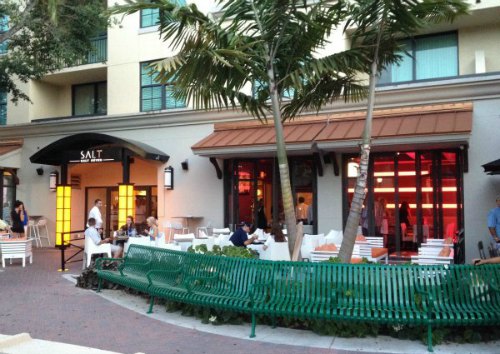 Park Tavern at Worthing Park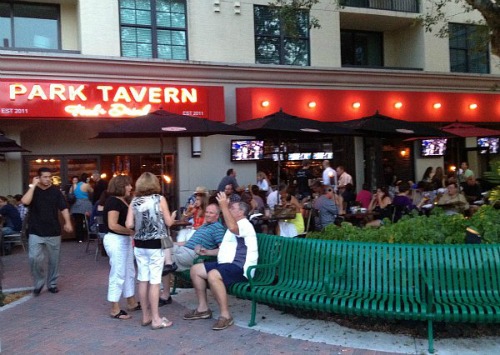 The Office restaurant and bar is located caddy-corner from Worthing Park at the intersection of NE 2nd Avenue & Atlantic Avenue.

The Office Restaurant and Bar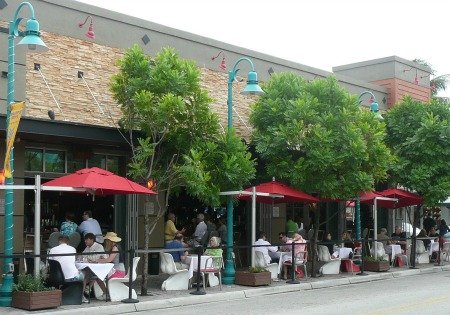 They have been known for their award-winning burgers and great outdoor dining spot.
They are all  located on our famous action-packed Atlantic Avenue! 

Delray Beach restaurants are all very unique to Delray Beach and Atlantic Avenue and this is what gives this beach town the sophisticated elegance and charm that is so unique and so mesmerizing! 

You won't find these places anywhere else but here in Delray Beach, the beach town that I love!

Read about Atlantic Avenue on TripAdvisor! Rated #2 attraction with over 350 reviews!

For the most part, you'll find that the restaurants in downtown Delray have a bar as well as dining.


You'll also find that most restaurants in Delray Beach (downtown and otherwise) have outdoor dining.  You can enjoy outdoor dining almost year-around here in Florida!

Some even have romantic outdoor dining!

And some restaurants have their own private patio seating while others will have sidewalk seating.  But trust me, whichever you decide, I assure you, they all have charming elegance and romance!

Cafe de France once specializing as a French restaurant and also one of my very favorite restaurants -- is sadly no longer with us.

This is one of my favorites! I love the ambiance, the food, the dessert, the owners, the location and the outdoor dining. Everything is simply great here in my opinion!
Cafe de France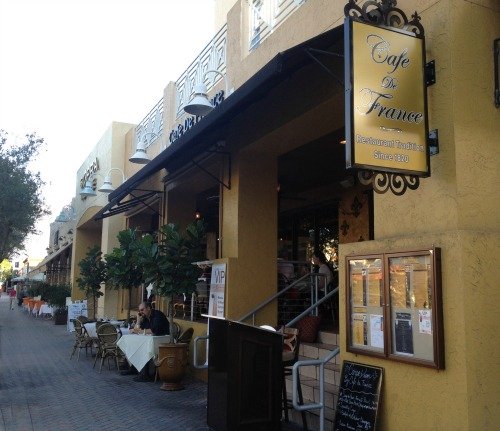 Waterfront Dining on the Intracoastal Waterway...

Deck 84 restaurant is located in downtown Delray directly on the Intracoastal. This means you have an absolutely PERFECT view of the water as you dine outdoors on their deck.
Deck 84 Restaurant - Waterfront Dining
Nighttime and Daytime Photos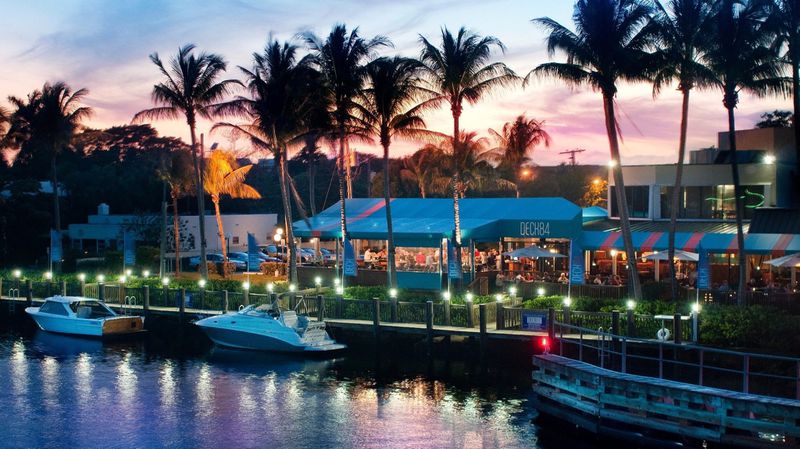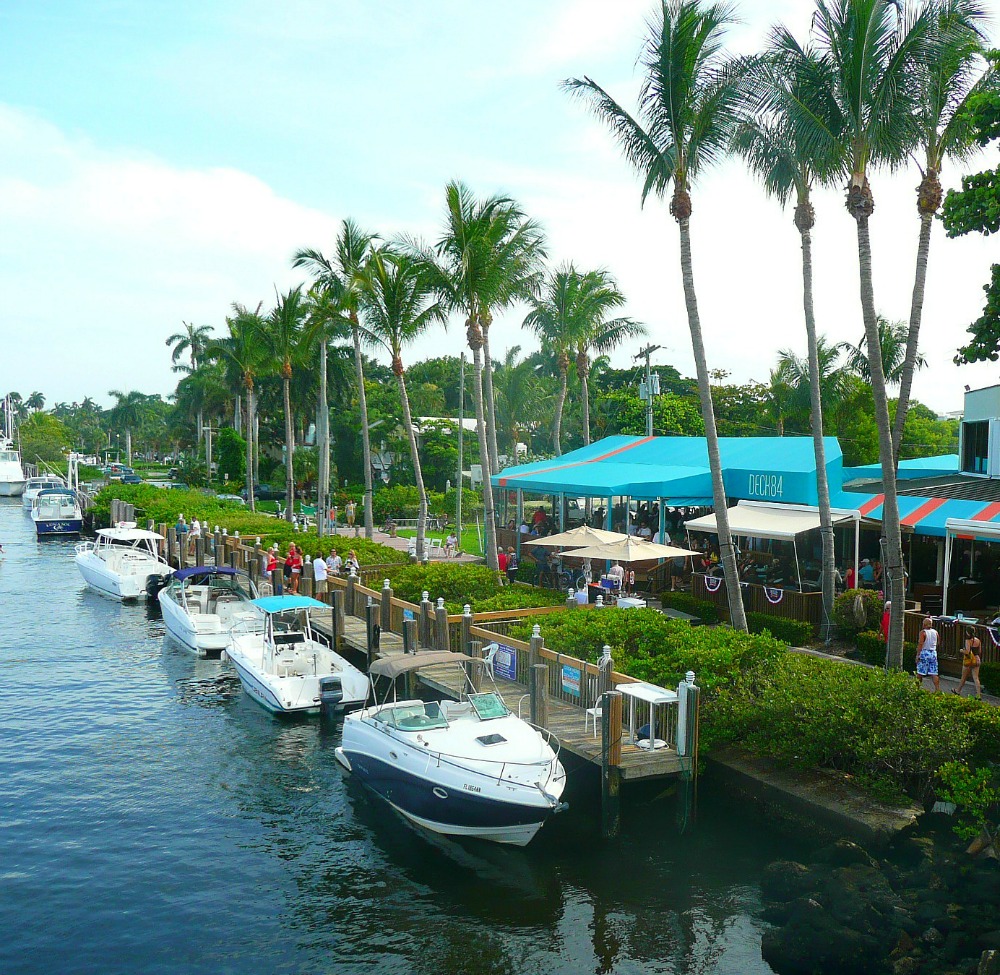 Craft Beer & Local Breweries...

And, we're getting quite the selection of craft breweries as of lately too! They've become very popular over the past few years and they seem to like the Delray Beach and Boynton Beach areas.
In 2013, Saltwater Brewery opened its doors, located just west of 1-95, west of the Atlantic Avenue exit ramp.

Paradise & Tiki Bars...
(welcome to Florida!)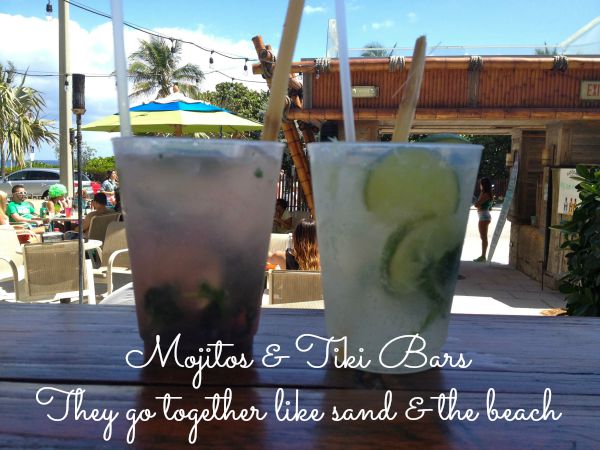 OK, here we go for the really fun part of your vacation in Delray Beach...the tiki bars! There's something about a tiki bar that sets the mood for your Delray Beach vacation...Caribbean style!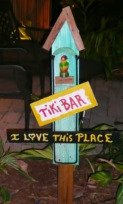 I'm going to share two of my favorite tiki bars in Delray with you! They have different vibes so while one might be too much of a party scene for you -- the other one is more serene with a relaxed vibe.

My very favorite (pictured below) is Crane's tiki bar in downtown Delray. It's  located in a quiet tropical oasis at Crane's Beach House (boutique hotel). The entire grounds at Crane's are lush and tropical and serene.

Below is Crane's Beach House Tiki Bar. It sits poolside in the center of their tropical lush boutique hotel property. It's small, intimate and quiet with reggae music on the weekends. They serve beer & wine with limited snacks. Even though this tiki bar is on hotel property -- it is definitely open to the public! Stop by and enjoy the mood!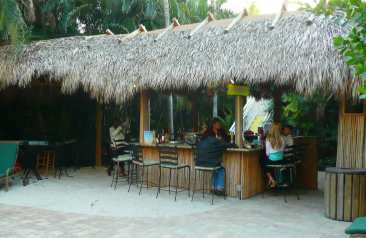 Tiki Bar at the Sandbar (Boston's on the Beach)...
And for more of the party scene tiki bar, you'll find that one directly across the street from the beach! The Sandbar is at Boston's on the Beach restaurant compound. (I call Boston's on the Beach a compound because there are two restaurants and 3 bars at this ONE location! ... A compound.)

The tiki bar (aka Sandbar) at Boston's on the Beach is much bigger, louder, and more lively while the other one, at Crane's Beach House is more intimate, cozy and quiet.

The Sandbar Tiki Bar at Boston's on the Beach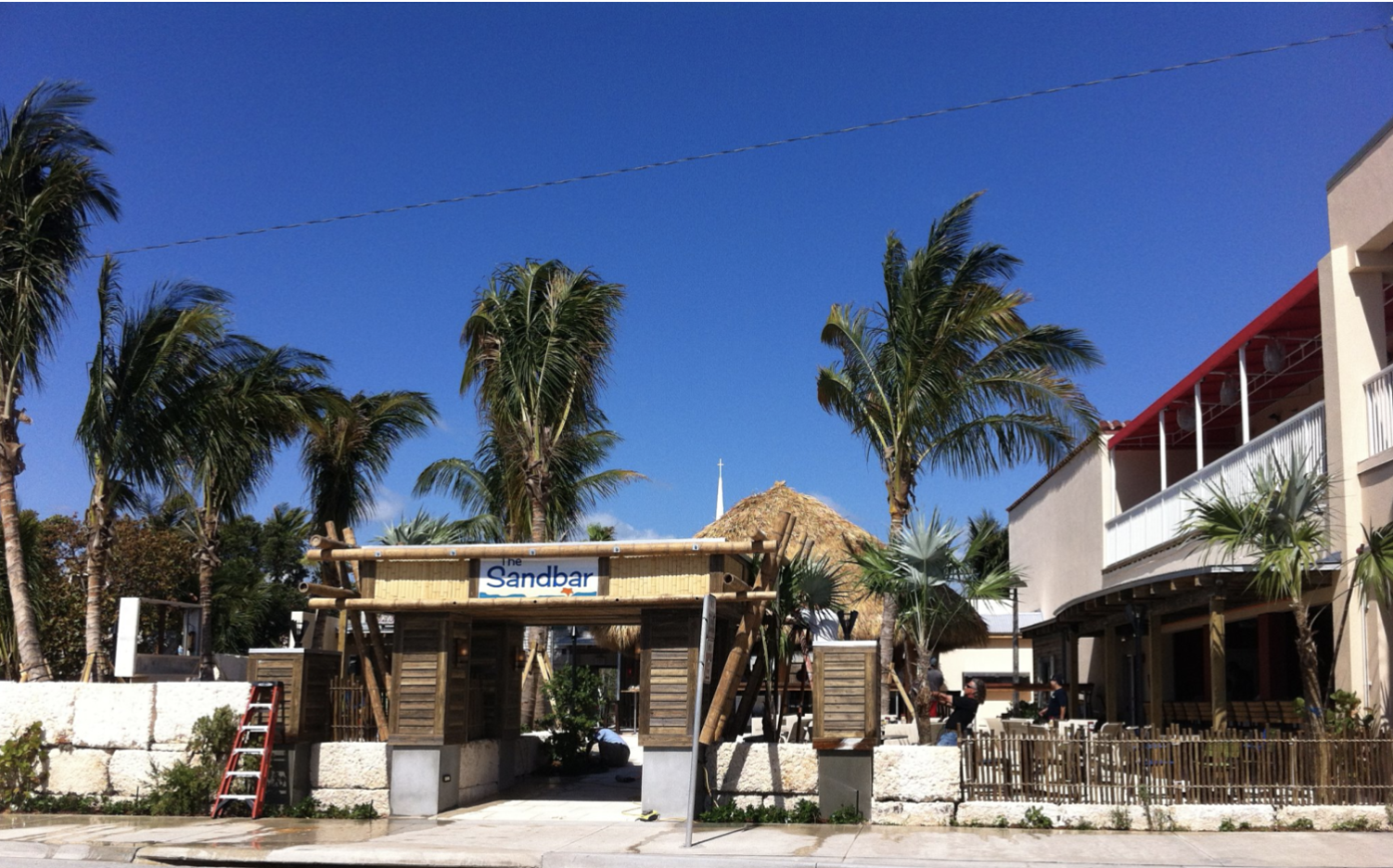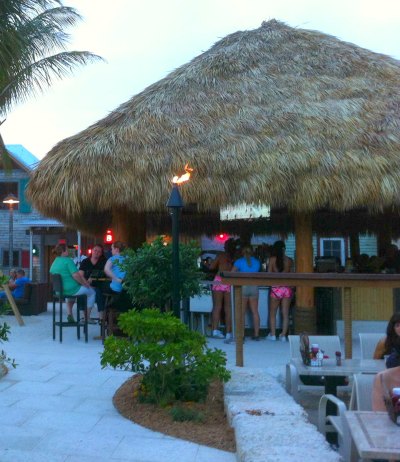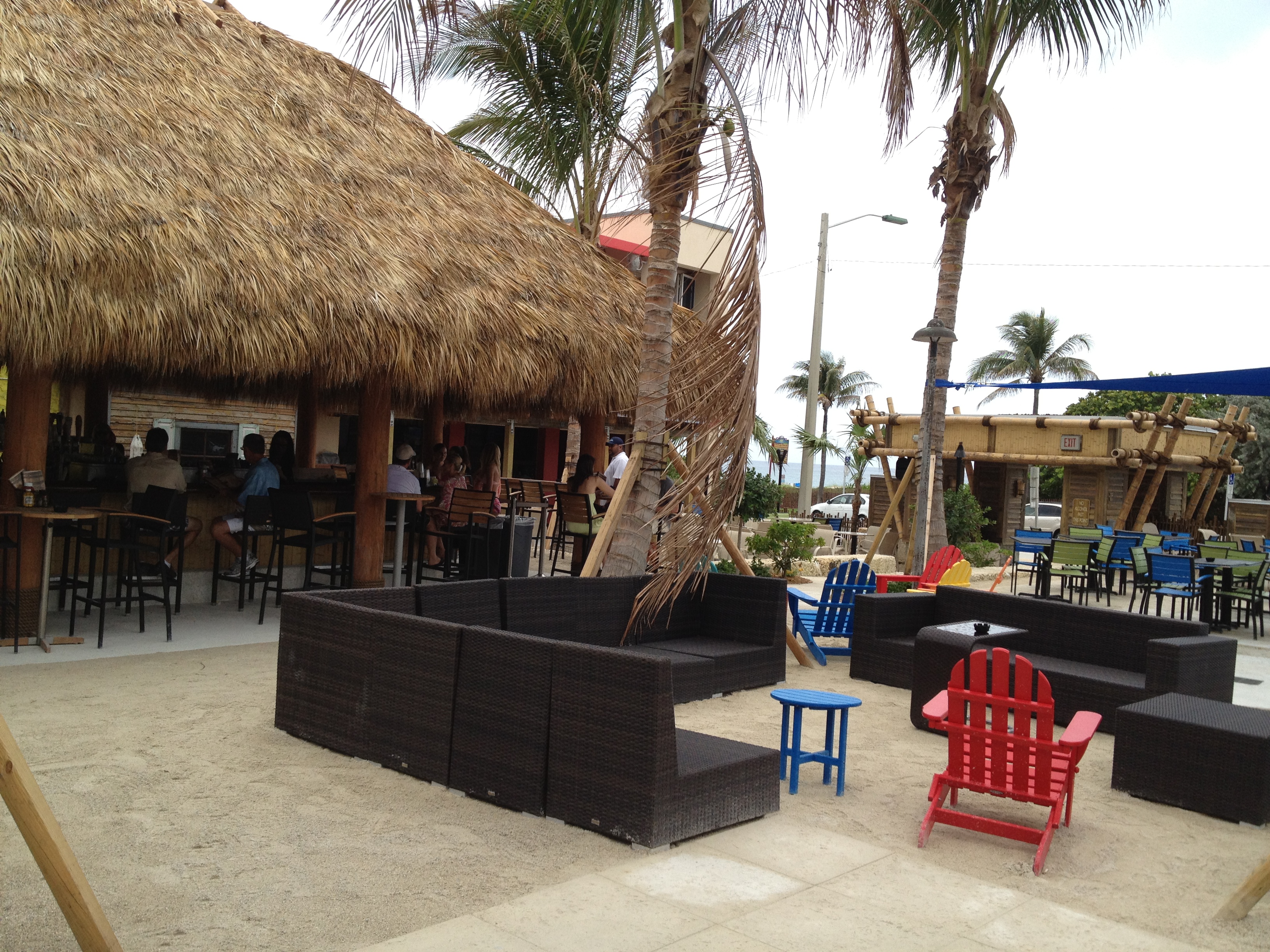 Beach Front and Ocean View Dining...

There are only a few restaurants in Delray Beach that are actually beachfront and there is really only one that I would say has ocean-view dining. And I mean a true ocean view while you are dining!  And, that's 50 Ocean also known as Boston's on the Beach.

The reason it has such an amazing ocean view is because it is on the second floor. See all the glass windows? The windows are completely unobstructed from any pedestrians or vehicles that might be blocking your view if you were sitting on the first floor. And you can see straight out into the ocean!
Your lovely ocean view while you are dining on the second floor at 50 Ocean restaurant.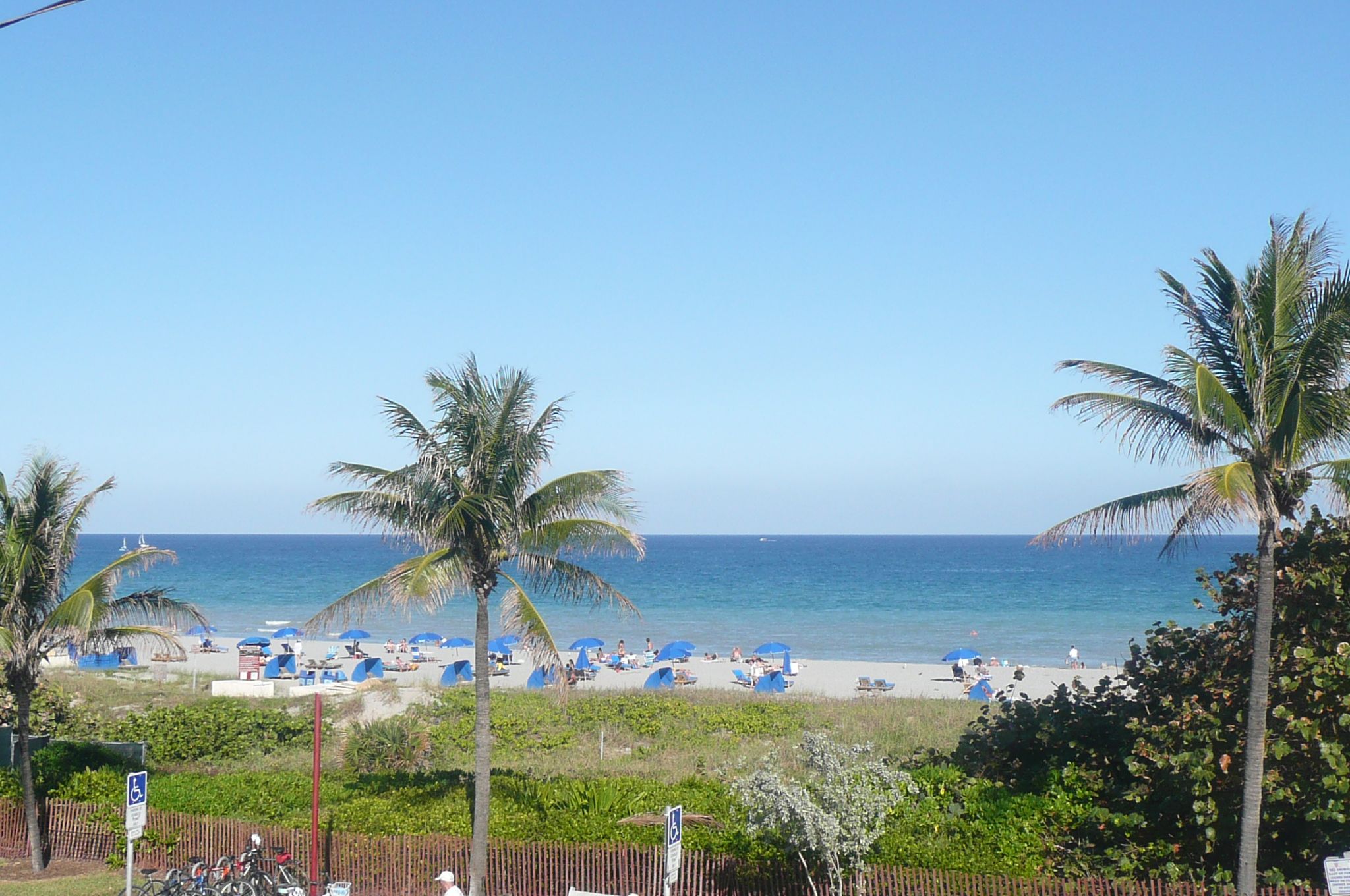 Boston's on the Beach downstairs is a great family dining restaurant with outdoor dining which is always great to enjoy the fresh ocean breeze! You are literally just across the street from the beach, but due to pedestrians, vehicles, and the sea grapes, you may not be able to actually see the ocean when sitting on the first floor.

Johnnie Brown's is the place for live music downtown on Atlantic Avenue. It is usually packed with people dancing on the sidewalk and in the streets. It is an experience. Even if you just want to people watch. Go experience it.

Johnnie Brown's for live music on the Avenue!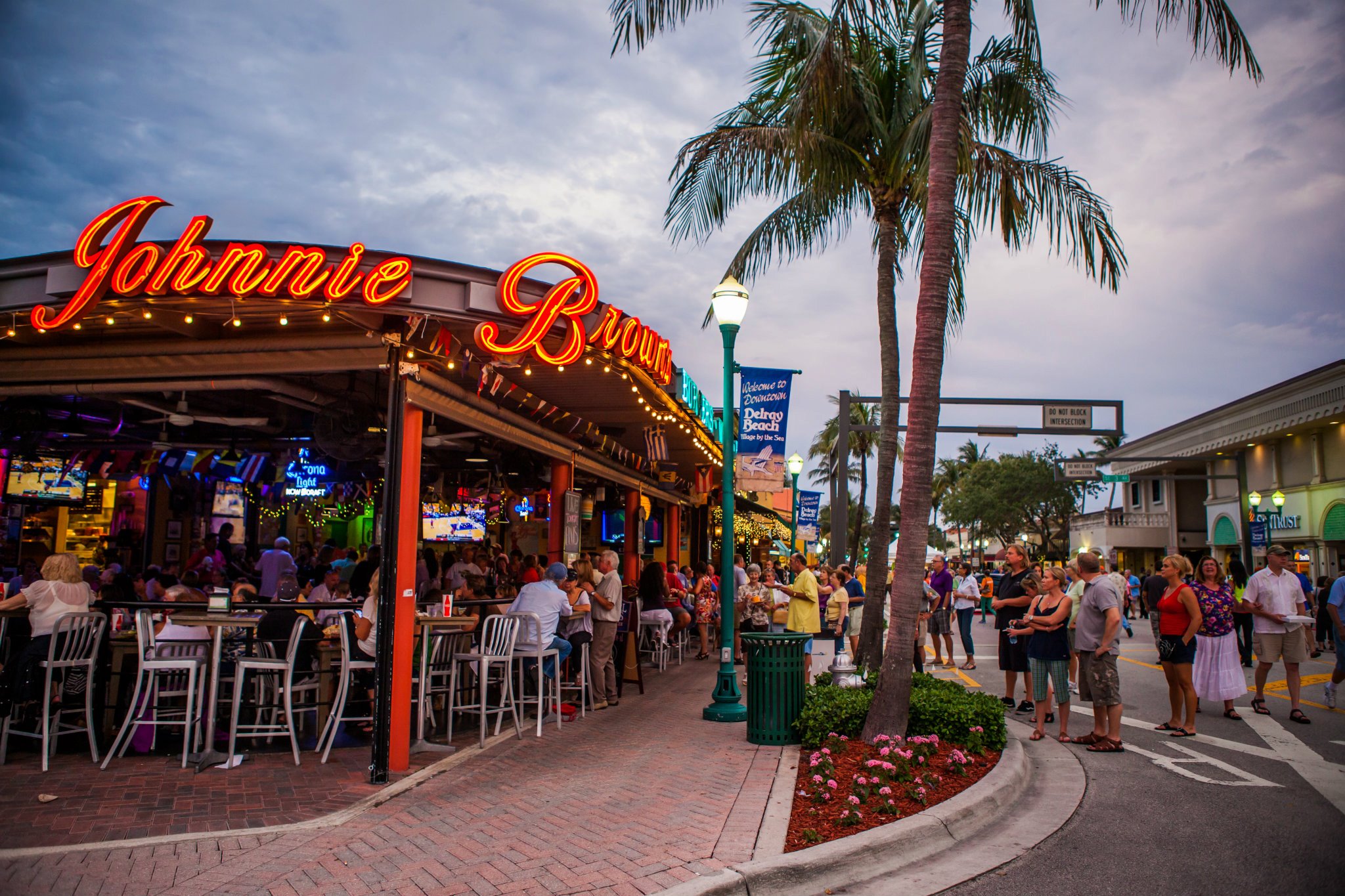 ---
Favorite Restaurant Reviews From Other Visitors of I-Love-Delray-Beach.com...
Bagel Twins:
Real New York bagels.
Bamboo Fire Cafe
Boston's on the Beach:
Three bars and two restaurants; family dining and fine dining. Incredible ocean view.
Brooklyn Bagels:
Rated the best bagels in Florida!
Cafe de France:
An excellent French bistro! Excellent cappuccino's and very nice outdoor seating over-looking Atlantic Avenue. One of my favorite Atlantic Avenue Restaurants!!
Duffy's Sports Grill:
Gluten-free menu items & kids eat for free on Wednesday's.
Jimmy Bistro's in Delray
Patio Delray.
Patio Delray restaurant offers both chic indoor dining and homey patio dining.
Terra Fiamma:
This super-great Italian restaurant is located at Delray Market Place. Click the link to read a review and see lots of tantalizing photos of their food.
Have you signed up for my free Newsletter?


~ Delray Beach Vibrations ~



Click here to sign up now or click image below to subscribe now! It's free and it's the best way to stay connected with me and Delray Beach! (even if you live on the other side of the world!)