Best Sports Bar?

If It's Sports and it's on TV...
It's on at Duffy's Sports Grill!
by Steve R!
I am pretty much a creature of habit. When I come down to South Florida I do a lot of the same things.

I love to go to a lot of sporting events like Dolphins Football, Panthers Hockey, Heat Basketball and Florida Marlins Baseball.

Me? A sports nut? What makes you say that?
When I am not at the game, I'm enjoying my sports at some of the best sports bars in Delray Beach  like "Duffy's Sports Grill." You may call it a comfort level, I call it consistently good.

Duffy's signature decor consists of multiple flat screen TVs on every wall in the house -- playing sports from every genre.

In fact, if it's sports and if it's on TV, it's on at Duffy's!


I always enjoy looking at the vintage photos from every ilk of sports. Also hanging on the walls are jerseys with some of the most famous names in sports on the back. 

And then there's the pro and college football helmets lining the booths.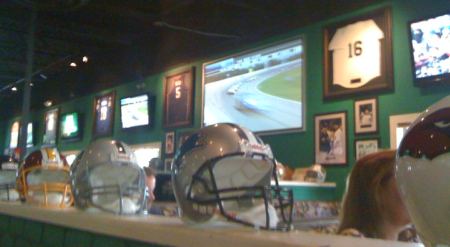 The Delray Beach Duffy's has one very large dining room filled with people of all ages. Duffy's Sport Grill is where friends, families & sports clubs come to eat, watch sports and celebrate. My family and I have enjoyed Duffy's many times.

Further back and a few steps up, there is also a huge full bar and additional dining area with even more TV's, pictures and jerseys on the walls.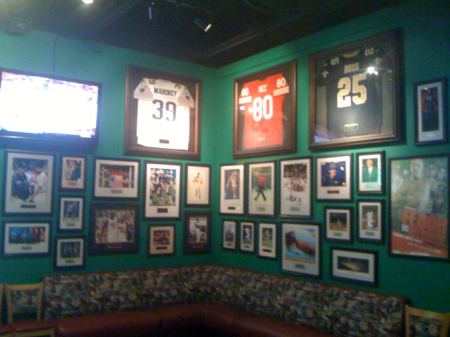 The Menu. The Food. The Prices.

So Steve, How's The Food?
 
I'm glad you asked. The food is terrific.

Duffy's carries a large varied menu with amazing appetizers, sultry soups, hearty sandwiches, crispy salads, enchanting entrees and decadent desserts.
The wings are some of the largest and best I've ever tasted. The lobster bisque is creamy, smooth and delicious. The fish and chips, brilliant! The burgers are big and juicy and start at a great price too.

Tonight I had the chicken Parmesan with a side of grilled zucchini. Magnifico as usual.

Later on, as the Chicago Blackhawks were wrapping up the Stanley Cup over the Flyers, I saw a hot apple crisp with scoops of caramel topped vanilla ice cream and whipped cream go by that made me drool.

Oh, and don't forget to join Duffy's MVP club which gives you $10 off after you've spent $100. 

Tell them Steve R! sent you.

---
Additional Info added by Danika Dahl...

I would also like to share these worthy tidbits of info...
They have a gluten-free menu
A kids' menu with all items $4.99
Kids eat FREE all day Wednesday with a paid adult meal
And, best of all...Happy Hour is 2-4-1 every day from 4-7 and 9-close.


And, they were voted Best Sports Bar in South Florida...

Best Sports Bar
Best Happy Hour
Best Neighborhood Bar

Best Place to Eat When You're Broke
Best Late-Night Food
Best Restaurant with the Hottest Servers in SoFL



---
Location & Information

Location: 1750 S. Federal Highway at the corner of Linton Blvd

Phone: 561-276-3332.

There are 20 Duffy's locations up and down the east coast of Florida -- from Ft. Lauderdale to Port St. Lucie. Below is a photo of Duffy's Sports Grill in Historic Downtown Stuart, FL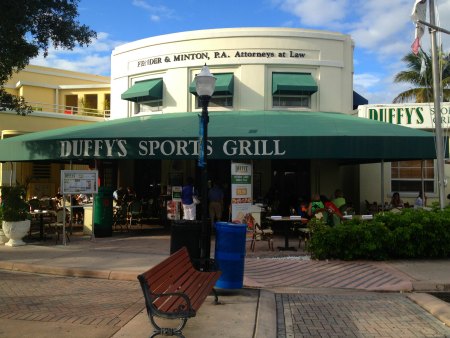 More Restaurant Reviews by
Steve R!

Looking for more things? Here's some ideas...