Fourth of July Fun in Delray

Fireworks on the Beach!
The Most Spectacular Show in Florida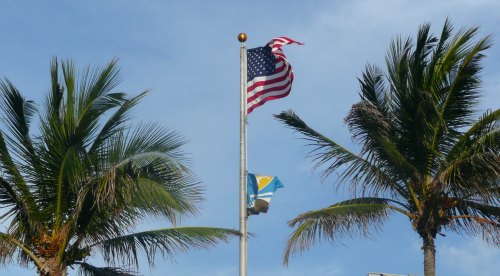 There's a reason why the Fourth of July in Delray Beach, Florida draws over 100,000 people.

It's because Delray Beach has the most spectacular show of fireworks on the beach in Florida!!!

And because we make it an all-day event with family-fun for everyone.

All the 4th of July festivities take place beachside at the very far east end of Atlantic Avenue at A1A (Ocean Blvd.).

The morning starts early with sandcastle sculpting contest on the beach, at the north end of beach, near the Marriott.

Here's a Florida Gators sand sculpture for you!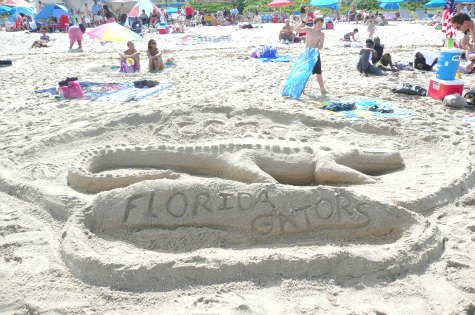 In Honor of Independence Day
Flag Raising & the National Anthem

After the morning sandcastle contest on the beach, the next event that is really the beginning of all the events for the rest of the day...

Is the official honoring of our Independence Day with a 60-foot flag raising and singing of the National Anthem.

How about this for a beautiful photo of the American Flag, Florida palm trees, and a very beautiful blue sky! This, my friends, is the Fourth of July in Delray Beach, Florida!

How do you like it so far?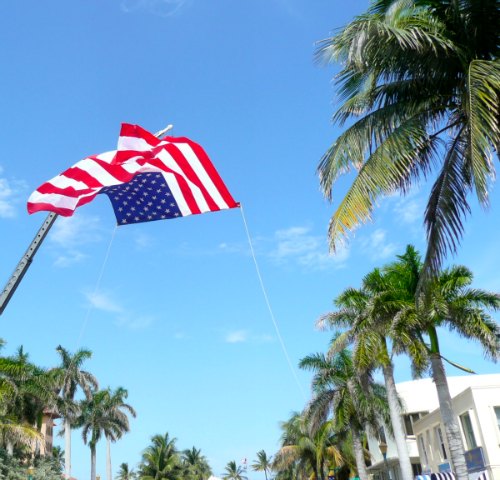 Fun Things to do all Day in Delray
on the 4th of July

Fourth of July kind-of-fun all throughout the day and into the night!

You can look forward to food booths, family-fun games, arts & crafts for the kids, live music, entertainment, beer gardens and of course the grand finale is...
the most spectacular
display of fireworks in Florida!

This was my food booth of choice last year, Taco Loquisimo. I found it on Atlantic Avenue, right near the Marriott Residence Inn.

Of course....it was the food booth with the longest line, but I really wanted these healthy, gluten-free tacos!

So I waited and waited...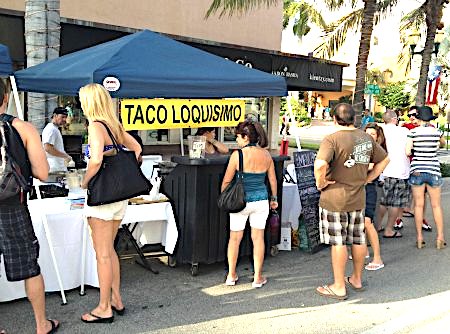 for this delicious-looking taco! Shredded pork, spinach, cabbage, ricotta cheese, and other yummy stuff. It was sooooo good! And worth the wait! :-)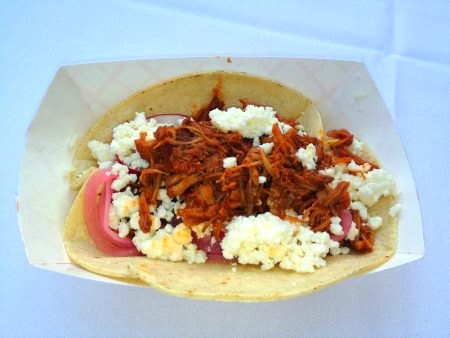 You'll find more food booths like these that were at the intersection of Atlantic Avenue and A1A...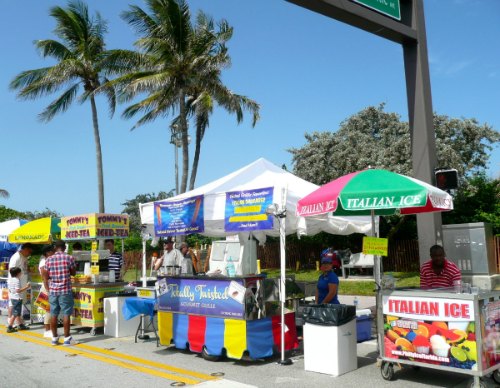 You'll find fun family games like mini golf from Puttn Around Miniature Golf...

Arts and crafts booth for the kids! They can pick out whatever ceramic item they would like, and then they can hand-paint it from all kinds of fun color choices.

The characters were very cute little dolly figurines, kitty cats, puppy dogs, frogs, turtles and such.  I even spied a Poodle in there!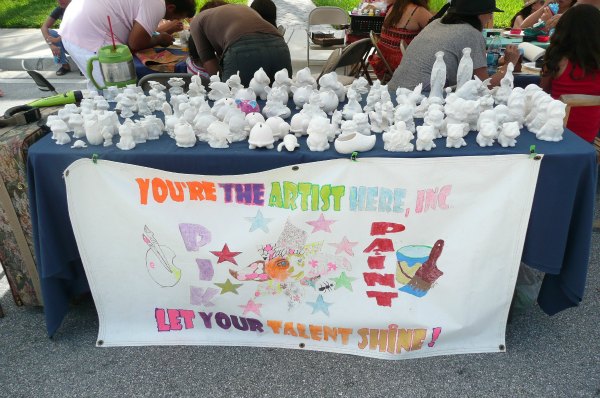 There's even completely free things to do like this game of Go Fish sponsored by the Redemption Church.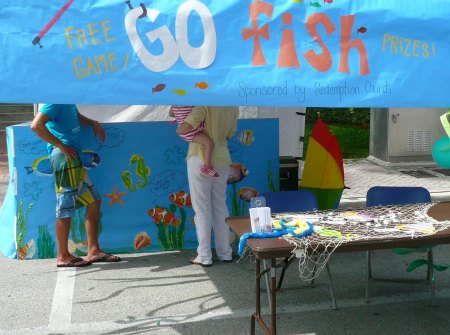 Boston's on the Beach and Caffe Luna Rosa set-up dining in the street on A1A (Ocean Blvd).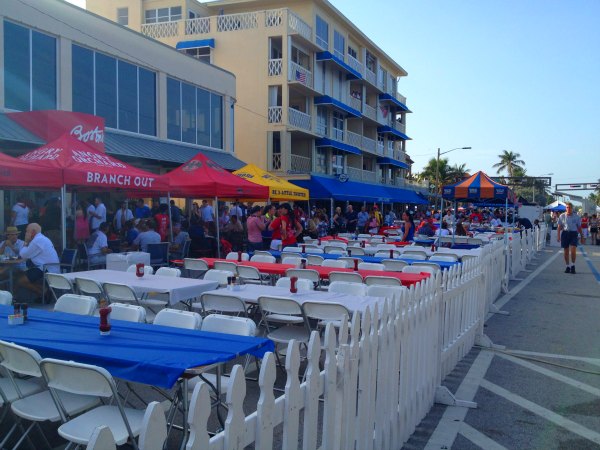 Here's a better view of Boston's on the Beach...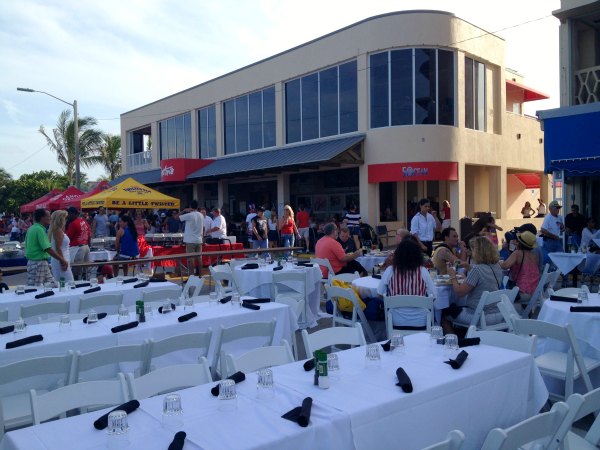 Past 4th of July Events

It's not always the same events every year. There use to be a hot dog eating contest on stage that was quite hysterical!

It always drew a very large crowd because it was so entertaining to watch the contestants choke, heave, stand-upside down...just about whatever it took to get more hot dogs down their throat!

And then, it never failed...someone would always PUKE! Yep! Not kidding. It always happened! And then the crowd would roar with laughter and cheer that person on! Ha-ha...!

One year there was a car show. The cars all lined up at Old School Square Park, and paraded down Atlantic Avenue, ending at the Seagate Hotel.

Once at the Seagate, they lined 'em up and parked 'em on display for everyone to enjoy.

Below is my friend Jordan Goldstein with his classic red Corvette.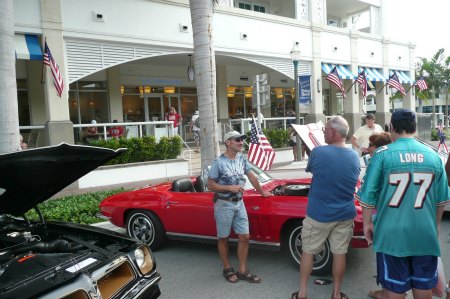 4th of July Patriotic
Bike & Scooter Parade

The patriotic bike and scooter parade is just one more family-fun celebration to enjoy during the day!

It's a small parade usually held at 4 PM. Here's a little cutie-pie adorned with the American flag and all smiles!

You might see this pirate-dude who wears his pet rat, Matilda, on his shoulder.

You can get your picture taken with the pirate and you can even put Matilda, the pet rat, on your very own shoulder...if you want to...that is! Ekkkkkk! :-)

How to Enjoy the
Best Fireworks in Florida!

This is Atlantic Avenue on the Fourth of July. It is closed to all vehicles east of Atlantic Bridge which means one must walk the rest of the way to the east end and to the beach. Be prepared for a bit of a walk.

As you can see from the above photo, there's a bit of walking to get to the festivities and to get to the beach to watch the fireworks show.

Depending on where you park, it might be 6 or more blocks to walk. Here's some suggestions to help you enjoy yourselves...

Wear comfortable shoes.
Be sure to drink lots of fluids. It will be hot out!

Leave the pups at home! It is much too hot for their pads on the sizzling hot-hot pavement.

Riding a bike is a good idea! That's what I like to do.

Bring chairs, blankets, towels, etc., to make yourself comfortable at the beach.

Set out to find your spot on the beach hours before show-time.

Personal fireworks are not allowed.
Enjoy the Fireworks Show
My Friends!

Looking for more things to do? Click any link below...

---
Have you signed up for my free Newsletter?


~ Delray Beach Vibrations ~



Click here to sign up now or click image below to subscribe now! It's free and it's the best way to stay connected with me and Delray Beach! (even if you live on the other side of the world!)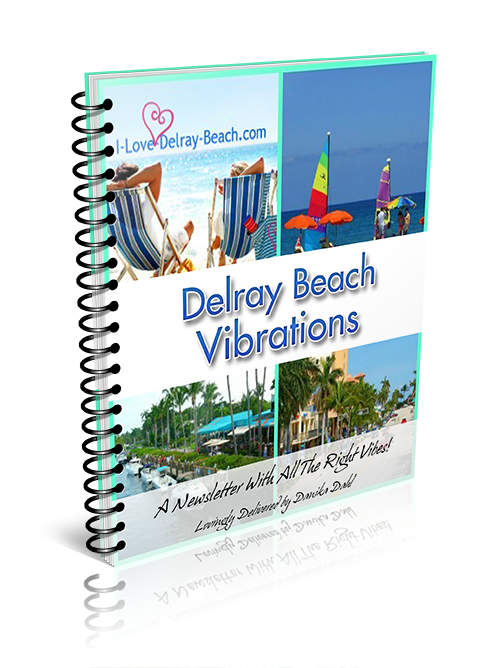 Christmas in Delray...
It's the

most

magical time of year!

Christmas is a magical time of year in Delray Beach, Florida! The energy in the air is so magical it is literally palpable! We love the holidays here!

If you've never been to Delray Beach, Florida, USA to see our magical 100-foot Christmas tree and the magic that surrounds our downtown, please check out my Christmas in Delray page.