Bamboo Fire Cafe in Delray Beach
by Roxi
(Delray Beach, FL)
I have to say I haven't been to Bamboo Fire Cafe but I will be going soon!

I have read about it and I thought maybe some other people in Delray might want to know about this restaurant -- plus it's a family-owned business that could use the support of local residents, and tourists in Delray.

Please show your support for our local businesses! They are what make Delray unique.

Stuffed Mussels presented to you by Beverly...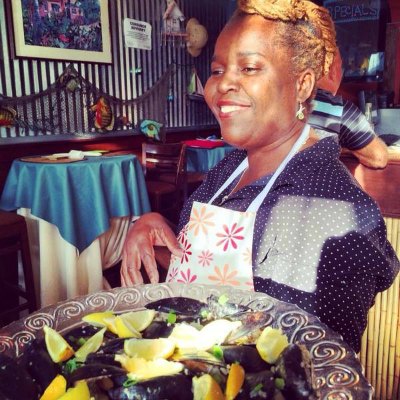 Stuffed mussels close up...
REVIEW #1:
Bamboo Fire is charming, the decor is quirky and very comfortable, both inside and out, the owners are wonderful warm, sincere, enthusiastic and generous. DickinBoca
Outdoor dining on a pleasant side street in Pineapple Grove...
REVIEW #2:
I am a retired hotel general manager that has spent 35 years running hotels in the Caribbean. My wife and I just returned from lunch at Bamboo Fire. First, the hospitality could not have been better. The owners are wonderful people. We had several appetizers and all were excellent. My wife had the jerk chicken fajita and I had the curry chicken. Superb. The food is authentic Caribbean Island Cusine. Alfred G.
REVIEW #3:
So dickinboca starts a thread and says how great Bamboo Fire Cafe is and how lovely and friendly Donald and Beverly are.
Well he was right the food was great!
Flavor profiles spot-on and truly special treat in a small and personal setting. I arrived at Bamboo Fire with my two fiends both foodies in their own right.
I told them about this place we show up -- and of course PALM BEACH POST is there with there entourage!
But I have to say Donald and Beverly rallied to make sure our evening was great, I LOVE THIS PLACE!!!! Here is a low down on what we sampled...
Appetizers:
Curried meatballs really good juicy and awesome. Conch fritters with real conch in them light and airy super good. Garbanzo Fritos have to be tried I cannot explain how good they where. Bacaloa Codfish fritters really fresh and light batter not heavy like some places.
Entrees:
Goat stew I have to say probably the best braised meat I have ever had. Made me smile. Chicken wings Escoveitch never had wings this way before really unique worth a try for the wing mavens out there.
Sides:
Macaroni and cheese -- forget about it! So good, crispy crunchy and creamy garlicky goodness I wish I could eat this every day. Maduras (sweet plantains) cooked perfect I am not a big fan of sweet plans but these were cooked perfect!
Dessert:
Rum cake WOW!!!!! Tasted like there was a floater of 151 on top! Super end to a super night!
Please do not hesitate to try this place it is small, warm and is filled with the love of food.
Thank you dickinboca for the great find this is the kind of restaurant Delray really needs more of. Pikiliz
Comment by Danika Dahl:
Wow, what a review! Thank you so much! I'm sure people will appreciate reading this and I'm sure the owner's of Bamboo Fire Cafe will appreciate this as well!
From these reviews, it sounds like if you are looking for authentic Caribbean Island Cuisine or East Indian Cuisine with a variety of curried dishes, Bamboo Fire Cafe restaurant in Delray is the place to go!
I'll end this review with this beautiful and colorful photo of their Conch Ceviche...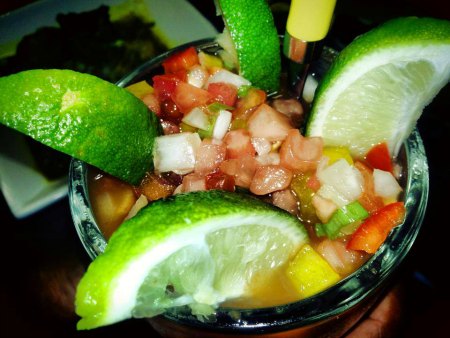 Go to:
More Restaurants in Delray.
Go to:
More Reviews on Restaurants in Delray.
Want To Stay In Touch With I-Love-Delray-Beach.com?

Here's How...

Join me on
Facebook,
or
follow me on Twitter,
or
subscribe to my newsletter,
or
follow my Delray Beach blog
with your own RSS feed, and any time I add something new to I-Love-Delray-Beach.com, it will be conveniently delivered directly to your favorite RSS reader.
What's an RSS reader?
Like this page? Want to share Bamboo Fire Cafe with all your friends? It's easy! Just click on one or all of your favorite social sites at the bottom of this page and follow the instructions.
C'mon, share the Delray Beach love!
Leave a comment or write your own story...