Cafe de France -- Ooh La La
A French Restaurant in Delray
by Dawn Pennington
(Palm Beach, FL)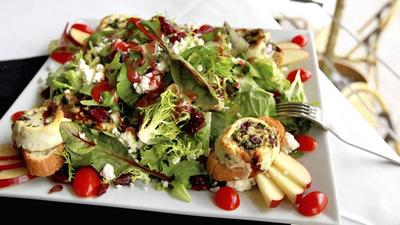 Chevre Salad (Photo: Carline Jean Sun Sentinel)
(Click on each photo to enlarge)
Comment by Danika Dahl: There's a new French restaurant in Delray Beach and my friend Dawn sent in a very yummy write-up on Cafe de France -- I think you'll want to read this! Thank you Dawn for a great review on Cafe de France.


OK, Now All About Cafe de France...
The old Cold Stone Creamery on Atlantic Avenue, across the street from Old School Square, now houses a French restaurant called Cafe de France.
You can stop in for a variety of coffees and decadent-looking pastries, which my officemates have done and they are pleased with everything they've tried so far.
Yummy Desserts at Cafe de France
I popped in for a quick lunch yesterday. The decor is quaint -- lots of browns and golds and dark wood and other earthy tones. Very warm and inviting in what used to be a very cold space.
Dining at Cafe de France Restaurant

The restaurant was surprisingly busy for only having been open a week (it debuted on Thanksgiving). Like all new restaurants, the servers were very sweet and overly attentive, and the owner was actually taking our orders and filling our water glasses.
The prices were very reasonable for lunch, with most items in the $10-and-under range for salads, sandwiches and quiches. My friend had the "Frenchy" sandwich (with brie. It was divine).
I had the Chevre Chaud, which had some nice spice to it. I was surprised to get a salad when I saw Chevre Chaud on the sandwich menu, but I'm not complaining. :)
The coffee (we just got regular coffee -- nothing fancy) was excellent, too.
I understand that this particular spot has seen a lot of restaurants and businesses come and go, but I hope Cafe de France Restaurant is here to stay, because there are entirely too many yummy-looking things on the menu that I HAVE to try!
UPDATE:
Cafe de France is still in the same location but in December 2010, they changed their name to Carpe Diem, now known as a World Cuisine Restaurant, not just limited to French Cuisine.
To My Readers:
Click this link for
another restaurant review on Cafe de France.
Go to:
More Restaurants in Delray.
Go to:
More Reviews on Restaurants in Delray.
Want To Stay In Touch With I-Love-Delray-Beach.com?

Here's How...

Join me on
Facebook,
or
follow me on Twitter,
or
subscribe to my newsletter,
or
follow my Delray Beach blog
with your own RSS feed, and any time I add something new to I-Love-Delray-Beach.com, it will be conveniently delivered directly to your favorite RSS reader.
What's an RSS reader?
Like this page? Want to share
Cafe de France
with your friends? It's easy! Just click on one or all of your favorite social sites at the bottom of this page and follow the instructions.
C'mon, share
your
Love of Delray Beach!
Leave a comment or write your own story...