Terra Fiamma Restaurant
Italian for Earth and Flame


by Steve R!



Out beyond Florida's Turnpike on Atlantic Ave. in West Delray, miles from the hustle and bustle of downtown, is the brand new Delray Marketplace now open for business.

The Marketplace is so new, a few spaces are still for rent.

What is open is a fine collection of retail establishments (more about this in a future post), a state-of-the-art entertainment center with movie theatres and a bowling alley and some very eclectic restaurants.

One such restaurant is Terra Fiamma, Italian for Earth and Flame.
Outdoor Dining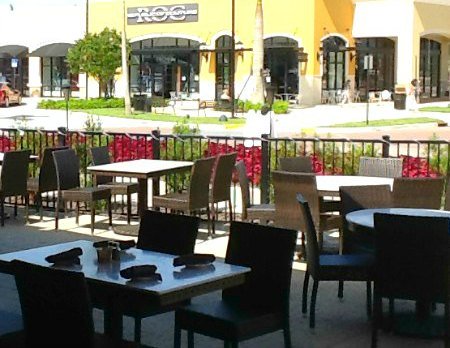 Indoor Dining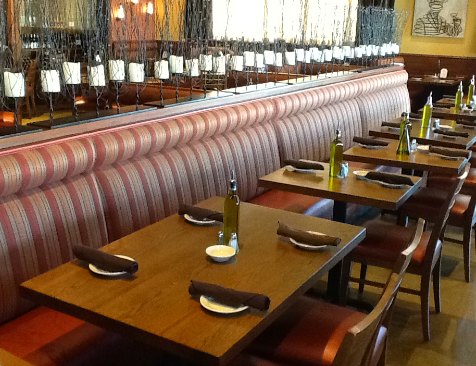 Immediately before opening Terra Fiamma, native New Yorker Wendy Rosano, a 16-year veteran in the south Florida restaurant arena, (30 years en toto) owned and operated Cucina Mio for 10 years which was on Jog Road in Delray Beach.

While there, she worked as a consultant for a group out of NY that was putting together a restaurant in the new Delray Beach Marketplace.

When her landlord didn't renew her lease the group decided to bring Wendy in as a manager of the new restaurant and the rest is history.

---
The Menu...

The menu at Terra Fiamma is substantially the same as in her previous dining establishment consisting of a combination of dishes from Northern, Southern and Central Italy.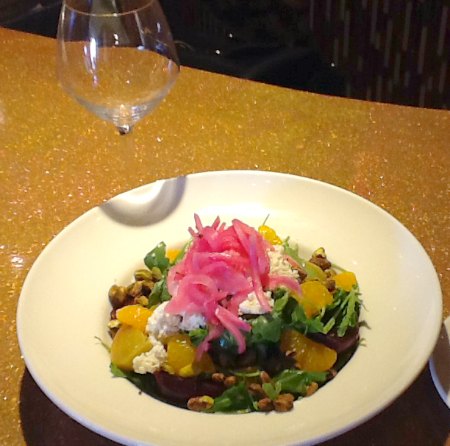 Tom Corning who is the managing partner commutes to and from New York. Between Tom and Wendy, they consult on the menu, the drinks, the beer and wine lists and together they have literally created a delicious space for the eye and the taste buds.

I have visited Terra Fiamma twice with friends and I must say we thoroughly enjoyed our dinners both times.

On my first visit I tried the Chicken allesandro while my guest enjoyed the Lobster Ravioli.

Chicken allesandro is made with spinach, mushrooms, artichoke hearts in a light plum tomato sauce. (My mouth is watering as I type.)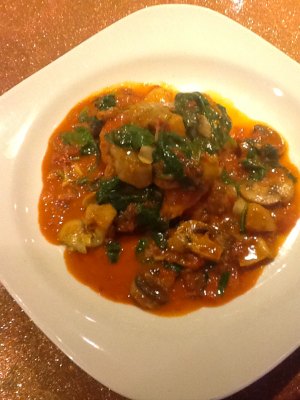 The lobster ravioli was not too heavy with a creamy lobster center served with baby shrimp in a parmigiana pink sauce. I tried it. It was delicious. But don't take my word for it.

Elyse from Coral Springs said it was "the best lobster ravioli she ever tried."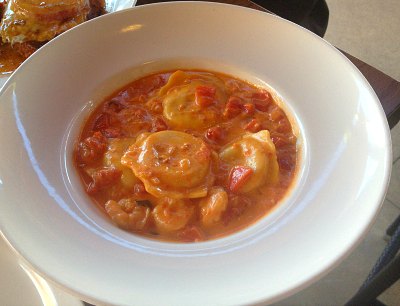 On my second trip to Terra Fiamma in less than two weeks I might add, I was joined by another guest who just had to try the food after I raved about it.

This time I had the "summer special Old Style Meatballs" (appetizer just like Mama R! used to make) with a roasted beet salad as my main course which btw is enough for two.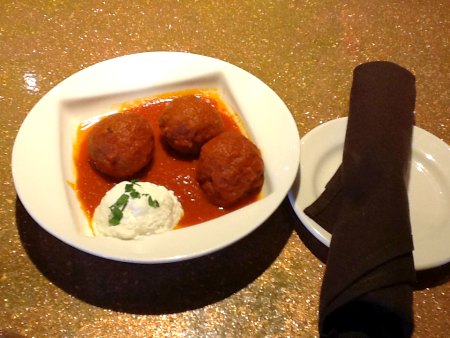 My friend Sandra M. began her meal with the burrata (basil pesto, fresh tomato and slivered almonds).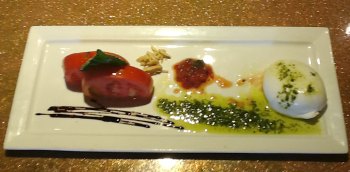 Followed by the cavatappi funghi, (with white mushrooms, portobella mushrooms, parmigiana creme sauce with a splash of San Marzano tomato, both mouth-wateringly delicious.

She said, "loved the food" and "would definitely return for more."

Best Seller & #1 Entree?

Best sellers include: 3 different kinds of meatballs. The 100% beef meatballs served with home-made meat sauce; veal meatballs and buffalo chicken meatballs.

The number one entrée is the chicken parmigina dinner and according to Rosano "everybody loves our chicken parm."
Specials & Catch of the Day

Specials always include: a fresh catch of the day and a 16 oz veal chop.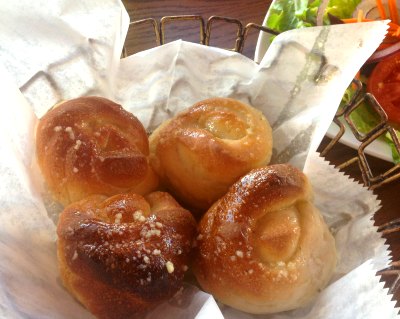 Today's specials: a pan seared veal chop in porcini mushroom sauce served over risotto; salmon stuffed with scallops and spinach; snapper Francese,  skirt steak grilled with wild mushrooms in truffle oil and penne amatraciana with onions, basil and pancetta. Hungry yet?

Garlic rolls are baked fresh all day and the desserts are home made.

You will not go hungry with over 15 Italian Tapas; flatbreads; 9 different salads; 11 different pasta dishes and 15 entrees not including seasonal specials to chose from and believe me, the portions are big enough for leftovers.
---
Wines. Beers. Cocktails.
What's Your Pleasure?

Choose one or more of the 45 wines served by the glass or bottle; house-made sangria; 13 beers; and cocktails from their fully stocked bar, which by the way gets a nice crowd every night.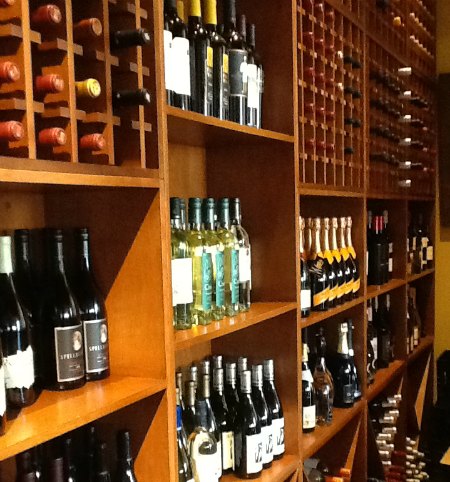 How's Your Dinner Quest...

In my quest to get other "diner's" opinion, I found this table of three, from Coral Springs. Larry who had the chicken cuomo said it was, "Terrific. Very tasty." And it "exceeded his expectations. The portion was huge!"

Doris had TFs most popular entree, the chicken parmigina. She said it was, "Wonderful. Wonderful. It was made with real chicken and not a patty."

I had asked if they gave her enough, she chuckled and said, "More than enough!" And I already mentioned Elyse who had the lobster ravioli and according to her, "it was sensational."
Diners From Coral Springs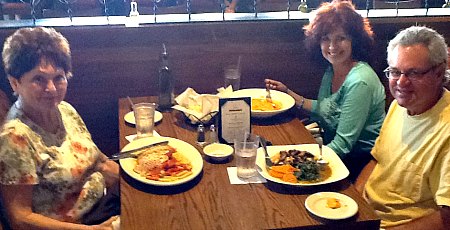 Pizza. Pizza. Pizza.

How's the pizza you ask? They have not one, but two pizza ovens. There's the classic "Baker's Pride" oven, the "gold standard" of NY style pizza.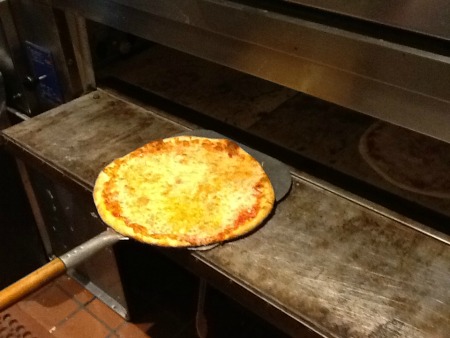 The other is a wood-burning brick oven. Sam M. a Brazilian martial arts instructor told me this "was some of the best pizza he'd ever tasted."

Pizza lovers will delight in the 10 "standard" pizzas or one of your own creation.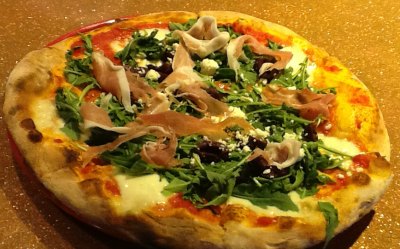 Mushroom Pizza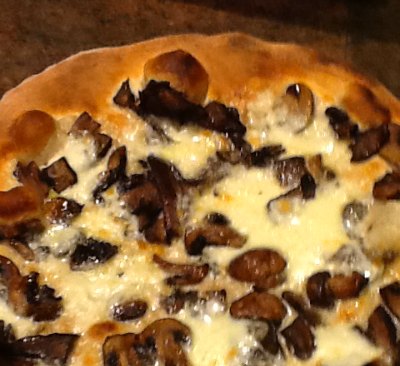 A family of four (or 2 couples) should expect to spend approx. $100-130 not including wine or gratuity. In my opinion, it's well worth the price. Take out is available.

Terra Fiamma? Molto Buono. I will be back.
More Restaurant Reviews
by Steve R!

Looking for more things? Here's some ideas...