In Search of...
Great New York Bagels in Delray


Welcome to Bagel Twins!

by Steve R!
I have heard people call Florida the "southern most northern state." There's a reason for that.

As anyone who visits Florida during season will tell you, the population swells with "snow birds" made up mostly of retirees from the north.
When New Yorkers show up, they show up in droves to Bagel Twins of Delray Beach. Why?

Because somehow Bagel Twins has found the recipe for the perfect New York bagel!

And, When You Find The Perfect New York Bagel in Delray,

You'd Better...


And you know how much New Yorkers pride themselves in their bagels. How do I know? I have a confession to make. I am a former New Yorker!

Shocked?  Don't be.

I grew up on New York bagels and although I haven't lived in New York for a while, I still remember what a fresh NY bagel is suppose to taste like.

In my opinion, with 16 different varieties of the best New York bagels and bialy's (a softer bagel without a whole) south of Staten Island, Bagel Twins will have one that you are sure to love.

There are New York style pletzels, black and white cookies, muffins and danishes too.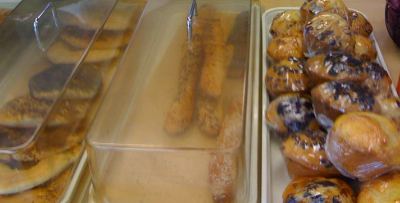 Bagel Twins is not just about delicious bagels and baked goods. It's a real New York City style deli.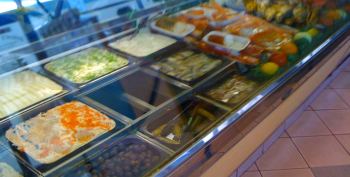 Since I frequent this fine establishment often, I have had the pleasure of trying the knishes, matzo brie, fresh white fish and tuna salads, 3-egg omelets with a variety of fresh and tempting ingredients, crispy corned beef hash, fruity blintzes, lean corned beef and so much more.

If you are a Dr. Brown's soda fan, you'll find cream, black cherry and Cel-ray soda at Bagel Twins.

Great Service, Long Line...
And Ohhh, So Worth the Wait
I think my son had the best line when he said to me, "Dad, I know you don't go there just for the food, you like the attention!"

Well...Yes!  Who wouldn't?

The service is very good despite the booth to booth people. In-season, Bagel Twins is a very popular spot with New Yorkers and the rest of the contingent from the northern states and locals alike. So much so, there is often a line to get in, for breakfast and/or lunch. But it's worth the wait.

And This is Why it's Worth the Wait...
Onion and Lox Omelete

Close your eyes and just listen. When the patrons around you speak, you'll swear you were in a New York City deli.

Many of the guy talk is about their Mets, Yankees, Jets, Giants and Rangers. While the women are discussing their favorite beauty salon or their grandchildren.

But step outside and see the surrounding palm trees and you'll remember where you really are... warm, beautiful, Delray Beach, Florida.

There are daily price specials but by no means should you think you are going to pay fast food prices. (You're not paying NYC prices either.)

If you live by the motto you get what you pay for, you'll really enjoy the huge omelets, over-stuffed sandwiches and ample entree portions.

Maybe someday New Yorkers will say, "eh … have you tried those Delray Beach style bagels from Bagel Twins?

Are they THAT good? Fehgetaboutit!"

Location & Hours


Bagel Twins is located in the Palm Court Plaza, 5130 Linton Blvd #16, (corner of Military Road) Delray Beach.

 (561) 499-1925.  Catering is also available.

Comment by Danika Dahl:  You are so right that New Yorker's definitely want to find their bagels in Delray! I get inquiries asking "where can I find New York style bagels in Delray?"

And believe it or not, I've never known a great place for bagels because I don't eat bagels.  But thanks to YOU, I will now refer them to this great bagel write-up and they will know all about Bagel Twins

More Restaurant Reveiws by Steve R!

Looking for more things? Here's some ideas...