Boston's on the Beach -- Without a Doubt....
by Christine Szymanski
(West Boynton Beach, FL)
Boston's on the Beach without a doubt is the best restaurant in Delray Beach.

There are so many restaurants in Delray Beach, but most people all come back to Boston's on the Beach.

For Boston's beautiful sunrise breakfast or mid-day lunch, you have to visit Boston's on the Beach.

Photo Courtesy Dawn Pennington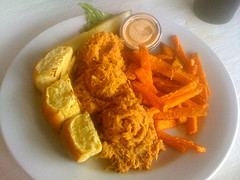 For mid-day lunch or sunset dinner, without question it is The Upperdeck at Boston's.

With all your meals covered, you visit at anytime for cocktails and fun. So much food, fun, and entertainment. It's pretty much all inclusive! Not to mention the staff is the best.

No, I don't work there now. Though, I did for quite a long time. I still recommend it for all ages and for any venue you are looking for.

I went to Boston's every time I came to Florida before I moved here, and still visit whenever I can.

I don't believe you can come to South Florida and not come to Boston's. It just wouldn't make sense.

Sincerely, Christine Szy

Comment by Danika Dahl: - Christine, thank you for sharing your favorite restaurant in Delray with us!

I have to agree with you! Absolutely, Boston's on the Beach has something for everyone! Whether you are a family looking for family dining in Delray Beach, a couple wanting a romantic dinner with an ocean view restaurant -- or just wanting some live music and drinks, Boston's has all of this!


Go to: More About Boston's on the Beach Restaurant in Delray.

Go to: More Restaurants in Delray.

Go to: More Reviews on Restaurants in Delray.


Want To Stay In Touch With I-Love-Delray-Beach.com?

Here's How...

Join me on
Facebook,
or
follow me on Twitter,
or
subscribe to my newsletter,
or
follow my Delray Beach blog
with your own RSS feed, and any time I add something new to I-Love-Delray-Beach.com, it will be conveniently delivered directly to your favorite RSS reader.
What's an RSS reader?
Like this page? Want to share Boston's on the Beach Without a Doubt Favorite Restaurant with all your friends? It's easy! Just click on one or all of your favorite social sites at the bottom of this page and follow the instructions.
C'mon, share the Delray Beach love!
Leave a comment or write your own story...