South Florida Weather
South Florida weather is tropical, breezy and warm!

South Florida weather is warm and pleasant (almost) all year around!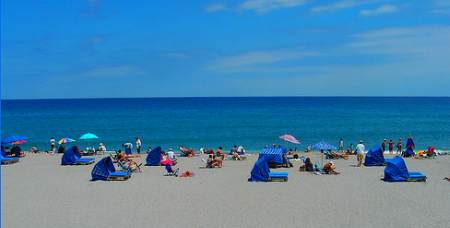 With an average winter temperature of 70-something ... what's not to love about our Florida winters?

Tropical, breezy and warm.

Sunbathing weather even in the winter months! The weather is mostly sunny and warm with blue skies making it perfect beach weather almost all year around! 
South Florida weather is considered semi-tropical or if you want to use meteorologist terminology it's an equatorial climate which means the weather here is a type of tropical climate in which there is no dry season.

Not only is there no dry season in South Florida, we really don't even have four seasons for that matter because we don't have a true summer or a true winter like most of the United States. 
December Weather in South Florida!
Palm Trees & Blue Skies!
Photo credit: Larry Richardson

Trail to paradise! Delray Beach, Florida :-)
Photo credit: Brad Stoecker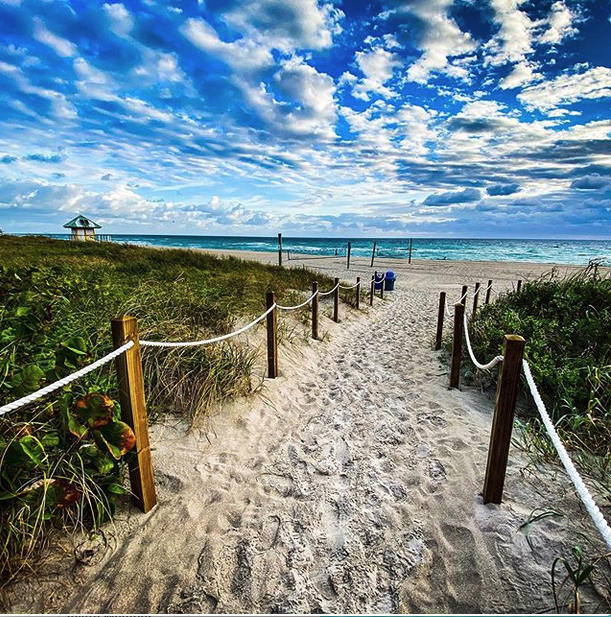 November, March and April are considered the transitional months, being neither full-on summer or full-on winter.  They are typically dry and warm with temperatures ranging from 63 to 85 degrees.

The best Florida weather is in the winter months between November and February. During these months, the weather in South Florida is generally dry and sunny making for the best sunbathing and most perfect Florida family beach vacation! 
Winter Weather in South Florida...
The best winter weather in the USA!

December to March are considered the winter months in South Florida because they are noticeably cooler but as you can tell from the photo, the skies are clear blue and the January weather in Florida is magnificent!

Morning sunrise in Delray Beach in January!
Photo credit: Larry Richardson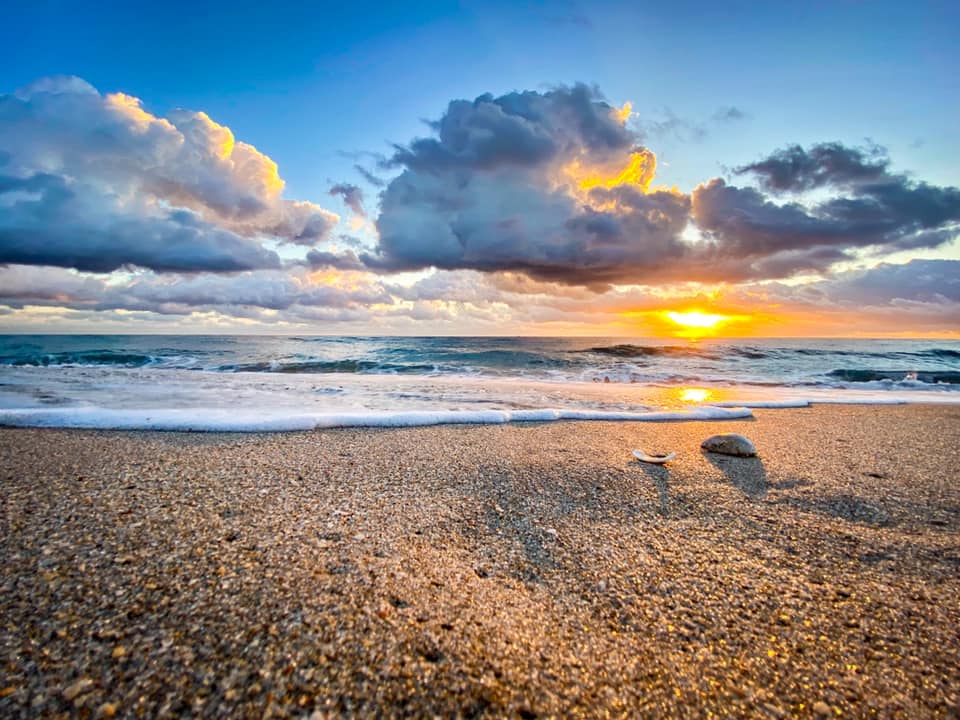 So don't let the cooler temperatures scare you away.  Florida weather in January still cannot be beat anywhere else in the United States!

High temperatures during Florida winter months typically range from 65 to 82 degrees.

South Florida does experience cold fronts from November through March, (but remember cold in Florida is when the temp drops below 70 degrees ha-ha-ha) as compared to elsewhere in the United States where cold means freezing temperatures and even subzero temperatures in many parts of the United States. 

South Florida Weather in April - Hollywood Beach, Florida
Photo Courtesy of Photographically Yours, Inc.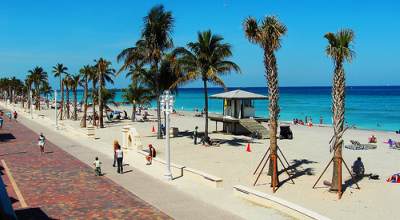 June through October
Summer Weather in South Florida
June through October are considered the summer months, with South Florida weather being more hot and the humidity increasing during summer months with July and August having the highest humidity.

But remember, there is always a nice fresh breeze off the Atlantic Ocean and the afternoon rain bring coolness to the warm and humid days in the summer months. 
In the summer months there is high humidity with tropical downpours almost daily. Every month has a rainfall of at least 2.36 inches.  But don't fret over the rain.  The showers are warm, tropical showers, not lasting long, with the sunshine quickly reappearing. This monthly rainfall is what makes South Florida so beautiful, lush and green!  

South Florida Average Weather
| | | | |
| --- | --- | --- | --- |
| Month | High | Low | Precipitation |
| January | 76 | 59 | 2.94 |
| February | 77 | 60 | 2.70 |
| March | 79 | 63 | 2.80 |
| April | 82 | 66 | 3.91 |
| May | 86 | 71 | 6.33 |
| June | 88 | 71 | 10.01 |
| July | 90 | 75 | 6.70 |
| August | 90 | 76 | 6.88 |
| September | 89 | 75 | 8.26 |
| October | 86 | 72 | 6.44 |
Weather in the Florida Keys
Weather in the Florida Keys is considerably drier than the rest of South Florida. Key West has an average annual rainfall of about 40" where Miami has nearly 60".
Smather's Beach - Key West, Florida
Photo Credit: Dawn Pennington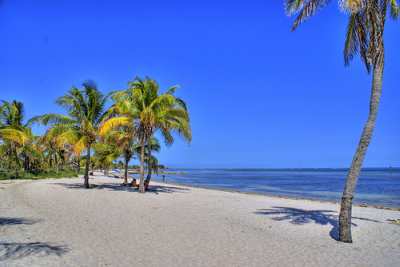 Florida Hurricane Season
Florida hurricane season is officially from June through the end of October.  Hurricane season is really of no worries because for the most part, due to our high technology nowadays, ample warning is provided. You can read more about hurricanes on my Florida hurricane page here.

More South Florida Weather by the Month...
(Note: I do not have weather pages for the months of June, July, August, September & October yet, so there are no links for those months.)

Christmas in Delray...
It's the

most

magical time of year!

Christmas is a magical time of year in Delray Beach, Florida! The energy in the air is so magical it is literally palpable! We love the holidays here!

If you've never been to Delray Beach, Florida, USA to see our magical 100-foot Christmas tree and the magic that surrounds our downtown, please check out my Christmas in Delray page.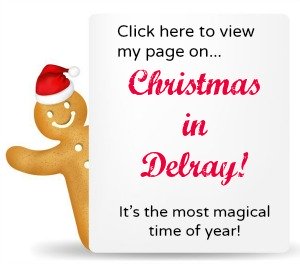 Have you signed up for my free Newsletter?


~ Delray Beach Vibrations ~



Click here to sign up now or click image below to subscribe now! It's free and it's the best way to stay connected with me and Delray Beach! (even if you live on the other side of the world!)