Florida Weather in  March


Florida weather in March has an average high temperature of 79 degrees and an average low temperature of 63.
The sun shines bright and March weather in Florida is beautiful and it definitely is sunbathing weather and Spring Break for most of the Unites States!

Every family, kid, and college student loves to come to the Florida beaches for Spring Break!

Are you one of them?

If this isn't your style of enjoying the beach, let me suggest for you to avoid Spring Break!)
Photo Credit: Delray Beach Water Sports
As compared to our weather in January and February, our March weather is starting to get warmer with longer daylight hours (yayyyyy!!!!) and of course this means more Fun in the Sun!

It's the perfect time for any outdoor water sport activities such as boating, fishing, kite boarding, sailing, kayaking, flying kites, volleyball on the beach, and just about any other water sport you can think of!
---
Delray Beach Water Sports is open 7 days a week, weather permitting. They offer snorkeling tours, and lessons and rentals for all your water sports needs!

Address: 401 S Ocean Blvd (A1A), located at the south end of the beach, near the intersection of Ocean Blvd and Causarina Avenue.

Water Sports Shack Phone: 561-272-7873
Cell Phone: 561-702-7433

Website: www.delraybeachwatersports.com

And how about these life-size kites handmade by Randy the Kiteman! These kites can be purchased to have for your very own too!

Phone: 781-799-9261

Website: www.randythekiteman.com

Or how about some beach volleyball in the sand!

You'll find endless opportunities of fun on our beaches for people of all ages! All of these activities are located at the south end of the beach at the intersection of A1A and Causarina Drive.

Average Temperature in March...

The average high temperature in Delray Beach in March is 79 degrees. The average low temperature in Delray Beach in March is 62.  The average precipitation is 3.68.
What's the Weather Like Right Now...

More South Florida Weather by the Month...
(Note: I do not have weather pages for the months of June, July, August, September & October yet, so there are no links for those months.)

More South Florida Weather Links...

More Things to do...

Walking Culinary Tours




Self-Guided
Beach Walk Tour


Historic Trolley Tour




Morikami
Japanese Gardens Tour


Boat Cruise




 Visit My




Delray Blog!



Christmas in Delray...
It's the

most

magical time of year!

Christmas is a magical time of year in Delray Beach, Florida! The energy in the air is so magical it is literally palpable! We love the holidays here!

If you've never been to Delray Beach, Florida, USA to see our magical 100-foot Christmas tree and the magic that surrounds our downtown, please check out my Christmas in Delray page.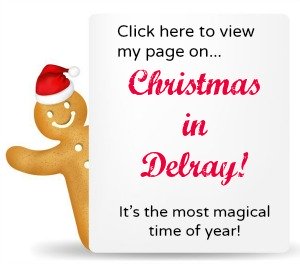 Have you signed up for my free Newsletter?


~ Delray Beach Vibrations ~



Click here to sign up now or click image below to subscribe now! It's free and it's the best way to stay connected with me and Delray Beach! (even if you live on the other side of the world!)