Florida Weather in January
Florida Weather in January is Warm and oh-so Lovely!
Average Ocean Water Temperature is
71 Fahrenheit and 22 Celsius

Florida weather in January has an average high temperature of 76' F and 24' C and an average low temperature of 57' F and 14' C. (See the weather charts below for more temperatures.)

The beach water is warm and the sun shines even warmer! The Florida weather in January is just simply beeeeautiful!

Your Florida Weather in January at the Beach...Awaits You!
Photo courtesy Larry Richardson

Sunbathe in Florida All Year Round!
So if you are looking to vacation in the USA during the winter months and you want a warm, tropical climate with sunshine, warm waters and sunbathing temperatures, my recommendation is South Florida, USA!  And more specifically... Delray Beach, Florida, USA! I'm pretty sure you're going to Love Delray!

Wondering if you can actually sunbathe in Florida in the winter time?  Well. Yes! You can! Actually, you can sunbathe in all winter months in Florida... November, December, January, February -- all are suitable for sunbathing!

Plan to bring the bikini and suntan oil and sun protection, because it is definitely bikini weather! Whether it's the beach or poolside, it is swimsuit weather in the winter time here in Florida! 

Come Sunbathe in the Florida Sunshine
Photo Courtesy of Photographically Yours, Inc.

If traveling in January doesn't work in your plans, no worries because South Florida weather is sunbathing weather all year round!

Here is a Drone View of the Entire beach!

How Cold Does it get in Florida in the Winter time?

Although, January weather has the coldest temperatures of all 12 months, you will still find that Florida weather in January is probably the nicest weather in all of the United States during the cold (brrrr) winter months. 

Coldest weather recorded in Florida? Well, in December 1989 and again in January 2010 there was snow in Florida and freezing temperatures!!!

And, I was here both times -- on vacation! Not so much fun...

Average Temperature for South Florida for the Entire Year...

Average Temperature
South Florida
| | | | |
| --- | --- | --- | --- |
| Month | High | Low | Precipitation |
| January | 76 | 59 | 2.94 |
| February | 77 | 60 | 2.70 |
| March | 79 | 63 | 2.80 |
| April | 82 | 66 | 3.91 |
| May | 86 | 71 | 6.33 |
| June | 88 | 71 | 10.01 |
| July | 90 | 75 | 6.70 |
| August | 90 | 76 | 6.88 |
| September | 89 | 75 | 8.26 |
| October | 86 | 72 | 6.44 |
What's the Weather Like Right Now...

South Florida Weather by the Month...
(Note: I do not have weather pages for the months of June, July, August, September & October yet, so there are no links for those months.)

Christmas in Delray...
It's the

most

magical time of year!

Christmas is a magical time of year in Delray Beach, Florida! The energy in the air is so magical it is literally palpable! We love the holidays here!

If you've never been to Delray Beach, Florida, USA to see our magical 100-foot Christmas tree and the magic that surrounds our downtown, please check out my Christmas in Delray page.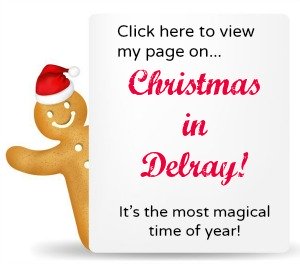 Looking for more things to do? Click any link below...