Florida Weather in February
February Weather in Florida
is Fabulous for Boating and Beaching!

Florida weather in February lends itself well for many outdoor activities! For me, the February weather always makes me think of boating in Florida.

With February's average water temperature of 73 degrees Fahrenheit and 23 Celsius what is there not to like about boating in Florida in the winter month of February?!
Boating on the Intracoastal
Photo Credit: Lisa Fuller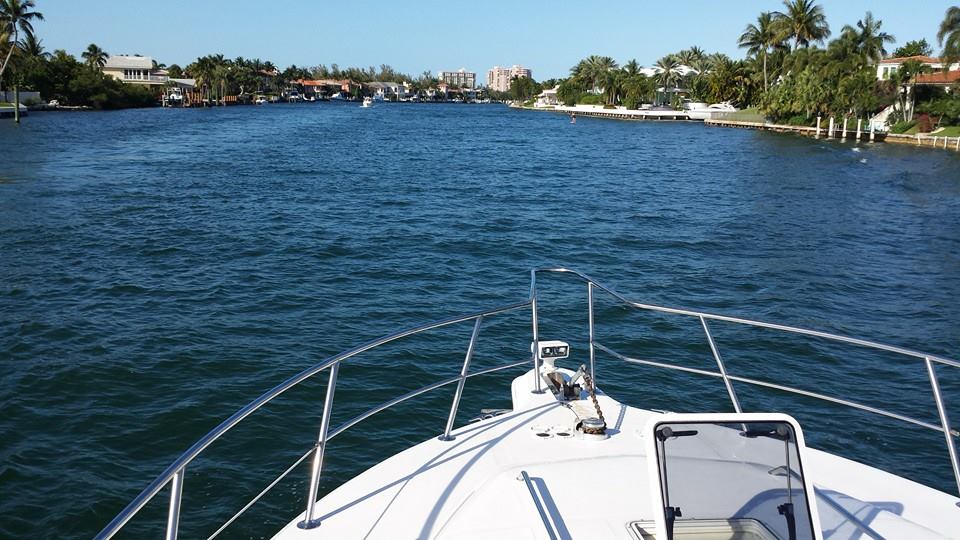 It was the magical month of February that I first experienced the amazingly warm water temperatures in South Florida while boating on the Intracoastal with some friends.

I was a visitor back then, in 2004, and this was my very first love connection with South Florida...boating on the Intracoastal. Well, actually it was a tie between boating on the Intracoastal with water temp in the 70s -- and the dressage horses in Wellington!

The horses are what brought me here -- but the beach, weather, Florida sunshine and boating is what kept me here!  The beach won and the horses were sold!

You just can't deny the loveliness of this!
This is February at Delray Beach!
Photo Credit: Ty Royston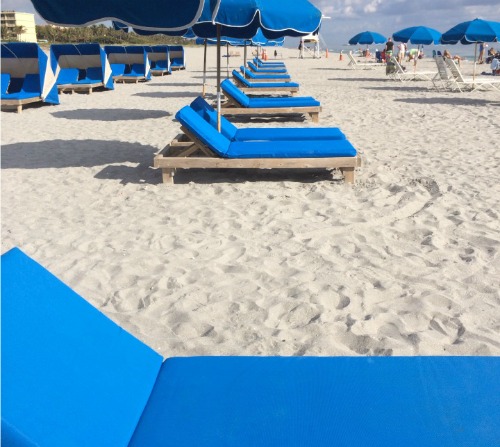 Boating in February? Ha-ha... Yep!
Only in South Florida!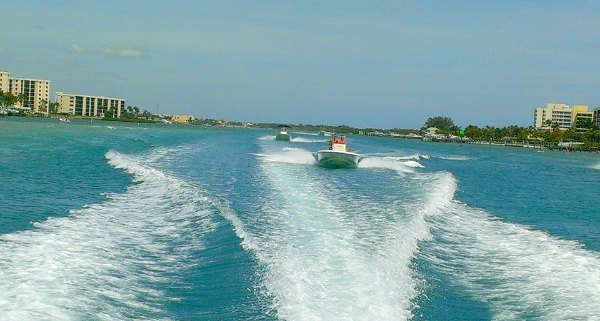 Warm weather in February, water temps of 70-something, air temps of 80-something -- and this turquoise water! Let's go boating!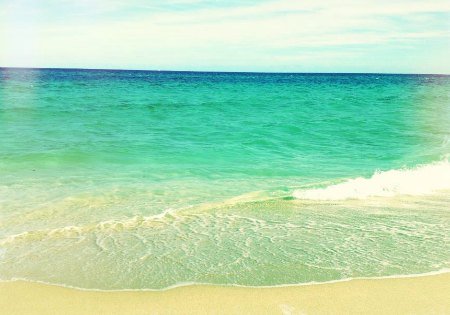 You might wonder about the logic of boating in February -- but here in South Florida -- it is a very appropriate activity to do in the wintertime. This is why so many people flock to Florida in the winter months! 

In fact, this was one of my very first realizations that I knew I was destined to live in South Florida, and no longer be the horse-crazy ranch girl that I had been all my life in Oregon!

It was in February when I went on my first boat ride on the Intracoastal and experienced the warm weather, the warm water and the beautiful scenery. In February! I came from snow country! I had no idea Florida was so nice in the winter months! C'mon! Seriously?! From that moment on, I was convinced... I was destined to be a Floridian.

Even my toy poodle Prince Pierre enjoys a boat ride. Of course, he  doesn't ride like this for safety's sake! He was only posing for a photo shoot. Being in my purse is his favorite place. :-)

The view of the homes on the Intracoastal Waterway is a site to see and is worth taking a scenic boat cruise on the Delray Yacht Cruises to see these beautiful waterfront mansions from the Intracoastal.

Most of the homes are beautiful and magnificent and there are some super mega mansions that might make your jaw fall off! Most of these homes are gated, private and secluded and cannot be seen from the roads -- only from the water by boat.
Mega Mansions on the Florida Intracoastal Waterway
Photos courtesy Photographically Yours, Inc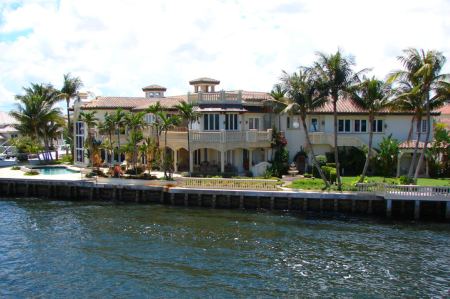 Riverboat Yacht Cruise on the Intracoastal...

If you'd like to tour the Intracoastal, I suggest doing the river boat yacht cruise on one of the magnificent mega yachts from Delray Yacht Cruises. It is the best way to see the breathtaking beauty of the Intracoastal Waterway.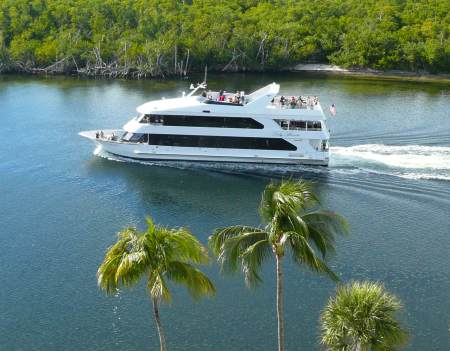 The average high temperature in Delray Beach in February is 77 degrees Fahrenheit (25 Celsius). The average low temperature in Delray Beach in February is 60' F (16 Celsius).  The average precipitation is 2.70.

With the average temperature for February weather in Florida to ring in at a warming 77 degrees, it is the perfect warm weather for a trip to the beach, go sunbathing poolside, boating in Florida, biking, sailing, kayaking, and any other outdoor activities you might want to do.
In February, you can even boat to the waterfront restaurants and sit outdoors to enjoy waterfront dining right on the Intracoastal. It really is THAT warm in February!

Monthly Average Temperatures for South Florida...

Average Temperature
South Florida
| | | | |
| --- | --- | --- | --- |
| Month | High | Low | Precipitation |
| January | 76 | 59 | 2.94 |
| February | 77 | 60 | 2.70 |
| March | 79 | 63 | 2.80 |
| April | 82 | 66 | 3.91 |
| May | 86 | 71 | 6.33 |
| June | 88 | 71 | 10.01 |
| July | 90 | 75 | 6.70 |
| August | 90 | 76 | 6.88 |
| September | 89 | 75 | 8.26 |
| October | 86 | 72 | 6.44 |
What's the Weather Like Right Now...

Things to do in Delray...

Christmas in Delray...
It's the

most

magical time of year!

Christmas is a magical time of year in Delray Beach, Florida! The energy in the air is so magical it is literally palpable! We love the holidays here!

If you've never been to Delray Beach, Florida, USA to see our magical 100-foot Christmas tree and the magic that surrounds our downtown, please check out my Christmas in Delray page.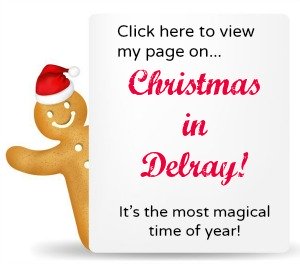 Have you signed up for my free Newsletter?


~ Delray Beach Vibrations ~



Click here to sign up now or click image below to subscribe now! It's free and it's the best way to stay connected with me and Delray Beach! (even if you live on the other side of the world!)