Delray Yacht Cruises Presents...
Lady Delray

The Second Edition to Their Fleet

Scenic Boat Cruises on the Intracoastal
Cruise on the Delray Yachts

Delray Yacht Cruises offer a variety of boat cruises on the intracoastal in Palm Beach County. Choose from an intracoastal Sight-Seeing Cruise from Sunset Cruises, Sunday Brunch Cruises, Dinner Cruises, Holiday Cruises and more!

Delray Yacht Cruises has two different yachts for their sight-seeing cruises. 
Lady Atlantic and Lady Delray

Lady Delray (on the right) is their newer and smaller boat.

Measuring in at a mere 90-feet long, you might say she has a more intimate-cozy feel than her bigger sister Lady Atlantic who measures in at a precise 105 feet of luxury. 
The intracoastal cruises are so popular, it was necessary for Delray Yacht Cruises to add a second vessel, thus Lady Delray came aboard in early 2011.
Open House Invitation

I was invited to their open house to celebrate her arrival but unfortunately I was in Oregon. Not wanting to miss the fabulous opportunity to share photos and this event with you, I asked another writer-friend to go in my place.

Meet Dawn...

Here's Dawn's Story of the Event...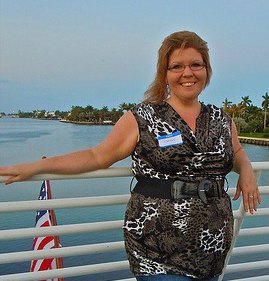 The crew was wonderful at this event!

They really doted on us.

I've never been on one of their boat cruises but I definitely feel like I'd be in good hands when I go back.

When aboard Lady Delray, the royal blues and dark wood and the chairs on the upper deck look more like bamboo whereas the chairs on the upper deck of the Lady Atlantic are blue and white.
Lady Delray Dining Room

Lady Delray Table Setting Dining Room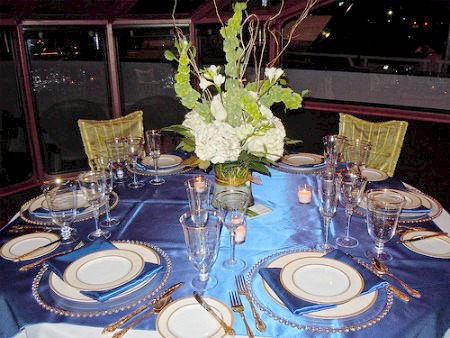 Lady Atlantic Dining Room

If I were renting one out for a small party, I'd love the new Lady Delray Yacht better, so this would be first choice!

But the Lady Atlantic has a third floor that's open to the stars, which the Lady Delray does not.
Lady Atlantic's Top Deck View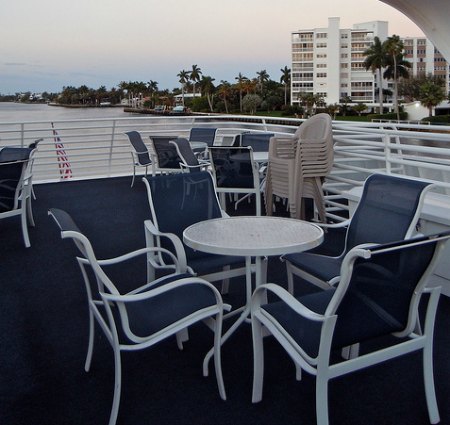 The Beautiful Intracoastal - Looking North

Food Amore

So, the food! Oh yesssss, the glorious food!

As soon as I set foot on the ship, I was offered a delightful
strawberry margarita with a little blue umbrella in it.  And, it was a perfect night for an umbrella drink -- very warm and slightly windy -- and I enjoyed it on the deck of the new Lady Delray, which was parked right beside the Lady Atlantic in the water. (The boats were connected by a walkway, and different foods were in different areas so that folks would circulate.)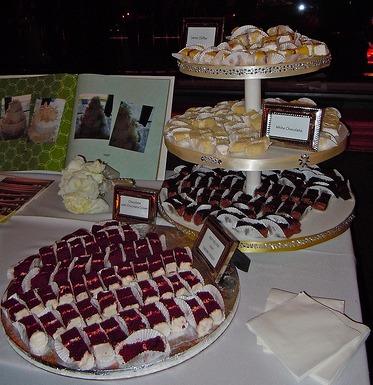 The roast beef carving station had the most adorable little sandwiches and then there was the dessert table...

The bite-sized cakes were made by Cake Originals by Diane.

Each one was better than the next!

I loved the white chocolate the best, although my fellow passengers recommended the chocolate cake with chocolate icing.

The hors d'oeuvres were hearty and filling.

I'm from Maryland and therefore skeptical of crab cakes from anywhere else, but the bite-sized crab cakes with a dollop of tangy tartar sauce were little clouds of crab meat heaven. My favorite were the "lamb lollipops" -- delicious slices of lamb on the bone that were garnished with a Caribbean-flavored sauce.

There was a pot of melted Brie mixed with what tasted like fruit on the bar across from the dessert (and coffee! God bless them!) station.

I ate my dessert and then discovered the Brie and a hearty array of crackers. Delicious!

The only food I didn't try was the tortellini in a cream sauce. My mom and another gal we hung out with said it was wonderful. I of course was on the lookout for one more lamb lollipop instead. :)

And that's it for the food! I was planning to grab dinner afterward but I was full from all the hearty goodies they served.

Thank you for the opportunity!
---
More comments from others...

We've Cruised the Intracoastal Many Times

by Mary - Buzzards Bay, MA
My roots are in Buzzards Bay, MA and my condo is in Boynton Beach, FL. 

I've taken the Lady Atlantic cruise down the intracoastal many times and it always is an enjoyable experience for myself, my family and my friends.

On our last cruise there were 7 of us - my family from D.C. and sis won the raffle - her condo is across the way at the Summit. 

It's wonderful to kick back with a cocktail and a bite to eat and simply enjoy the ride.

I'll be back next winter for the trip by the Boynton Inlet as I haven't done that route yet. Keep up the excellent presentation Lady Atlantic!

See you next winter for another cruise!

Mary
Sunset Cruise on Lady Atlantic: Delray Yacht Cruises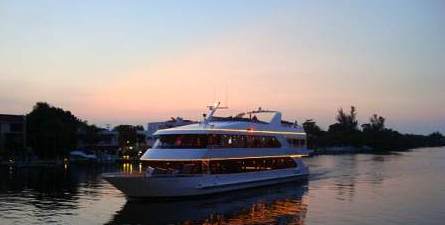 Information & Hours of Operation...
Reservations are highly recommended especially around the holidays!

Cost: For current rates and schedules, please visit Delray Yacht Cruises website. 
Address: 801 E Atlantic Avenue (at Veteran's Park), Delray Beach, FL, 33483. Click here for map for parking and location.

Hours: Please see their website as their hours vary according to cruise schedule.

Phone: 561-243-0686

Email: info@delrayyachtcruises.com

Website: Delray Yacht Cruises
Here's Some More Tours You Might Like...

---
---