Delray Beach Information

City of Delray Beach Links
I've compiled my favorite City of Delray Beach links and made them convenient for those of you who might be looking for Delray Beach information or other information on the City of Delray Beach, Florida.
You'll find links and information to places like the Delray Beach Chamber of Commerce (and other nearby cities too), Parks and Recreation information, Palm Beach County Tourist Board information, and lots more!
And there's online local entertainment guides, online newspapers, Florida travel magazines, digital magazines and other electronic publications and resources.
All right here at the convenience of a click of a link! Enjoy!
Delray Beach, Florida
Voted All-America City Award in 1993 and 2001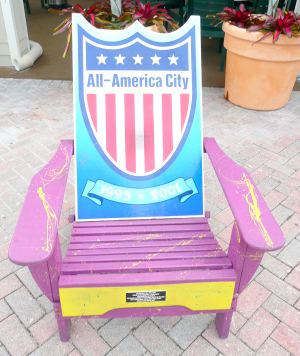 City of Delray Beach Links
Parks and Recreation Information for Visitors: General information on Beach and Oceanfront Parks, Community Parks, Dog Parks, Golf Courses, Intracoastal Parks, Marina, Nature Areas, Recreation Centers, Swimming Pools, Tennis and more.

Downtown Delray Beach Information: Event calendar, dining, shopping, services, tourist information, and getting around The City of Delray Beach.

Greater Delray Beach Chamber of Commerce: The Chamber of Commerce has a lot of information for visitors. Visit their web site here and click on the visitor's link to see all the visitor information or stop by in person and pick up all their brochures they offer on the City of Delray Beach!

Delray Beach Community Redevelopment Agency: To directly assist in the redevelopment of downtown Delray and encourage economic growth, and helping to improve the attractiveness of the City of Delray Beach, Florida.


Delray Beach is also Affectionately Known as
Village by the Sea
Palm Beach County Links
Palm Beach County Convention and Visitor's Bureau: Visitor's information for Palm Beach County on upcoming events, attractions, activities, convention center, meeting services, and more! Lots of information here!

Palm Beach Culture: Palm Beach County has some of the finest visual and performing arts, science and nature attractions, historical treasures, festivals and multicultural experiences in the state.

Palm Beach County at 100: Our History, Our Home: This 304-page, hardcover book is the official history book of Palm Beach County. Photos and memories through the years on the beach to the businesses and entertainment venues unique to Palm Beach County, The Kennedys, Vanderbilts and Trumps, the mansions of Palm Beach County, and how the world's richest people define Palm Beach style. You can view parts of this book electronically by clicking the link above, and you can purchase the hard copy for $34.95.
Online Delray Beach Guide
and Online Publications
2009 Guide To Delray Beach:
A beautiful digital publication of 132-pages all about Delray Beach and Palm Beach County. Very informative guide with geographical statistics and more.
2012 Online Guide to Downtown Delray Beach: In this electronic 58-page guide to downtown Delray Beach you will find information on Parks & Recrection, Special Events, Accommodations, Dining, Shopping, Cultural Arts, and on pages 56 & 57, you'll find a map for Parking and Getting Around in Delray Beach.
Atlantic Avenue Magazine: Another beautiful digital magazine in PDF format. Archives of issues are available at this link as well. Very nice magazine all about Delray Beach and Atlantic Avenue shopping and dining and more!

Tradewinds Newspaper: A newspaper published for the Greater Delray Beach Chamber of Commerce. This is in PDF format and can be downloaded and printed or simply viewed on the site. If you're in town, you can stop by the Greater Delray Beach Chamber of Commerce and pick yourself up a hard copy.

The Pineapple: This is the new Delray Beach newspaper-type publication all about Delray Beach, Florida. This is printed in a hard copy newspaper-type format and you can also view The Pineapple online as well. It's a small, cozy-friendly publication, about 20-some pages.
More Florida Magazines & Online Publications
Below you will find some of my more favorite South Florida magazines and other online publications. These towns are all within about 20-30 minutes of Delray Beach, Florida.
Boca Raton Magazine: Web site for the only Boca Raton, Florida magazine. This magazine has won many awards! You can subscribe to the hard copy edition for $14.95/year or you can just simply view it online at their web site for free!

Observer Online Magazine: Deerfield Beach, Florida online newspaper serving Deerfield Beach, Lighthouse Point, Hillsboro Beach, Pompano Beach and Boca Raton. (All of these communities are South of Delray Beach about 20 minutes).
Deerfield Beach, Florida in February
Deerfield Beach Chamber of Commerce:
Deerfield Beach is known for a great beach scene! It's just south of Delray Beach about 20 minutes. Deerfield Beach is the pride of Broward County with a diverse population of 77,000 and over 5,500 businesses.
Florida Lifestyle Online Magazine: A very nice digital online magazine for those seeking Florida Lifestyle travel and tourism. They also have full-color printed and digital travel guides unique to each city in Florida.

Florida Travel and Life Magazine: Voted best magazine in Florida! Subscribe to their print version or their electronic version...or simply just look at their great website!


Local Palm Beach County Newspapers
Sun-Sentinel Newspaper: The South Florida Sun Sentinel is Broward, Palm Beach and Miami and Dade County's source for breaking news, sports, weather, traffic and more.

Palm Beach Post Newspaper: The Palm Beach Post newspaper is your top source for Palm Beach County and Treasure Coast breaking news, plus sports, weather, traffic and more.