The Whale's Rib Restaurant
Florida Seafood Restaurant
Deerfield Beach, Florida
The Whale's Rib Restaurant is a great Florida seafood restaurant in Deerfield Beach, Florida with great seafood, large portions, reasonable prices and a fun beach bar atmosphere.
This unique, funky, rustic, casual beach bar, seafood restaurant rates high on the locals list for a great Florida seafood restaurant in Deerfield Beach but not just Deerfield Beach -- this place is famous!
People come from all over for this unique and famous seafood restaurant!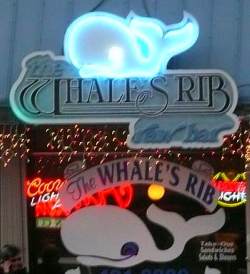 It's been around for 25 years!
Whale's Rib is famous in its own right!
And I'll tell you why...
Whale's Rib Restaurant has a waiting line every single night. They don't take reservations. They don't need to.
They have a very loyal following and their loyal customers return here again and again.
And, their loyal customers bring more people with them each time they return.
Hey, wait a minute....I think I resemble that remark!
Because I'm one of those customers that returns again and again!
And, hey wait a minute, my friend Dustie is one of those customers that returns again and again too -- and she brings more people with her!
Dustie and Me (Danika Dahl) at Whale's Rib Restaurant
In fact, Dustie loves Whale's Rib so much she likes to introduce new people to Whale's Rib when they are visiting from out of town.
I was first introduced to Whale's Rib Restaurant in 2007 by an acquaintance who took me, my sister and her two kids there for lunch one day.
I didn't think my niece and nephew would like it. HA! They loved it!
Kids fit in perfect here because it's just a fun, loud, no-rules kind-of-place. Makes it easy on the kids and the adults.
Whale's Rib Casual Beach Bar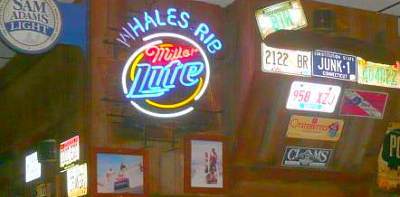 November 2007 was my first experience of this very unique, funky, rustic, casual beach bar seafood restaurant in Deerfield Beach, and I keep returning for more!
Whale's Rib is decorated with some odd components of funky Florida signs, like old street signs, old license plates from all over the world, beer signs and miscellaneous nautical oddities that remind you of fishing and the beach.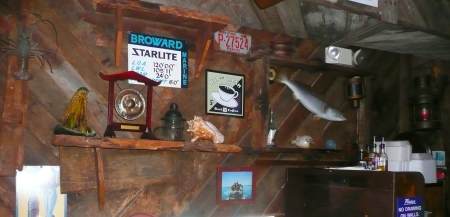 Whale's Rib Restaurant
Food Network!
In fact, Whale's Rib Restaurant is so unique, so cool and so popular, in August 2009 it was on the Food Network's popular show "Diners, Drive-Ins and Dives."
Great Seafood - Great Prices
Whale's Rib Restaurant has the reputation of having great seafood at great prices, and they do it consistently again and again.
You will find a terrific selection of great seafood at great prices at Whale's Rib Restaurant!
Ipswich Clams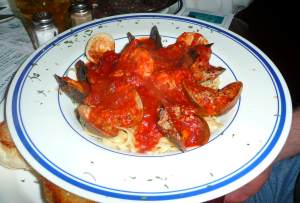 You'll find items like their popular Ipswich clams, fresh oysters, and delicious rock shrimp.
The Ipswich clams are the kind used for steaming and frying in New England but hard to find south of Long Island because they are soft-shelled and don't transport well.


Well, the Ipswich clams are shipped in fresh here every Thursday and are typically sold out by Sunday night!
I had the halibut dinner. I always have the halibut dinner because it is so scrumptiously good!
Halibut Dinner at Whale's Rib Restaurant
And it is actually two meals in one because I always take home what I can't eat and it is always enough for a second meal -- all for under $20.00!
Exceptionally reasonable prices!
And for those who love crab, the Whale's Rib has Dungeness crab, Alaskan King crab, Snow crab, and Fresh Florida Stone Crabs (seasonal).
Seafood Platter at Whale's Rib Restaurant - Deerfield Beach, FL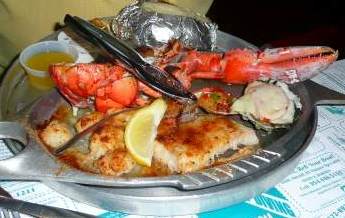 Lobster and fresh fish selections are also served in this funky and casual beach bar atmosphere restaurant.
Or, how about some delicious Grouper. Dustie loved her Grouper dinner at Whale's Rib Restaurant!
Grouper Dinner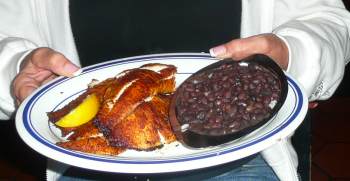 The blackened prime rib entree is a huge hit if you're looking for a huge meal of 16 ounces of red meat to sit in your stomach for the next three days.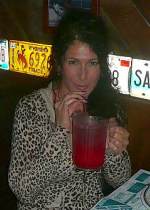 Or, maybe you would just like a simple sandwich. Whale's Rib has these too!
The California comes with avocado and sprouts.

The Hawaiian comes with ham and pineapple.

The Monterey comes with ranch dressing.

Each one is less than $9.00!
Everything is in big portions at Whale's Rib, including their drinks. This is the size of my ice tea!
Whale Fries and Whale Juice
The wa-wa-wa-what fries and the what juice?
Yep, you read it right. I know, it sounds like cartoons doesn't it! But let me tell you about them and then you'll understand their importance!
Whale fries and whale juice are signature items here at Whale's Rib restaurant.
Alright! Who Ate All The Whale Fries?!


This is the look of a man who did not get enough whale fries!
Rule #1: You must share the whale fries people!
These mouth-watering tasty treats are like freshly cut potato chips that melt in your mouth!
They resemble potato slices, kind of like freshly made, steaming hot-out-of-the-grease-pit potato chips.
They definitely are not french fries. They don't even resemble french fries.
Whale's fries are prepared on site, made fresh daily from whole potatoes and cooked to order.
The whale fries are absolutely,
undeniably, incredibly tantalizingly tasty!
Whale juice is a house-made sauce, similar to a honey mustard. Everyone loves the whale juice! Be sure to try some!
Desserts!
And most importantly, you can get dessert for less than $4.00!
If you have room for any dessert that is! We never do but if you do, they have carrot cake, key lime pie and snickers cheesecake.
I've seen it delivered to tables and it all looks very yummy!
Directions and Parking at Whale's Rib
You can't miss this restaurant. It's at the famous S-curve on A1A in Deerfield Beach -- just North of Hillsboro Boulevard.
Right where all the action is in Deerfield Beach!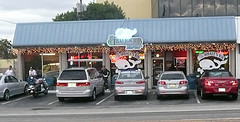 Parking is easy at Whale's Rib. They have parking right in front of the restaurant and on the side.
There is also street parking, but like most days in South Florida, it is difficult to find street parking. No worries.
There is a parking garage just two blocks west. Lots of easy parking!
Testimonials
Whale's Rib Restaurant is a great place to eat and relax in a beach bar restaurant atmosphere. I have never had a bad experience here.
It's noisy, crowded, and dimly lit but that's because Whale's Rib is a real beach bar. They let you in even if you're covered in sand and shoeless. The staff is friendly. The cooks are on top of it and really work together to get your food out quickly.
We frequent Whale's Rib Restaurant often. It is consistently good service with consistently good food. The price is right, and you never leave hungry. The whale fries with whale juice are magnificent, so if you are a first timer make sure to shell out the $3.00 for a basket of the whale fries! You MUST try them! You won't be disappointed!
We're from Wisconsin and we've been going to Whale's Rib in Deerfield Beach, Florida forever and love it! Fish sandwiches huge. Blackened dolphin and conch chowder favorites. Try the Key West Style fish sandwich, excellent. Veggie sandwich also a favorite for one in our group. This vacation we visited 3 times. We love the Whale's Rib!
I love how you can come straight from the beach in your shorts and sandals...no fancy dress required at Whale's Rib!


Leave Whale's Rib Restaurant and go to Delray Beach Restaurants

Leave Whale's Rib Restaurant and go to I Love Delray Beach Home