Tennis on Atlantic Avenue
McEnroe vs. Wilander
Tennis Exhibition on Atlantic Avenue
Tennis on Atlantic Avenue means that Atlantic Avenue literally turns into a tennis court as it shuts down to traffic between 1st Avenue and 2nd Avenue to play host to the famous tennis match of John McEnroe February 18, 2011.

It's the moment that I like to refer to as "The Mac Attack on Atlantic Avenue."

Fans will enjoy a tennis exhibition on Atlantic Avenue that will serve as a feisty warm-up for the real tennis action that begins on Saturday, February 19, 2011.

February 19, 2011 marks the beginning of when the ATP Champion Tour gets underway at the Delray Beach International Tennis Championships (ITC) held at the Delray Beach Stadium & Tennis Center.
---
Public is Invited to This Free Event!
It's on First-Come, First-Serve Basis

Tennis on the Avenue is free and is first-come, first-serve. Outdoor seating is available at the numerous Atlantic Avenue restaurants that line the block so come early to revel in everything that makes the Avenue a special place.

This Atlantic Avenue tennis match takes place in front of DeBilzan Art Gallery. Stop in DeBilzan Gallery prior to the event for a pre-function party and say hi!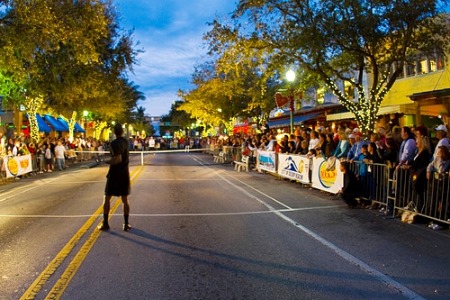 The Volley Girls
The festivities will begin with the Volley Girls warming up the crowd with ticket and merchandise giveaways, music and more.
They wow the crowd with their contagious fever, getting the energy high and the crowd excited...waiting for the match between McEnroe v Wilander on Atlantic Avenue.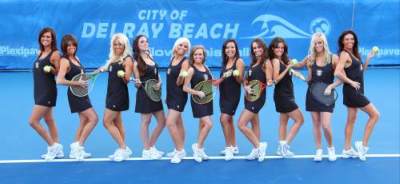 McEnroe v Wilander
February 18, 2011 at 5:30 PM
And for the second year in a row, Delray Beach has two legendary tennis champions that will take over Atlantic Avenue for our tennis entertainment that we know as Tennis on Atlantic Avenue 2011.

McEnroe will take to the street to play Wilander for what is sure to be a fun, engaging and interactive fan experience.  Read more about the 2011 Tennis Match on Atlantic Avenue here.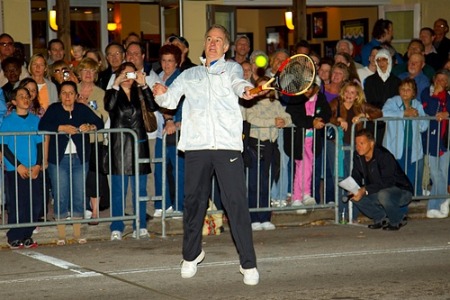 Above and Below:
John McEnroe Playing Tennis on the Avenue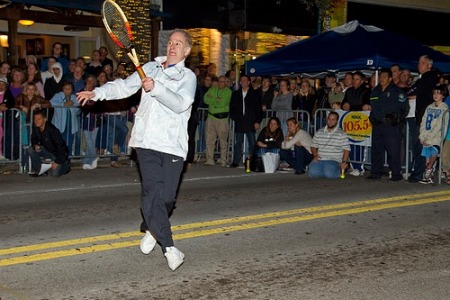 John McEnroe Signing Autographs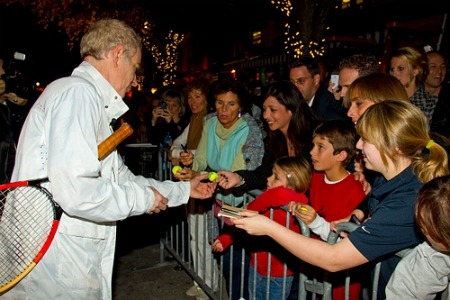 Tennis on Atlantic Avenue 2010
McEnroe and Wilander
History was made on February 19, 2010 as two of tennis' all-time greatest champions, John McEnroe and Mats Wilander, played tennis on Atlantic Avenue for the first-ever "Tennis on the Avenue" tennis exhibition on Atlantic Avenue.

"Bringing McEnroe and Wilander to Atlantic Avenue is a great opportunity to promote the world famous street we call home."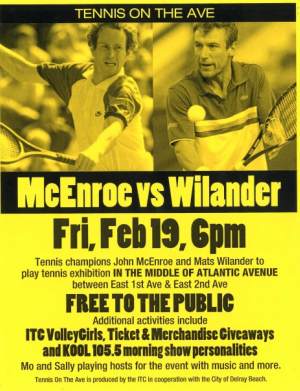 Video of 2010 Match
You can watch the video of the 2010 tennis match on Atlantic Avenue right here on this YouTube video.

Click the arrow in the middle of the screen below to watch the 2:11 minute video of McEnroe and Wilander playing Tennis on the Avenue.

More Tennis Articles...
---