Tryst Restaurant Delray Beach

A gastropub with a neighborhood feel, great food, and a lot of craft beer choices!
You might call Tryst Restaurant a neighborhood pub, or an upscale tavern with a sophisticated flair, or maybe even a gastropub...where the locals hang. Sophisticated yet casual might describe it best.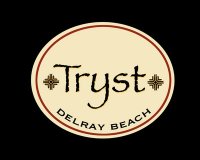 Whatever you want to call it, I think you'll like its style!

Since I enjoyed the Grand Opening at Tryst Restaurant Delray Beach so much in January 2009, it only made sense that I go back to Tryst for dinner soon afterward.

So the following weekend I made plans to meet up with a friend who I had just met at the Grand Opening the previous weekend.

Even though we didn't make reservations, reservations are highly recommended for those who don't want to wait. 
We had a 45-minute wait but we didn't mind because we wanted to take our leisurely time and enjoy the newest restaurant on Atlantic Avenue -- so we made good use of our time -- at the bar! ;-)

You can have the same dinner service at the bar as you can at the tables. It worked for us!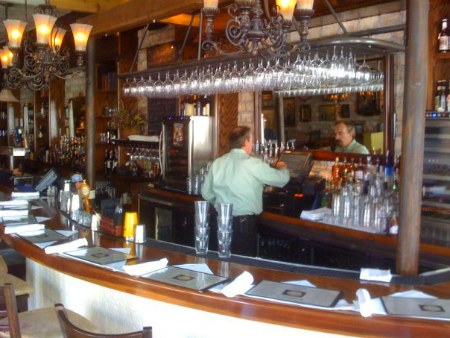 When they took our names at the door, we were given the choice of patio dining in their beautiful courtyard or indoor dining.

When I peaked outside to see their courtyard patio dining, it did look enticing and slightly romantic. Maybe if I were on a date, but not tonight.  Tonight, I wanted to mingle!

They have bistro-style sidewalk dining as well as courtyard dining.

Our Dinners

For dinner, they have an executive chef who creates some delightful dinner dishes.

Shown below is a six pack of fresh-shucked cold water oysters served up in a delicious sauce base...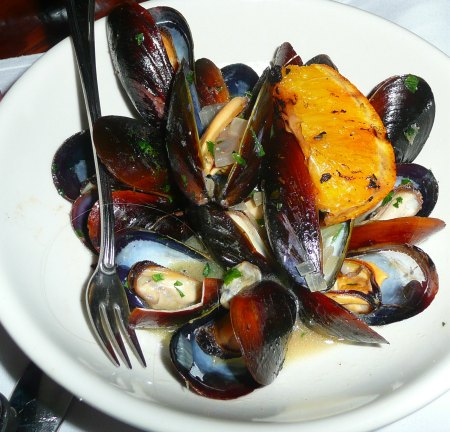 Fresh garlic shrimp on blistered tomato and spinach risotto. This was a special from their special board. It was deliciously yummy!

Their garden salad with pita bread. This might seem simple and obvious, yes, I know... but I had to take a picture of it because it was so colorful!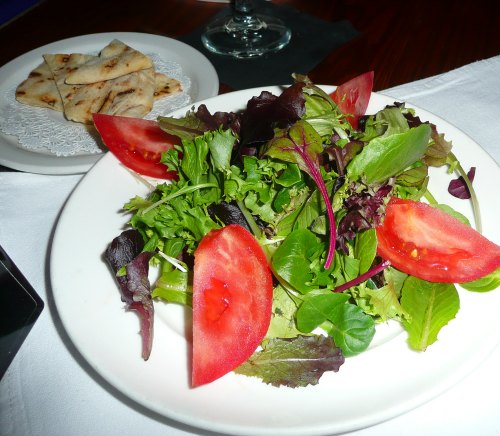 And this delicious-looking photo (below) I took off of Tryst's Facebook Page because it looked so amazingly delicious I wanted to share it with you!!!

It is affectionately known as grilled pork chop with arugula and potato salad of fingerling potatoes, egg, bacon, cornichon aioli, and cider vinegar.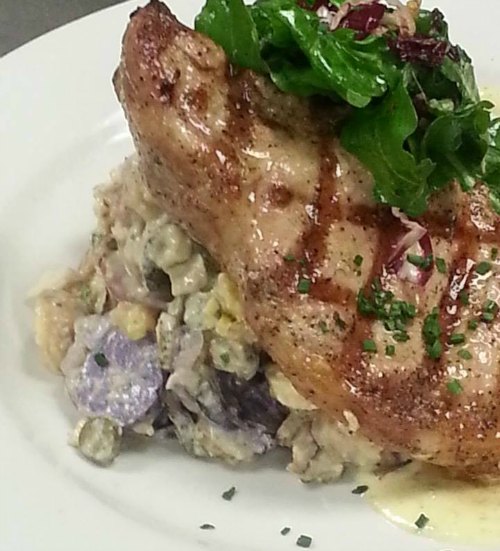 My Favorites & Recommendations For You!
I have two of my favorite menu items to share with you and Tryst's is well-known for both dishes.

First up are their fish tacos!!! Try these guys! These little guys are great for tapas or even a light meal. They are stuffed with cabbage slaw, grape tomatoes, avocado cream and lime mojo. Delicious!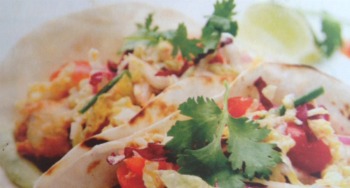 Second up are their Fish & Chips! Coated with smoked Maldon sea salt batter and served with aged sherry vinegar and served up with fries and their house-made ketchup. Another delicious!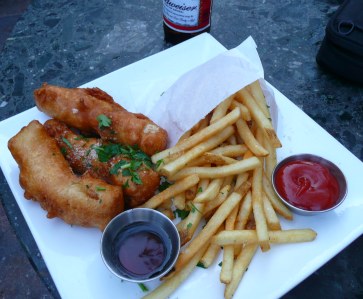 Bar Scene at Tryst's
Lots O' Craft Beer and Great Wine Selection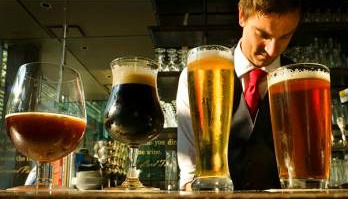 Besides the food, the beer selection is really unbelievable!

They have over 300 beers to choose from with 58 craft beers and usually about 10 different craft beers on tap!

And for the wine lover in your group, you'll find about 150 different kinds of wine by the bottle and about 30 wines offered by the glass.

The bar scene is a lively atmosphere in a high-energy, friendly environment. They have a popular happy hour and nightlife that extends into the night.

---
Tryst Restaurant Grand Opening
January 2009

Tryst Restaurant's Grand Opening was in January 2009 and I was a lucky one who had an invitation to attend the fun festivities!

I met up with my artist friend, William DeBilzan, owner of DeBilzan Art Gallery (located just four doors east of Tryst's).

We both were excited to get in on the buzz of the newest restaurant on The Avenue!  
 
The Grand Opening celebration was timely held the same night as Art and Jazz on The Avenue.  The evening was packed with people, fun, food and adult beverages!

The restaurant was obviously maxed to capacity as we couldn't even get in until people left.  We had to actually wait for 30 minutes in a line that was rapidly forming outside on the sidewalk, but it was very well worth the wait!

And besides, they were serving us warm appetizers while we were waiting in line! What a deal! I think the owner knows how to keep a line of waiting people...happy!

The summer-like January weather that evening was warm and enjoyable -- temperature probably in the mid-70s. Nice. It was mini skirt and t-shirt weather. Perfect for me!

Holiday Decorations at Tryst

Here's Tryst's outdoor dining courtyard decorated for the Christmas holiday season.