Bill DeBilzan Art Gallery
William DeBilzan Art Gallery
William DeBilzan's art has a Caribbean flair that can't be missed!
With its bright, bold colors depicting warmth, love, sunshine, palm trees, boats, and pure love and happiness with a white picket fence.
Although William DeBilzan always found himself preoccupied with the love of art, it wasn't until later in life that this talented artistic found his hidden talents. And talented he is!
William DeBilzan Painting Live at Miami Art Basel

His success began in his garage of all places!
Bill said he would spend time in his garage painting but it started out being more just for the fun of it but soon he became so passionate about his painting, he couldn't wait to wake up and start at it -- all over again!
His love of painting began to blossom!
William DeBilzan Art Gallery
DeBilzan says that painting was his passion but never in his wildest dreams did he realize he was going to make a living at it and never in his double-wildest dreams did he think he would actually own art galleries.
DeBilzan Art Gallery in Delray Beach, Florida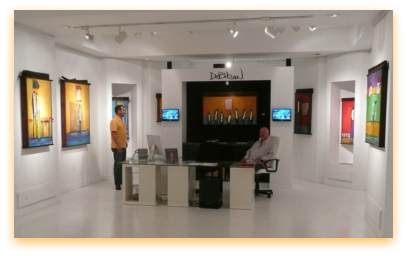 Bill has had as many as three art galleries. One in Santa Fe, New Mexico, one in Laguna Beach, California and one in Delray Beach, Florida.
Just recently his Santa Fe, New Mexico art gallery was closed after 10 years of business.
No worries though, you can still view DeBilzan art at his Delray art gallery and DeBilzan's Laguna Beach art gallery.
Caribbean Art
Caribbean Artist
Caribbean artist, Bill DeBilzan, lets his art reveal human emotions and feelings. It's something everyone can relate to.
Feelings that reveal vulnerability. Feelings that radiate pure joy. Feelings of intimacy. Feelings of happiness.



Scenes of lovers with hearts floating in the air.
Families with crooked houses in the backgrounds.
Bright sunshine and palm trees with Caribbean surroundings.
Oh, and yes, even nude women displaying breasts -- delightfully full breasts, with personality and character and raspberry-colored nipples.
The people are of extraordinary slender build.
Abstract figures, resembling stick figures with their elongated bodies.
No faces and simple clothing, yet even with such simplicity; DeBilzan is somehow capable of revealing emotions even without a face!
It must be in the body language. With the tilt of a head toward a lover revealing love is in the air. Or the wanting of a lover, or the passion of a kiss, the brightness of the sun, the feeling of warmth, the happiness that encompasses it all.
It's what everybody wants, but so few find. Happiness and love.

And in the land of fiction, you'll find this Caribbean artist uses his fun-loving imaginative abilities in his building structures.


They almost have a cartoon-character theme to them -- resembling lopsided houses, some without a door, some with funky, crooked windows, with some buildings being almost-but-not-quite square churches.
Or sometimes gyrating bright-colored circles floating around the canvas.
Or maybe Caribbean art with a scene of palm trees, bold colors, bright sun, and of course, no worries!
Or perhaps a countryside landscape with a house in the background and a white picket fence depicting the perfect family and pure love.


DeBilzan Art
Brings Love, Joy and Happiness
Bill says people come into his Delray art gallery all the time commenting that they have a painting of his at home and how happy it makes them feel.
Others will say what joy their DeBilzan painting brings to a room, stating, "Every time they look at it they feel happy".
He says this is a goal of his, to make people feel happy and positive and this is clearly revealed in the playful art of DeBilzan.
Ultra Chic DeBilzan Handbags
by Fashion Designer Mario Hernandez Designer
DeBilzan Gallery is pleased to announce the newest DeBilzan by Mario Hernandez line of handbags, luggage and apparel.
The overwhelming success of the first collection created earlier this year gave cause for the DeBilzan and Hernandez teams to produce the new line just in time for the fall.
The New DeBilzan Line of Mario Hernandez Products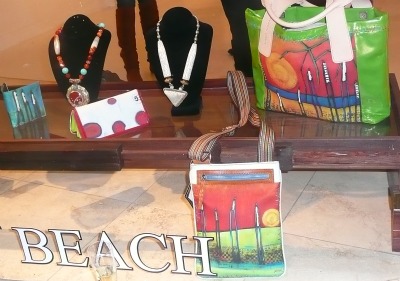 When Bill begins a painting, he tries to keep his mind as free as possible and let whatever comes to his mind go to the canvas and this is how it all begins!
Bill DeBilzan art has been on television shows like Frasier, Spin City, L.A. Doctors, Just Shoot Me, and C.S.I. Miami.
Leave Bill DeBilzan Art Gallery and go to I Love Delray Beach Home