Sandoway House Shark Artifacts

August 4, 2013 is Shark Week!





At the

Sandoway House


Shark Week is celebrated through August 31st!


Enjoy your summer in a learning enivronment with the Sandoway House Shark Artifacts Exhibit!

August 4th begins Shark Week! But at the Sandoway House, it's Shark Month because they've turned Shark Week into a 3-month celebration of learning about Sharks with Shark Artifacts!

That's right!

Sandoway is celebrating Shark Week for the entire months of June, July and August!

Come join them and celebrate the most powerful and the most biggest fish in the ocean...the shark!

I think you'll love exploring these exciting shark artifacts!

The exhibit goes until the end of August and it features hundreds of shark artifacts including shark jaws, shark teeth and photo opportunities like what you see below!
Yes, a photo of YOUR face in between the jaws of a shark! 
Come See Over 100 Species of Shark Jaws!
Come see more than 100 species of shark jaws during Shark Month at the Sandoway House.
100 genuine shark jaws from large and small species of sharks including great whites, tiger, hammerheads and more
Over a thousand genuine fossil shark teeth from areas all over the world
Touch and photo opportunities with a world record size replica great white shark jaw
A mini-fossil dig for kids to dig for and keep several genuine fossils including shark teeth
Here's my TOP PICKS on More Ways to
Learn About Sharks...

---
TOP PICKS:
Best Shark Books for Kids!
TOP PICKS:
How to Draw Sharks!
TOP PICKS:
Educational Books
(Activity Books, Stickers, Stencils & More)
TOP PICKS:
Shark Movies on DVDs!
Shark Facts Just for Fun:

Did You Know...



Most sharks aren't dangerous.
Over 90% of people who are attacked by sharks survive.
Pigs kill more people than sharks.
Sharks attack less than 100 people per year.
Did you know there are over 330 species of sharks and only 35 species are known to attack humans?
Sharks are picky eaters. Sometimes they will just bite their prey once to decide if they like it or not. Sharks can store food in their stomachs without digesting for 3 months.
Sharks are fish, lay eggs and have gills.
Sharks are considered apex predators because they prey on species lower on the food chain, have few natural predators, and are less abundant than their prey.
Sharks do not have bones but instead have a skeleton system made up of cartilage.
A sharks hearing is so acute, it can hear up to one mile away.


---
Shark Feedings:
Feed the Sharks all by Yourself!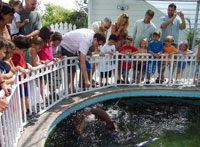 Have you ever wondered...

What do sharks eat?

How do sharks eat?

How to feed a shark?

If you answered yes to any of these shark questions or maybe you would just like to know more about sharks, then Sandoway shark feedings is the perfect place for you to do this!

Hop over to my Sandoway House Nature Center web page and you can read all about the shark feedings.

In fact you can even personally feed the sharks if you want to!

Click over to the shark feeding page and find out how to get signed up! Either way, you get to learn about sharks!

---
Shark Sandcastle: How many sharks can you find in the sandcastle picture below?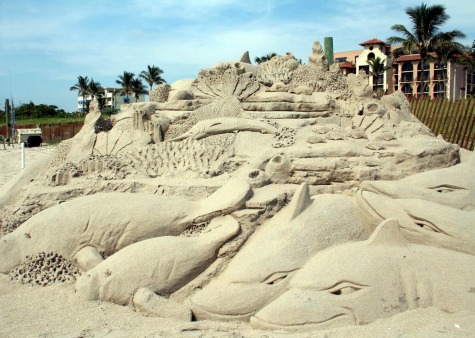 ---
Information & Hours of Operation
Cost: Admission is only $4 per person for everyone age 3 and up; free for members.

Address: 142 South Ocean Boulevard in Delray Beach, FL.
Hours: Tuesday - Saturday 10 AM - 4 PM & Sunday 12 PM - 4 PM. Closed Mondays & major holidays.
Phone: 561-274-7263

Website: www.sandowayhouse.org

---