Greetings!



Delray Beach Vibrations Newsletter is an e-zine (or electronic newsletter) all about Delray Beach, Florida...The South Florida beach town that I love!

Delray Beach is a multi-award-winning, vibrant, sexy and charming beach town located in prestigious Palm Beach County Florida. For decades, it has been a top destination resort with its two miles of award-winning white sandy beaches!

In January 2011, New York Times quoted us to soon become a top national destination while others proclaimed us to soon be the next International Hot Spot. What neither of them knew at the time, is that we would soon win a national award confirming their exact predictions!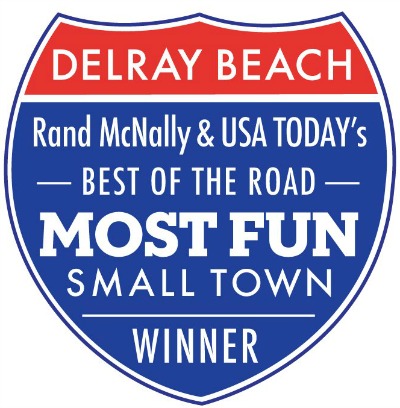 If you haven't yet heard about the award, please, let me have the honor...
In July 2012, we won the Most Fun Small Town in America award by Rand McNally and USAToday Travel!
Happy we are!
Come join us for all the fun!
This e-zine is lovingly delivered to you by Danika Dahl (that's me!), and I-Love-Delray-Beach.com
If you think you know someone who might enjoy my Delray Beach Vibrations Newsletter, please share the love and forward this to them!
And, if someone has forwarded this to you, and you like what you see, then please click here to subscribe to my Delray Beach Vibrations Newsletter. This will assure you get all future newsletters delivered directly to your email address...for free!
Click here to view this issue online.
Click here to view back issues online.
Enough with the intro la-la, let's get started...
---
Special Edition All About the Delray Affair!

This weekend brings us the 51st Delray Affair!
This is the only event in history that closes down our famous Atlantic Avenue for three entire days!!!
That's right...the only one!
We have lots of other events that close down Atlantic Avenue, but not for three entire days! That's how special our Delray Affair is!
So instead of vehicles on The Avenue, you'll see this instead...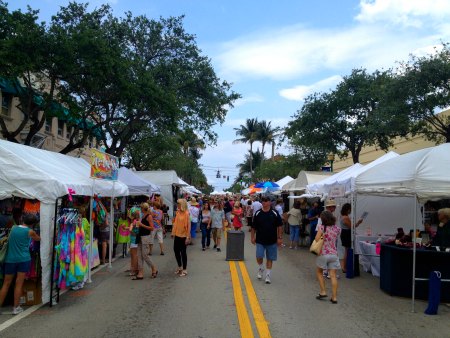 Over 800 vendors! That's fives blocks of vendors stretching all the way from Swinton Avenue eastward to Federal Hwy.
And you'll see this too...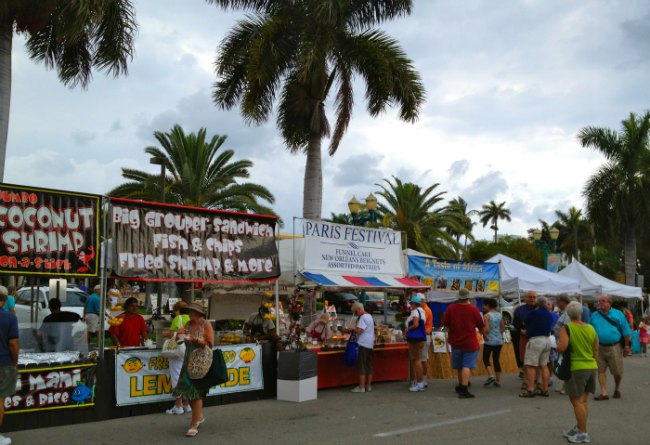 Booth after booth of food vendors with some of the most delicious and tasty foods you've ever had. Coconut shrimp, conch fritters, and what about gator tails?
If you've never tried 'em, here's your chance! Open wide...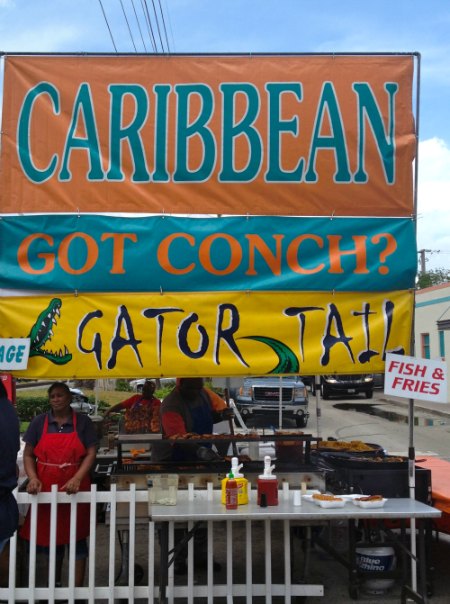 The Delray Affair is the grand finale that wraps up our tourist season in Delray Beach, Florida.
After this, things simmer down to a slower paced lifestyle. Parking spots are easier to find. The beach is less crowded. Kilwins Ice Cream line gets shorter. And, the traffic moves again. And that's what life is like in Delray Beach in the off-season.
Our event schedule will kick into high gear again in October and we'll do it all over again!
You can view all the Events for April 2013 here.
Back in the Day...
The Delray Festival was Originally Called The Gladioli Festival
The Delray Affair was originally called the Gladioli Festival. The very first festival was in January 20 to 25, 1947. This Palm Beach Post newspaper article dated Nov 13, 1946 talks of the very first Gladioli Festival in Delray Beach.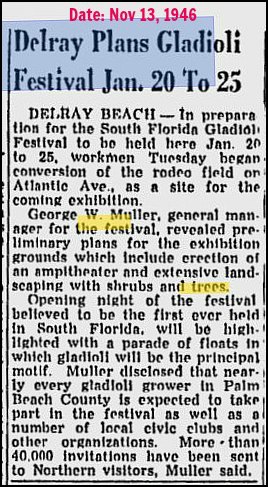 If you're wondering how this can be the 51st Anniversary if it made its first debut in January 1947 and this is 2013, I can tell you what I've been told...
There were a few years the festival wasn't celebrated. With the revived version, they picked up where they left off, but simply changed the name since so many of the Gladioli farms were no longer around.
In 1981, Palm Beach Post had a dedicated section in their newspaper promoting the Delray Affair. Here's one of the pages...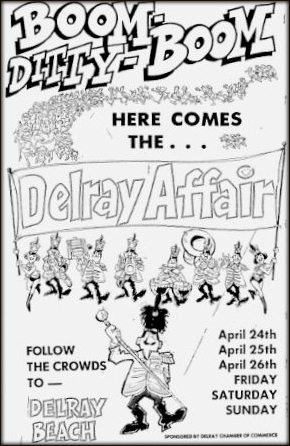 ---
Zach Erdem's 75 Main
for Delicious Food, Appetizers, Happy Hour
I want to share with you one of my very, very favorite restaurants on Atlantic Avenue...75 Main!
It's located at 275 E Atlantic Avenue (right next door to Vic and Angelo's). It's a sister restaurant to the original very famous celebrity-status 75 Main in Southhampton.
Zach, the owner, and my friend, is so completely passionate about his restaurant, he lives and breaths it 24/7, and it shows.
Lunch, Dinner, Entrees, Delicious Salads, Desserts, Appetizers, Happy Hour...
75 Main Has it All Going On!
They have delicious entrees and healthy scrumptious salads. My favorite is this chop salad with salmon. I could eat this every day of the week...forever! I love it!
And they have heavenly desserts. My favorite is the creme brulee (I always go for the gluten-free whenever possible).
Everybody Loves a Happy Hour
And currently, 75 Main offers Happy Hour at their bar every single day of the week from 5 - 8 PM! (Caveat: times and dates change with the seasons).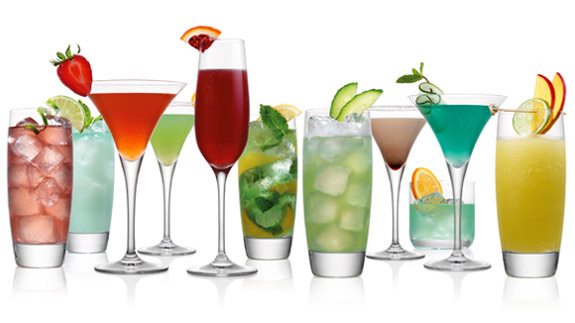 ---
Ocean Front Condos at the
Hamilton House
One of the very few accommodations in Delray that has an ocean view is the Hamilton House condos.
The Hamilton House literally has an ocean view from every condo! And, most of the condos have a view of the pool and a view of the ocean. Now, how's THAT for relaxing at the beach!
And the beach is just mere tip-toes away!
Read all about the lovely ocean-front Hamilton House condos here.
---
Lehmann Realty Team
My Go-To Real Estate Team!
For Long-Term Rentals & Buying Real Estate
My go-to Realty Team that I work with and recommend with 100% confidence is the Lehmann Realty Team. Kurt Lehmann, is a personal friend as well as a business associate.
I recommend the Lehmann Realty Team to you confidently knowing Kurt and his team can help you with all your long-term rentals (12 months or more) as well as buying real estate in the Delray Beach area -- including all of Palm Beach County. Ask Lehmann Realty Team your real estate question here.
I'm getting inquiries for next year vacation rentals already, and unfortunately, at this time, I am not able to assist with short terms rentals i.e., vacation rentals, other than the Hamilton House condos mentioned above.
However, I am happy to help you with your vacation rental and short-term rental questions such as where to rent, best time of the season for you, when's the cheapest time to rent, etc.
So please do ask me these questions right here! The more questions you ask, the better I can serve you (and everyone else) in the future, as I continue to compile my FAQs Real Estate Guide. Sharin' my Delray Beach fun with everyone!



Want to know more about Delray Beach?
Visit my Delray Beach Blog!

Want information sooner? Follow me on Facebook at I-Love-Delray-Beach.com See you there!
My Holiday News Flash Continues!
I'm [still] working on an eBook (PDF format) all about the Christmas Story of Christmas in Delray Beach! If you want to be sure to be one of the first to be notified when it's released, then be sure you stay subscribed to my newsletter!
My subscriber list will be the very first to receive this special release!
---