Delray Beach Vibrations Newsletter is an e-zine (or electronic newsletter) all about Delray Beach, Florida. Delray Beach is a vibrant and charming South Florida beach town resort with two miles of award-winning white sandy Florida family beaches and it's rated one of the top 35 beaches in the entire country!
Beautiful Delray Beach in December
Photo Courtesy of Photographically Yours, Inc.
This e-zine is lovingly delivered to you by Danika Dahl (that's me) and I-Love-Delray-Beach.com

If you think you know someone who might enjoy receiving my Delray Beach Vibrations Newsletter, by all means please share the love and forward this to them!

And, if someone has forwarded this to you, and you like what you see, then please click here to subscribe to my Delray Beach Vibrations Newsletter.
---
Issue #002, January 2010
To All Delray Beach Lovers and Sunseekers!
I want to start my newsletter off by introducing to you one of my new best friends, the Destination Delray Beach Task Force!
The reason I call the entire Destination Delray Beach Task Force my new best friend is because we all think alike. That's right! We have the same dreams, the same goals and the same passion -- we all love Delray Beach and want to share it with the world! And anyone who loves Delray Beach and wants to share it with the world like I do, is a friend of mine!
So you'll likely be hearing a lot more about the Destination Delray Beach Task Force in my upcoming newsletters.
Destination Delray Beach Hosts Pro-Bowl Kick-Off Weekend!
January 28 - 30, 2010 Destination Delray Beach is hosting the Pro-Bowl Kick-off Weekend! More than a dozen Pro football stars will stay and play in Delray Beach. You can read all about the family-oriented events planned for the weekend at the Destination Delray Beach web site.
January 28, 2010 will be an action-packed evening on Atlantic Avenue in Delray Beach and it's all free!
Festivities to welcome and celebrate the Pro football players will include football-themed activities designed for football enthusiasts of all ages.
Art and Jazz on The Avenue will showcase the local art galleries and you'll hear the jazz musicians as you stroll along Atlantic Avenue.
Be sure to check out my friend, William DeBilzan's art gallery, DeBilzan Gallery on Atlantic Avenue across from the Old School Square. DeBilzan has some special art talent planned for this particular evening along with live music and cocktails. Please stop by DeBilzan Gallery.
Palm Beach County Rooms
As Cheap As $19.09!
Palm Beach County celebrated their 100th anniversary last year (2009) by offering hotel rooms for $19.09, and this incredibly discounted hotel rate has been extended into 2010. Depending on which property you stay with, you get either the 3rd, 4th, or 5th night for only $19.09!
Featured Business of the Month
The Hamilton House
This month's featured business, The Hamilton House, offers extended stay condo rentals with the most incredible oceanview in all of Delray Beach.


If you are looking for condo accommodations with an extended stay, I encourage you to see the picturesque ocean views The Hamilton House has to offer.
The Hamilton House will soon have a dedicated full-page display on I-Love-Delray-Beach.com. You'll find the link in my February newsletter.
Meanwhile, take a peak at The Hamilton House web site and be sure to click on their photo gallery link to see the breath-taking, one-of-a-kind ocean views!
Click here to become a Facebook fan of The Hamilton House
Want To Be The Featured
Business of the Month In This E-zine?
Every month, Delray Beach Vibrations Newsletter will showcase a Delray Beach business for free.
By doing this, it helps promote local businesses and meanwhile provides my readers with valuable Delray Beach information.
If you have a Delray Beach business that you would like to see showcased in my Featured Business of the Month section (it's free), click here, read more, and then fill out the form.
Share Your Love of Delray Beach!
If you love Delray Beach, Florida as much as I do or if you have a story to share about a great vacation in Delray Beach, Florida or maybe your favorite restaurant or favorite hotel -- please share your love and tell the world about it!
Did You Miss Anything?
Did you miss the 100-foot Christmas tree lighting in Delray Beach? Or the Delray Christmas parade? No worries, I've got photos for you! Go ahead, take a peak! I'll wait.
Did you see the fabulous weather in Florida in November and in December!
February Featured Highlights
To Look Forward To
My evening out with McCall Credle-Rosenthal, the author of Images of America - Delray Beach book.
I'll tell you all about this fun evening and the places she took me.
And I'll share with you photos of my personal copy of Images of America - Delray Beach being autographed by McCall!
A dream come true for me!
I-Love-Delray-Beach.com will feature boating for the month of February. Look for an article on the best way to see the beautiful Florida Intracoastal Waterway.
Love tennis? Delray Beach Tennis Stadium comes alive February 20-28, 2010 with the International Tennis Championship!
And I will tell you all about my personal experience and my 5-day stay at the new and luxurious Seagate Hotel in Delray Beach.
Seagate Hotel in Delray Beach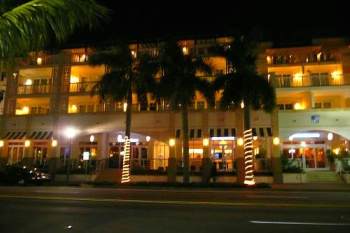 Limited Advertising Opportunities Available
I-Love-Delray-Beach.com will likely become one of the top vacation planning resources vital to a tourist when making plans to vacation in Delray Beach. A niche-based web site like I-Love-Delray-Beach.com is an ideal venue for businesses to reach their targeted audience on a global level prior to their arrival to Delray Beach.
If you would like to read of the successful rankings of I-Love-Delray-Beach.com and/or if you feel advertising on I-Love-Delray-Beach.com could benefit you as well as my readers, please click here to read more about the limited advertising opportunities available.
Stay In Touch
With I-Love-Delray-Beach.com
Join me on Facebook or follow me on Twitter, or join my RSS feed to my Delray Beach Blog and receive every new page update of my web site delivered directly to your favorite RSS reader, or subscribe to this newsletter.
It's all free, it's all fun, and it's all about Delray Beach!
Sharin' my Delray Beach fun with everyone!

Danika Dahl
https://www.i-love-delray-beach.com