Happy Easter!



Delray Beach Vibrations Newsletter is an e-zine (or electronic newsletter) all about Delray Beach, Florida...The South Florida beach town that I love!

Delray Beach is a multi-award-winning, vibrant, sexy and charming beach town located in prestigious Palm Beach County Florida. For decades, it has been a top destination resort with its two miles of award-winning white sandy beaches!

In January 2011, New York Times quoted us to soon become a top national destination while others proclaimed us to soon be the next International Hot Spot. What neither of them knew at the time, is that we would soon win a national award confirming their exact predictions!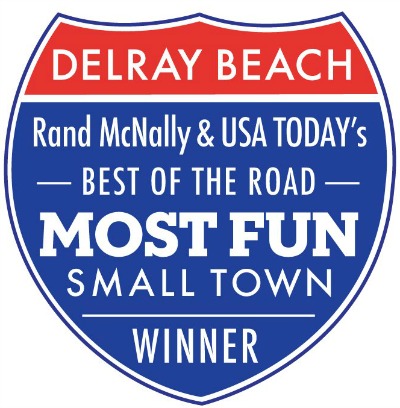 If you haven't yet heard about the award, please, let me have the honor...
In July 2012, we won the Most Fun Small Town in America award by Rand McNally and USAToday Travel!
Happy we are!
Come join us for all the fun!
This e-zine is lovingly delivered to you by Danika Dahl (that's me!), and I-Love-Delray-Beach.com
If you think you know someone who might enjoy my Delray Beach Vibrations Newsletter, please share the love and forward this to them!
And, if someone has forwarded this to you, and you like what you see, then please click here to subscribe to my Delray Beach Vibrations Newsletter. This will assure you get all future newsletters delivered directly to your email address...for free!
Click here to view this issue online.
Click here to view back issues online.
Enough with the intro la-la, let's get started...
---
What's Going on in Delray Beach?
The events just don't seem to stop! Even though tourist season is winding down, we still have so many activities and events to talk about!
Events of the Past...
St. Patrick's Day Celebrations
The beginning of March entertained us with our ever-growing and ever-famous International Fire Service Parade and St. Patrick's Day Parade and Celebrations.
This was the first year that the St. Patrick's Day events turned in to 2-days of celebrations. It looks like the 2-day celebration was a huge success and most likely will continue in future years.
Photo Courtesy Josh Waugh
Savor the Avenue
Dining on The Avenue...Literally!
Just a few days ago, our famous Atlantic Avenue morphed into the longest dining table in Florida! Seating over 1000 people with 18 participating-restaurants serving their customers right smack-dab in the middle of Atlantic Avenue, in the five blocks between Swinton Avenue and Federal Hwy.
Savor the Avenue is a sold-out event every year! Plan ahead if you want to attend this amazingly fun event!
Photo Courtesy Charlie Byrne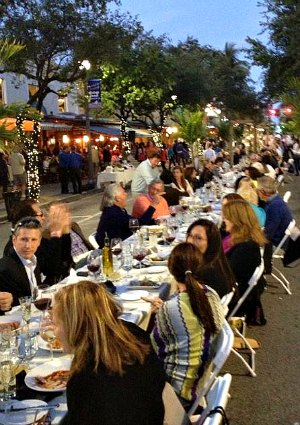 Easter Bonnet Pet Parade
Love Cups, Darlings and More!
Today we had the ever-so darling Easter Bonnet Pet Parade!
This event brings out all the little darlings and love cups and is always so much fun to see the owner-pet matching costumes and Easter bonnets!
Photo Courtesy Kelli Freeman

Events of the Future...
Easter Sunrise Service at the beach on Easter morning!
Photo Courtesy Joanne Ryan
And, we have Spring Flings and Easter Egg Hunts too! Check out all the Easter activities here.
Delray Affair is Coming
April brings us our next big signature event. It's the Delray Affair!
The Delray Affair is touted to attract well over 100,000 people and 800 vendors, and it's the only event that closes down Atlantic Avenue for three entire days! Get ready for it Delray!
You can view all the Events for April 2013 here.
Lehmann Realty Team
My Go-To Real Estate Team!
Let me recommend my go-to Realty Team for all your real estate needs! The Lehmann Realty Team!
My Holiday News Flash Continues!
I'm [still] working on an eBook (PDF format) all about the Christmas Story of Christmas in Delray Beach! If you want to be sure to be one of the first to be notified when it's released, then be sure you stay subscribed to my newsletter!
My subscriber list will be the very first to receive this special release!
Sharin' my Delray Beach fun with everyone!



Want to know more about Delray Beach?
Visit my Delray Beach Blog!

Want information sooner? Follow me on Facebook at I-Love-Delray-Beach.com See you there!
---