Greetings!



Delray Beach Vibrations Newsletter is an e-zine (or electronic newsletter) all about Delray Beach, Florida...The South Florida beach town that I love!

Fourth of July in Delray Beach, Florida!

Delray Beach is a multi-award-winning, vibrant, sexy and charming beach town located in prestigious Palm Beach County Florida. For decades, it has been a top destination resort with its two miles of award-winning white sandy beaches!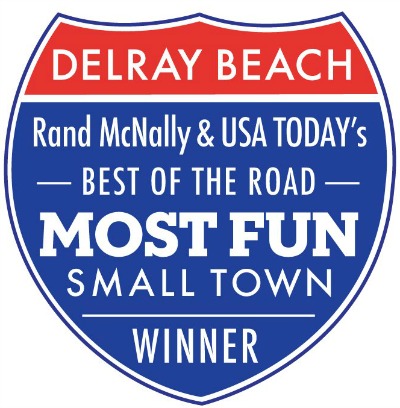 In January 2011, New York Times quoted Delray Beach to soon be a top national destination while others proclaimed us to soon be the next International Hot Spot.
What they did not know at the time, is that in July 2012, we would be awarded the national title of the Most Fun Small Town in America by Rand McNally, USA Today Travel, and the Travel Channel.
---
This e-zine is lovingly delivered to you by Danika Dahl (that's me!), and I-Love-Delray-Beach.com

If you think you know someone who might enjoy my Delray Beach Vibrations Newsletter, please share the love and forward this to them!

And, if someone has forwarded this to you, and you like what you see, then please click here to subscribe to my Delray Beach Vibrations Newsletter. This will assure you get all future newsletters delivered directly to your email address...for free!

Click here to view this issue online.

Click here to view back issues online.

OK, enough with the intro la-la, let's get started...
---
Fourth of July Edition
Celebrating the 4th of July & Independence Day
at the Beach...Delray Style!
The Fourth of July Celebrations start Thursday morning promptly at 8 AM with our sandcastle contest!
You'll find this at the north end of the beach, directly across the street from the Delray Marriott Hotel. (You can see the Marriott in the background, top-right corner of this photo.)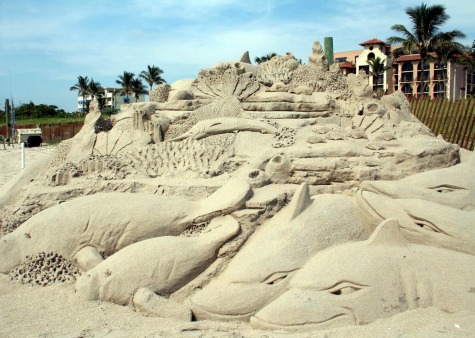 The rest of the all-day Fourth of July events begin at 3 PM with the 60-foot flag raising. The remainder of the events take place beach-side at A1A and Atlantic Avenue.
Be sure to see the schedule of events here.
Look for family-fun things like miniature golf, water-splash games, live music, professional volleyball game on the beach, and lots more!
The events go from 3 PM til 9 PM, when the fireworks begin!
Please visit my Fourth of July page for all the 4th of July events planned for the day.
And you certainly don't want to miss the grand finale of the night...Fireworks on the beach at 9 PM!
To see the entire July calendar of events click here.
More Sandcastle Building Fun for the Kids!
And..Family too!
Want to know more about sandcastle building?
Just for you, I have some free sandcastle building tips right here!
And how about some free sandcastle building fun downloads too? Yep! Especially for you!
I've even got a free download on how to make your very own sandcastle building tool kit with items right out of your kitchen! Can you dig it? :-)
Or maybe you're more of a sandcastle-in-a-box kind of person! Well, I've got that too!
And, to sweeten the deal, I even had a $10 off coupon for you from the Beach Store! Purchases over $100 get free shipping too! Limited time only...through the 4th of July!
And How About the Newly Renovated Beach!
Next newsletter, be ready for some magnificent photos of our newly renovated beach!
A lot of work (and money!) went into the beach restoration project and I have some super-great photos to share with you next newsletter.
Photos from before (the damage that was done from Hurricane Sandy, and photos during the restoration process (the pipes and dredging equipment), and photos after revealing the two miles of beautiful, beautiful, beautiful huge, wide, gigantic magnificent beach as the end result!
Stay tuned!
Here's a Sneak-Peak at the New Beach!
Photo Credit: Gloria Merryman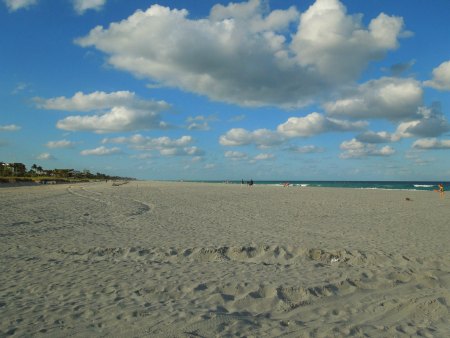 I hope you've enjoyed this issue of Delray Beach Vibrations. If you have any feedback or comments you'd like to share with me, simply reply to this e-zine or click here to send me a note. I'd love to hear from you!

Sharin' my Delray Beach fun with everyone!



Want to know more about Delray Beach?
Visit my Delray Beach Blog!

Want information sooner?
Follow me on Facebook, Twitter or my Blog for quick delivery!