Delray Beach Vibrations Newsletter is an e-zine (or electronic newsletter) all about Delray Beach, Florida...The South Florida beach town that I love!
Delray Beach is a multi-award-winning, vibrant, sexy and charming beach town located in prestigious Palm Beach County Florida. For decades, it has been a top destination resort with its two miles of award-winning white sandy beaches!
In fact, according to the New York Times, (January 2011), Delray Beach is poised to become a top national destination and others proclaim it to be the next International Hot Spot while others refer to it as the "Venice of Florida"...
Santa's Got A Brand New House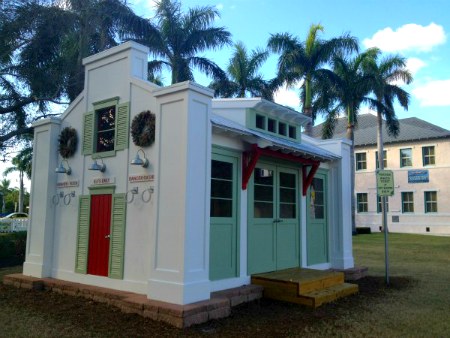 This e-zine is lovingly delivered to you by Danika Dahl (that's me!), and I-Love-Delray-Beach.com.
If you think you know someone who might enjoy my Delray Beach Vibrations Newsletter, please share the love and forward this to them!
And, if someone has forwarded this to you, and you like what you see, then please click here to subscribe to my Delray Beach Vibrations Newsletter. This will assure you to get all future newsletters delivered directly to your email address...for free!
---
Issue #011, Christmas 2011
Happy Holidays! Delray Beach Lovers and Sun Seekers!
It's the holidays and this means my favorite time of year here in Delray Beach because we celebrate the biggest event ever...
The famous 100-foot Christmas tree lighting ceremony.
If you weren't here, I'm sorry you missed the event. As always, it was amazing and spectacular! Here's a picture of the Christmas tree during the day.
Pssstttt...I took this picture just the other day, and the temperature was 85 degrees...in December! Yes, I love Delray Beach!
And Let The Holiday Celebrations Begin....
Our holiday celebrations begin after Thanksgiving and continue for the entire month of December up through January 1, 2012, ending with our First Night event, a family-friendly New Year's Eve celebration.
Please join us for the magic of Christmas in Delray!
Holiday Events This Weekend in Delray Beach....
This weekend in Delray Beach brings lots of holiday cheer and lots of holiday festivities!
Friday Night: Holiday Boat Parade and free concert at Old School Square. Come hungry and enjoy the gourmet food trucks!
Saturday: Another family-friendly event! It's Kids Day at the Tree, and this event is FREE! 10 AM - 4 PM. Bring the family!
Saturday Night: It's the Christmas Holiday Parade on our famous award-winning Atlantic Avenue.
Christmas Decorations in Pineapple Grove
---
The Entire Month of December is filled with Christmas Holiday Celebrations....
It's all right here in downtown Delray Beach for the entire month of December. For a complete listing of December Events and Christmas Holiday Events in Delray Beach visit my December Events in Delray Beach page.
Many of the following Delray Beach events for December 2011 are ongoing for the entire month of December. That's right, all month long. Take a peak at the line-up of events...
---
We Are Celebrating Our Centennial Through January 2012....
Book Author, McCall Credle-Rosenthal (right)
Photo Courtesy Diane Carter

On December 1, 2011, we continued our Centennial celebrations with a book signing event held at DeBilzan Art Gallery with best-selling Florida history book author (and my friend!) McCall Credle-Rosenthal.
We were directly across the street from the 100-foot Christmas tree lighting so we had a great view and a great time celebrating the Centennial and our Christmas tree lighting event.
My toy poodle, Prince Pierre, joined us too! He even brought doggie bones because he reminded me that Delray Beach is very pet-friendly!
Book Author, McCall Credle-Rosenthal,
Prince Pierre, and Me, Danika Dahl
Photo Courtesy Diane Carter

Grab Your Autographed Copy Now!
Free Shipping to the 48 Contiguous States While Supplies Last....
You can still grab your very own personal autographed copy of the Delray Beach History Book with free shipping to the 48 contiguous states up through December 31, 2011 **or while supplies last.
**Offer good while supplies last. I have ten copies left from our book signing event. Grab the deal now! Free shipping valid while supplies left!
---
Sharin' my Delray Beach fun with everyone!

Danika Dahl


Want to know more about Delray Beach?
Visit my Delray Beach Blog!