Delray Beach Vibrations Newsletter is an e-zine (or electronic newsletter) all about Delray Beach, Florida...The South Florida beach town that I love!
Delray Beach is a multi-award winning, vibrant, sexy and charming South Florida beach town and one of the top destination resorts with two miles of award-winning pristine white sandy beaches!
Inside the Famous 100-Foot Christmas Tree
This e-zine is lovingly delivered to you by Danika Dahl (that's me!), and I-Love-Delray-Beach.com
If you think you know someone who might enjoy receiving my Delray Beach Vibrations Newsletter, by all means please share the love and forward this to them!
And, if someone has forwarded this to you, and you like what you see, then please click here to subscribe to my Delray Beach Vibrations Newsletter.
---
Issue #005, December 2010
To All Delray Beach Lovers and Sun Seekers!
This is a special year-end newsletter to all of you that Love Delray Beach, Florida!
I have just a few noteworthy headlines to share with you before the end of the year. I'm going to keep it sweet and simple.
The most significant news I want to share with you before the end of the year is our celebration of First Night 2011 in Delray Beach!
I know you might think that I mis-typed 2011, but I promise you, according to the Delray Beach First Night poster, it says First Night "2011." ;-)
What is the First Night Celebration?
The First Night Celebration is a non-alcoholic celebration of entertainment and activities for the entire family to enjoy.
Celebration and festivities begin on New Year's Eve at 4 PM on Friday, December 31st, in downtown Delray Beach and continue through midnight.
This colorful First Night poster was designed by Chrisanthy Vargo, art teacher at Calusa Elementary in Boca Raton.
You can read more about this family-friendly event at this link: First Night 2011 in Delray Beach!
I have a printable First Night Calendar of Events brochure for you too. You can print this brochure from your own printer and bring it with you to the event.
---
Come See the NEW Mario Hernandez Line
at DeBilzan Art Gallery
If you are near Old School Square, please take the time to stop in and say hi to my friends at DeBilzan Art Gallery and check out the new product line of the Mario Hernandez purses, bags, briefcases and more! DeBilzan Gallery is located directly across the street from Old School Square.
William DeBilzan's New Line of Mario Hernandez Products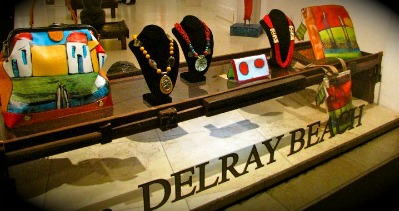 Want to know more about William DeBilzan's art work? Here's what you can do:
---
It's Still Kind Of Christmas in Delray Beach, Florida
There's still some Christmas festivities going on in downtown Delray Beach through January 2, 2011.
Download your free 6-page 2010 Christmas in Delray Beach and Holiday Guide with a complete listing of Calendar of Events.
I'm Looking For 100-Foot Christmas Tree
Pictures & Stories!
Got Some?
Did you tour the 100-foot Christmas Tree in Delray Beach? Tell me YOUR story! And share a picture! You can submit your 100-foot Christmas tree pictures and story here.
Want to know about other things to do in downtown Delray? Take a peak at my Things to do in Delray Beach page.
---
Does YOUR Delray Beach Business Need a Presence on the Internet?
I-Love-Delray-Beach is looking to join-up with one more Delray Beach business to promote on Facebook!
If you are interested in having a Facebook Page created for your business and managed for you by a Facebook Professional, who has attended the only official Facebook Marketing course, please contact me, Danika Dahl.
Pricing starts at $300/month for a customized business page and increases according to your individual business needs. (This includes the set-up, the monthly maintenance, postings, etc.)
Here are two examples of my work you can view:
Facebook Page for I-Love-Delray-Beach.com
Facebook Page for the Original Hotcake House
---
Share Your Love of Delray Beach!
Did you enjoy a great experience at a restaurant or hotel in Delray Beach and want to share it with others? Tell us YOUR STORY right here!

Maybe you want to simply tell the world how much you love Delray Beach or maybe you had a fabulous vacation in Delray Beach. We want to hear about it! Tell us YOUR STORY right here.
Did You Know...
I-Love-Delray-Beach.com is visited by more than 11,000 visitors per month and receives nearly 20,000 page views every month from over 80 countries! Yes, it's true!
Want To Stay In Touch With I-Love-Delray-Beach.com?
Here's How...
Join me on Facebook or follow me on Twitter, or subscribe to this newsletter, or follow my Delray Beach blog with your own RSS feed, and anytime I add something new to I-Love-Delray-Beach.com, it will be conveniently delivered directly to your favorite RSS reader!
Happy New Years
Delray Beach Lovers!
Sharin' my Delray Beach fun with everyone!

Danika Dahl
Want to know more about Delray Beach?
Visit my I-Love-Delray-Beach Blog!