Tryst Restaurant Delray Beach

Restaurant on Atlantic Avenue
Since I enjoyed the Grand Opening at Tryst Restaurant Delray Beach so much in January 2009, it only made sense that I go back to this restaurant on Atlantic Avenue again...for dinner!
So the following weekend I made plans to meet up with my new friend Linda (who I had just met at the Grand Opening of Tryst Restaurant the previous weekend).
Even though we didn't make reservations, reservations are highly recommended for those who don't want to wait.
We had a 45-minute wait but we didn't mind because we wanted to take our leisurely time and enjoy the new Tryst Restaurant so we made good use of our time...at the bar!
When they took our names at the door, we were given the choice of patio dining in their beautiful courtyard or indoor dining.
When I peaked outside to see their courtyard patio dining, it did look enticing and slightly romantic. Maybe if I were on a date, but not tonight. Tonight, I wanted to mingle!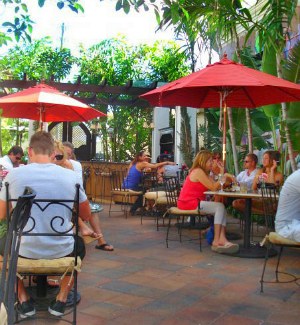 While we were waiting for our table, we sat at Tryst's fabulous bar, enjoying our cocktails, and after two cocktails…
Hey, who cares where you sit!
So, the bar soon turned into our dinner table.
It wasn't the best for conversation but I will say the entire restaurant was so busy and so loud, I'm not so sure a table would have served us any better.
And besides, I was out to mingle and meet people and I've always found sitting at the bar is best for that.
Our Dinners
Linda had the "six pack of fresh shucked cold water oysters". She was told they came with bread but then later we were told they were out of bread.
Out of bread? A restaurant...out of bread? Really?!
Yikes for the restaurant, and too bad for Linda, but I suppose this means they had a busy dinner, so great for Tryst, right?!
Linda couldn't understand how she was suppose to soak up the tasty, yummy buttery sauce.
After some persistence, our server provided some pita bread that seemed to appear from nowhere.
We never did know the secret behind where it came from but it made Linda happy and that's what mattered!
I ordered "fresh garlic shrimp on blistered tomato and spinach risotto," a special from their special board.
I'm a picky eater because I try to avoid gluten-based foods, so this was the perfect dish for me! And I love risotto and I love shrimp.
It was deliciously yummy!
My Favorites & Recommendations For You!
I have two of my favorite menu items to share with you and Tryst's is well-known for both dishes.
First are their fish tacos. Try these guys! These little guys are great for tapas or even a light meal. They are stuffed with cabbage slaw, grape tomatoes, avocado cream and lime mojo. Delicious! Price approx $12.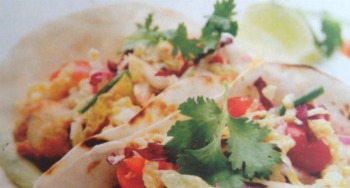 My second recommendation are Tryst's Fish & Chips! Price approx $14. Coated with smoked Maldon sea salt batter and served with aged sherry vinegar and served up with fries and their house-made ketchup. Another delicious!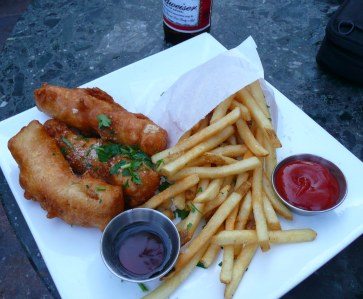 Testimonials
Both the food and service have been A+ both times I've been to Tryst Restaurant.
Tryst Restaurant in Delray, the food is so good, I'm convinced they're sprinkling pixie dust on it, because I crave it again the next day.
We tried the Blue Point oysters with caviar, which were very fresh and delicious. I had the daily special fish, a Wahoo steak served over red cabbage with jicama slaw and a spicy mustard sauce. Delicious! My wife had the fish tacos, which she also loved.
Tryst Restaurant in Delray is a great place to take friends for a night out on the town. Not the romantic, stuffy kind of place, but more of a fun, upscale neighborhood pub on Atlantic Avenue. Beautiful courtyard outside with a banyan tree in the center and rustic, cozy interior.
Besides the food, the beer selection is really unbelievable with lots of craft beer on tap and in the bottle.
Tryst Restaurant has an amazing 300 beers to choose from!
---
Leave Tryst Restuarant Dining and go to Craft Beer at Tryst

Leave Tryst Restuarant Dining and go to Tryst Restaurant Grand Opening

Leave Tryst Restaurant Dining and go to I Love Delray Beach Home