South Florida Weather in November

Weather in Florida in November is... Fabulous!
Florida weather in November is fabulous! It's warm. It's sunny. It's sunbathing weather for sure!

Enjoy it at the beach, in the water, sunbathing or just get your toes in the sand! Either way November weather in Florida is something for everyone to enjoy! 

Starting in November, people travel to South Florida in leaps and bounds to enjoy Florida's warm and sunny winter months!

This is the month when tourist season begins in Florida!

With an average temperature of 80 F or 26 C degrees, the weather really, truly is nice enough and warm enough to sunbathe in November, or do the beach or poolside. It's all good!

This photo below was taken the end of November and you can see how nice the weather is!
Poolside in November
Hyatt Hotel in Downtown Delray

Average beach water temperature: 76 F / 24 C
Average weather high temperature: 80 F / 26 C 

With the Florida tourist season upon us, it means all the tourists and all the Florida part-time residents return to spend the winter months in South Florida to enjoy the wonderful South Florida weather in November.

It also means that the population nearly doubles in size!

tip for you!

November is a month you need reservations so
be sure to plan ahead!
Additionally, a lot of people choose to spend their Thanksgiving holiday in a warm, tropical climate and they pick South Florida because of the wonderfully warm weather in November!

How about outdoor dining on Thanksgiving Day!

I speak from my personal experience because one year I was one of those tourist during Thanksgiving holiday! I spent my Thanksgiving holiday on Delray Beach absorbing the warm Florida sunshine! 

There's no place I'd rather be on holiday than Delray Beach on Thanksgiving Day with the the average water temperature of 76 F or 24 C degrees and of course the warm Florida sunshine!

Here I am enjoying
the warm waters of the Atlantic Ocean in November!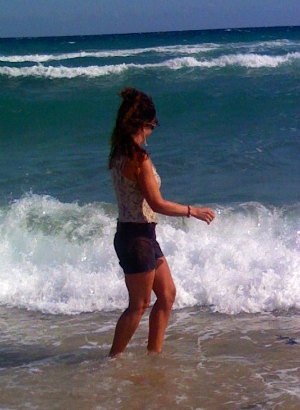 Wine & Seafood Festival is in November!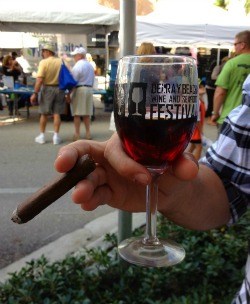 November 2012, was our very first Wine and Seafood Festival beachside!

This is now one of our annual events and it's just one more reason why you should come to Delray in November!

This is a 2-day event and it is free to attend!

To see all of Novemeber Events click here.

Learn wine pairing with a daily wine pairing schedule to choose from, enjoy live music and delicious, tantilizing seafood right next to our beautiful beach at A1A and Atlantic Avenue.

Here's a video by my friend Patricia Serrano
2012 Wine and Seafood Festival

OK, Now Back to that...
South Florida Weather in November
Average beach water temperature in November is 76 degrees!

The average weather high temperature in November is 80 degrees.  The average low temperature is 66 degrees.  The average precipitation is 4.57.

The beach water in November is warm so bring the bikini and sunscreen because you'll need it!

Annual Average Beach Water Temperature
Month
Farenheit
Celsius
January
71
22
February
73
23
March
75
24
April
78
26
May
80
27
June
84
29
July
86
30
August
86
30
September
84
29
October
83
28
November
76
24
December
73
23
Use the Weather Chart below to Check the Florida Weather by the Month...

(Note: I do not have June, July, August and September done yet, so if you click on them you will be re-directed to my "Oopsie" page -- which means the page is not completed yet. Just click your back button and you'll be right back here, to choose another month.)

Holiday Decorating Begins in November!

In November, the assembly of the 100-Foot Christmas Tree begins in downtown Delray and the downtown businesses and our lovely hotels begin their decorating too!

I want to share with you one of my very favorites... it's our beach-front Marriott! It's like a smal winter wonderland!

I like to stroll through the Marriott lobby ... just to feel the Christmas vibes!  I share these Christmas vibes with you in my 1-minute video right here...

Here's a photo of the Marriott lobby decorated for Christmas!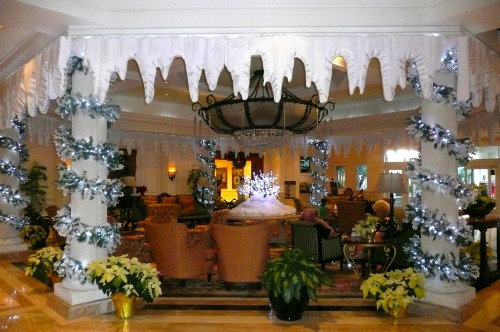 Be sure to see my web page dedicated to our holiday events!