Florida Weather in January

January Weather in Florida
Florida weather in January has an average high temperature of 76 degrees and an average low temperature of 57. The sun shines and January weather in Florida is just simply beautiful!
Although, January weather in Florida has the coldest temperatures of all 12 months, you will still find that Florida weather in January is probably the nicest weather in all of the United States during the winter months.
Sunbathe in Florida All Year Around!
So if you are looking to vacation in the winter months and you want a warm climate with sunshine, warm waters and sunbathing temperatures, my recommendation is South Florida!
And more specifically, my recommendation is a vacation in Delray Beach, Florida! Because I love Delray Beach and I want to share it with the world!
Wondering if you can actually sunbathe in Florida in the winter? Well, the answer is...Absolutely yes!
Plan to bring the bikini and suntan oil and sun protection, because it is definitely beach weather and poolside weather in the winter here in Florida!
Sunbathing in the Florida Sunshine
(Photo Courtesy of Photographically Yours, Inc.)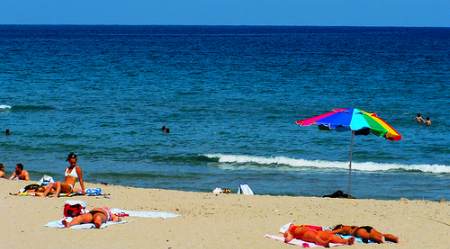 If traveling in January doesn't work in your plans, no worries because South Florida weather is sunbathing weather all-year around!
Average Temperature in January...
The average high temperature in Delray Beach in January is 76 degrees. The average low temperature in Delray Beach in January is 59. The average precipitation is 2.94

Two very major deviations from the above is in December 1989 and again in January 2010 when there was snow in Florida and freezing temperatures and I was there both times!


South Florida Weather by the Month...
Go to: Florida weather in February.
Go to: Florida weather in March.
Go to: Florida weather in April.
Go to: Florida weather in May.
Go to: Florida weather in November.
Go to: Florida weather in December.
More South Florida Weather Links...
Go to: Delray Beach weather.
Go to: South Florida weather.
Go to: Hurricane history in Florida.
---
Leave Florida Weather In January and go to I Love Delray Beach Home