Delray Beach Restaurant Coupons

Eat. Drink. Save Money.
Restaurant Coupons for
Fine Dining & Family Dining
On this page you'll find Delray Beach Restaurant coupons!
I search out the best Groupons, discounts, deals, specials, buy one-get one free kind-of-deals, kids-eat-free deals, half-price deals, and whatever else I can find for you!
I hope enjoy the savings!
This page changes often!
Check back regularly for more coupons
Be sure to read the details of each offer
These coupons may expire at any time. I suggest you purchase them now or they may be gone!
If you find a deal no longer available please do let me know!
---
32 East Outdoor Dining on Atlantic Avenue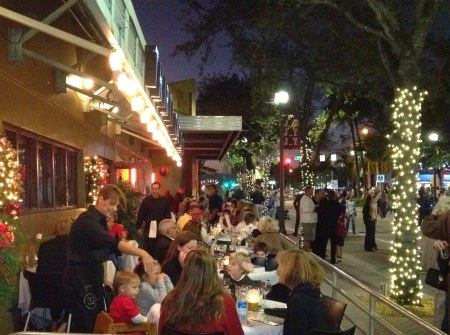 ---
Save 50% and More on These Delray Restauants
With These Groupons Right Now!
Delray Beach restaurants currently on Groupon for Very Limited Time!
Patio Delray Save 50%! Spend $20, get $40 coupon!
SWIG Wine Bare - Save 50%! Spend $49 and get $89 coupon.
Rocky's Italian Bistro Save 50%! Spend $15, get $30 coupon!
Click on this Groupon link or the image, and then search for these Delray Restaurants and more! Save 50% and more!
Groupons are a great way to save 50% and more with meals, entertainment, attractions, gifts, exercise classes and gyms, and more!
Simply subscribe to deals in your zip code area and they are delivered to you via email.
No charge until you purchase a deal, and then it's still a deep discount -- usually 50% or more off!
---
Every Day is a Great Day at Grand Tavern
Mondays: Happy Hour all day!
Every Monday at Grand Tavern its buy one-get one 50% off! Buy on entree at the regular price and get a second entree at 50% off.
Other specials...
Tuesdays: 2 for 1 salads
Wdenesdays: Buy one steak or ribs and get one half off
Thursdays: 2 for 1 burgers on Thursdays
Fridays: All you can eat fish and chips
Saturdays: Prime Rib Dinner 4 PM
Read reviews on
Grand Tavern
at Trip Advisor.
Applebee's Restaurant
Half-Price Late Night Appetizers
2 for $20 Plus Appetizer!
Half-off late night appetizers. Usually starting at 10 PM til closing.
Here's a deep discount you can enjoy at all Applebee's Restaurants! It's Applebee's 2 for $20 menu.
This means 1 appetizer and two full-size entrees for ONLY $20.00!
Veteran's eat free on Veterans Day. Details here.
Applebee's Restaurant is a great family dining restaurant with inexpensive menu items, a kid's menu, Weight Watcher's menu items and sometimes they even offer Kids Eat Free days on holidays such as Fourth of July, Easter, Halloween and Labor Day. Varies by locations. Check your Applebee's location here.
Read reviews on Applebee's Restaurant at TripAdvisor
---
---
Duffy's Sports Grill
Monday Night Entrees $10.95
Wednesday Nights Kids Eat Free!
Duffy's Sports Grill is a family restaurant offering up some exceptional deals on Monday nights and all day on Wednesday's.
Monday Nights -- 5 PM to Close -- All Entrees $10.95! No Kidding! Even the steaks and ribs regularly $16.99 and the chicken Parmesan regularly $11.95 are ONLY $10.95 on Monday nights!
All day on Wednesday, Kids Eat Free and the rest of the days of the week, you'll find the kid's menu with items only $4.99.
Read reviews on Duffy's Sports Grill at Trip Advisor.
---
At Denny's Restaurant, AARP discounts members receive a 20% discount off their total check every day from 4-10 PM. And coffee is just $1 for members and their guest 24/7.
Denny's offers a Kids Eat Free dealio from 4-10 PM. Days of offer varies. Check your location here.
Read reviews on Denny's Restaurant.
---
Many IHOP Restaurants offer Kids Eat Free everyday if they are 12 and under.
At participating IHOP Restaurants, kids can get 1 free kids' menu item per adult entree purchased from 4-8 PM.
Varies by location. Check your location here.
Read reviews on IHOP Restaurant at Trip Advisor.


---
Get $25 Restaurant Gift Certificates for only $10!
Save at over 18,000 Restaurants Nationwide...Anywhere!
Search by Zip Code


You can purchase these coupons with confidence knowing they are featured by these trusted names: NBC, CBS, Fox, ABC, Today, and the Wall Street Journal
Restaurant.com
is about to make your dining experience more affordable. They provide coupon certificates for literally thousands of great restaurants all over the United States!
The Benefits...
Over 45,000 mouthwatering deals everyday
No expiration date
Descriptions of restaurants provided
Menus provided to view online to help you decide
Featured in top TV stations & the Wall Street Journal
Available at thousands of restaurants & locations
Give as gift cards with free shipping
Restaurant.com has been a trusted source for over 10 years.
Sound too good to be true? Not at all.
How does it work? Let me show you...
Simply search by zip code to find coupons in any geographic region. Your home town or your next destination spot, either one, or both! If you're searching for Delray Beach, use zip code 33444.
---
Check Daily Local Groupons
For Any Area!
---
Top Steak Houses in Delray...
Cut 432: A modern steak house on Atlantic Avenue in Delray Beach. The variety of food ranges from the fresh biscuits, truffle mac & cheese, a grilled cheese that will make your mouth water and steaks with more flavor than you can imagine.
Click here to to read real honest reviews on TripAvisor.
Gol! The Taste of Brazil: A Brazilian steak house that has won the ABC-TV selection as the "Best Steakhouse in Palm Beach County," as well as Wine Spectator's award for excellence. Click here to read real honest reviews on TripAdvisor.