December Weather in Florida

Florida Weather in December is Sunny Delicious!

Wondering what the December weather in Florida is like?

It is sunny delicious!

Historically, Florida weather in December is swimming and sunbathing weather!

Gulfstream Park Beach
Florida Beaches - Atlantic Ocean - Florida, USA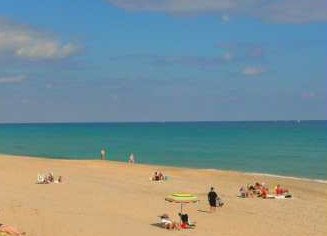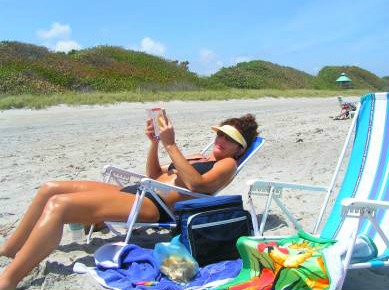 Swimming in the ocean in December and January?

I know, right?! 

Sounds crazy! But it's true-true!

So, grab the bikini, the SPF and sunglasses and come to the Florida Beaches!

I've spent plenty of time sunbathing in my bikini at the beach enjoying Florida's warm December weather!

December weather in Florida is exceptionally and extraordinarily super nice!
Here's My Delray Beach Umbrella Chair! Where's Yours?
Photo Credit: Photographically Yours, Inc.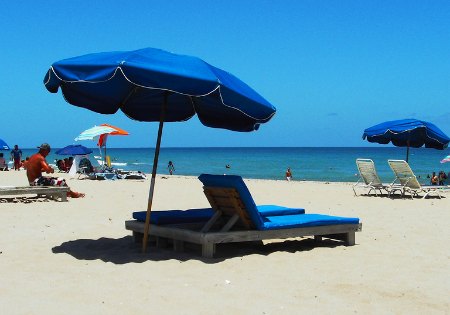 Well...usually, but not always, we have exceptionally warm weather, but with that said...

I've also experienced snow in Florida in December and freezing temperatures in Florida!

But, I'll tell you about that story on another page.  Click here to read my story of snow in Florida.

tip for you!

How cold does it get in Florida?
Does it snow in Florida?
Click here to read about how COLD it gets in FLORIDA!

Usually, in December, Florida weather is warm, sunny, sun bathing weather with an average high temperature of 77 Fahrenheit and 25 Celsius.

And, I think you're really going to like it!

So...
Bring the bikini!
Bring the swim trunks!
Bring the suntan oil!
Bring the sunblock!
Bring the beach towels, the beach chairs, and the beach toys!

And, don't forget the sunglasses because you'll be needing them too!
Average ocean water temperature in December
73 Farenheit and 23 Celsius. Warm!
Christmas Day at the Beach? You Bet!

These Beach Chairs Await You in Delray Beach, FL!
Photo Credit: Photographically Yours, Inc.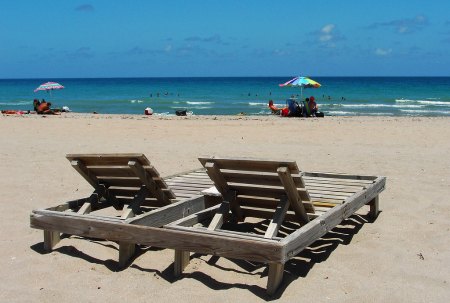 Another Beautiful December Day in Delray!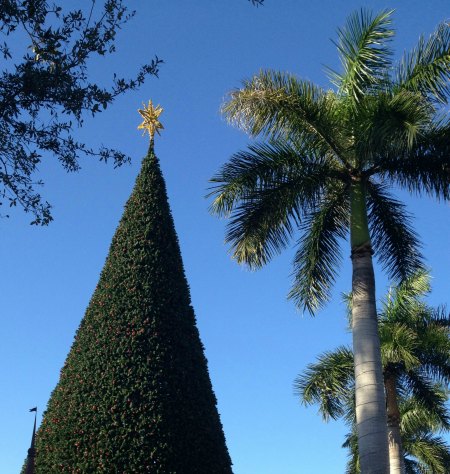 You're going to love the
warm and sunny Florida weather in December!

I've also enjoyed riding horses in Ocala on a sunny and warm New Year's Day in Florida. It's a great way to bring in the new year! (I'm on the black Friesian mare on the left.)

Average Temperature
South Florida
| | | | |
| --- | --- | --- | --- |
| Month | High | Low | Precipitation |
| January | 76 | 59 | 2.94 |
| February | 77 | 60 | 2.70 |
| March | 79 | 63 | 2.80 |
| April | 82 | 66 | 3.91 |
| May | 86 | 71 | 6.33 |
| June | 88 | 71 | 10.01 |
| July | 90 | 75 | 6.70 |
| August | 90 | 76 | 6.88 |
| September | 89 | 75 | 8.26 |
| October | 86 | 72 | 6.44 |
(Note: I do not have June, July, August and September done yet, so if you click on them you will be re-directed to my "Oopsie" page -- which means the page is not completed yet. Just click your back button and you'll be right back here, to choose another month.)